For my post i wanted to do something for Father's Day. My husband LOVES a band called the Foo Fighters. So for father's day we bought him tickets.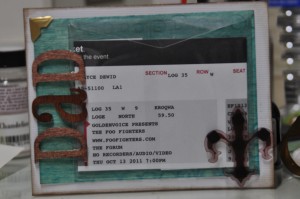 We set out to make a card and highlight the tickets. What better way to do that than use the clear Keepsakes Envelopes?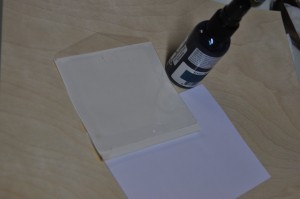 I used a piece of Real Wood paper by Creative Imaginations, Tattered Angels Seven Seas Chalkboard, Pink Paislee wood letter, my fabulous Crafty Power Tape, 3D Foam Squares, Clear Keepsakes Envelopes and Gold Photo Corners.
My kids had a lot of say so in this project and they  wanted the ticket stub right on the cover.  So we misted the wood and ran it through the Cuttlebug. Adhered it with the Crafty Power Tape and then adhered the Keepsake Envelope on top.  We painted the letters and applied them down the side of the card. We used a gold Photo Corner in the upper left corner. We used black 3D Foam Squares to lift our clear embellishment off the page for dimension.
The kids loved making this card. The products made it simple enough for them and they can't wait to give it to daddy!!
Happy Father's Day everyone!