Yes, I am a notebook collector. And a pen collector. And pretty much anything having to do with paper. What can I say? The office supply store gets my juices flowing. I buy notebooks all the time…and this, I fear, is a trait I've passed down to my daughter. She may even be worse than me. So, she has this ugly green notebook that needs some TLC…and me and my Vintage Street Market are just the ones to oblige.
I should start by apologizing for the lovely carpet background on all of my photos. We just moved this weekend, so all of my scrapbooking is being done right here: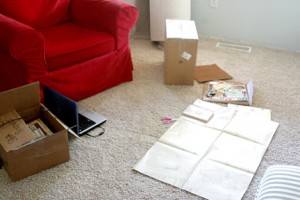 Looks comfy, doesn't it? Most of my stuff is still packed up, including my paper cutter, which meant all I had was a tiny pair of scissors, but I guess I'm living proof you can make it work. You know, if you were ever stranded on a deserted island and wanted to scrapbook.
But that's beside the point.
I took this little notebook and this brilliant stuff: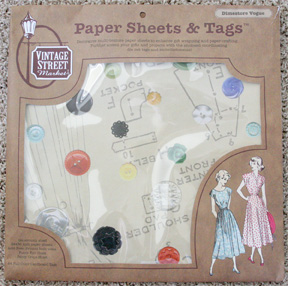 …and this brilliant stuff: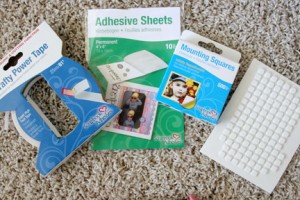 …and started playing.
Now, I'd never used the Adhesive Sheets before, and what can I say? I'm a believer. This stuff is incredible. I took two sheets and layered them onto the cover of the notebook, wrapping the sheet around to the inside so I could wrap the cover like a gift.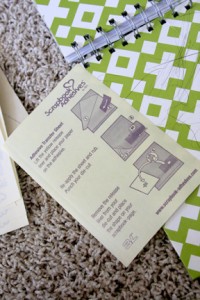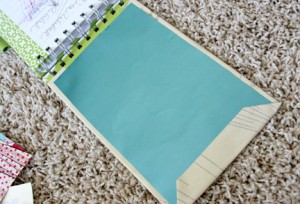 It worked perfectly. It may be my new favorite adhesive.
Though, Mounting Squares, this stuff works pretty great too.
I stuck one of these wherever I had a little piece that needed to be tacked down.
I love these little die-cut buttons, and with a few 3D Foam Squares, they became a nice addition to the front of my notebook.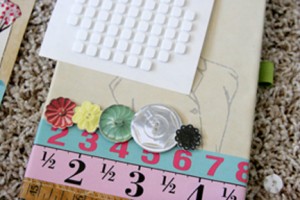 I layered them right on top of a strip of patterned paper that LOOKS like three strips (I love how easy THAT bit of layering was!…even without a paper trimmer!)
Next, I fell in love with this chick: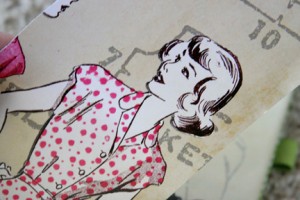 …and decided to give her a spot on the notebook too. I cut her right out of the paper and layered her on with the mounting squares.
The notebook still needed something. Ribbon. How do you alter a notebook without ribbon? But, there was just one problem. My ribbon is all packed away. Where? Well, your guess is as good as mine. But then I remembered the big ribbon that came with my daughter's new bedding. I never throw ribbon away, and today I was quite happy I didn't.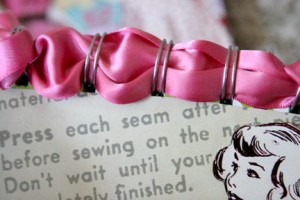 Instead of tying it on the spirals, I wound them through, zig-zagging over and under each one, tying knots at the end. I really like the way that turned out. And I loved that I hardly had any garbage when I was finished…How easy is THIS to throw away?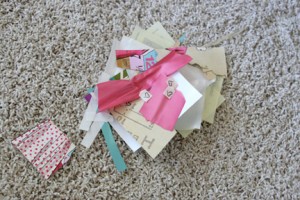 I know that may not matter normally, but when you're surrounded by boxes of STUFF…it matters, believe me.
When I was finished, my daughter asked for her notebook back.
Haven't quite decided if I'm going to give it back or keep it for myself. Only time will tell.
Thanks for letting me share today… I hope you'll come visit me on my BLOG! I look forward to seeing you there!