CHA is in full swing, which makes the sentiment on this card so timely!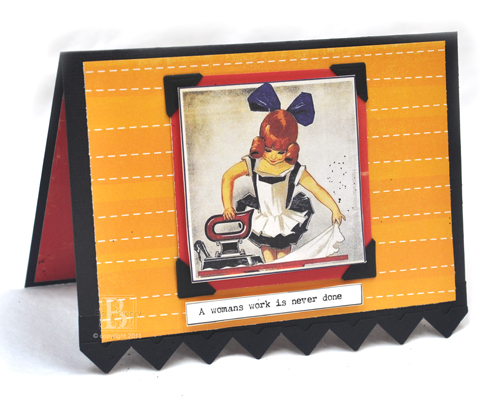 I love the deep tones of the Echo Park paper, they went perfectly with the Crafty Secrets image.
The image was cut out and adhered to the red patterned paper with 3D Foam Squares. I added Black Photo Corners to the red paper and adhered it to a panel of yellow-orange paper. For the black card base, I cut a 4.25 x 5.5 card, the trimmed ½" from the front panel.
I adhered Black Photo Corners along the cut edge.
The thing with Photo Corners is that they have adhesive on the back side of them.  If you used them the normal way, they stick to paper.  Since I didn't want my card stuck shut, I had to figure out a way to use the adhesive to my advantage.
Glitter to the rescue!  I sprinkled black glitter to the exposed adhesive on the back of the photo corners, and then it created a little surprise when the card is opened.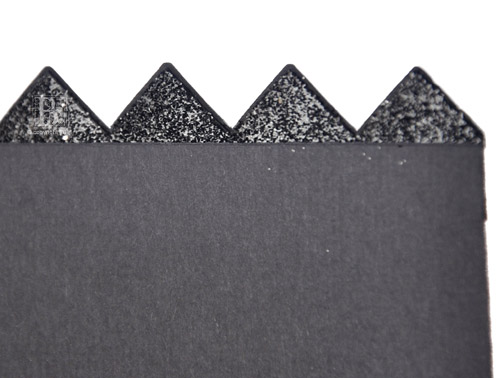 And because the base of the card is black, I wanted the zig-zag edge to be more visible, so I added a panel of red patterned paper to the inside of the card.

So that when the card is closed, you can really see the fun edge the Photo Corners make when lined up next to each other!

And when the card stands open, it stands on the points of the Photo Corners! You can appreciate the embossed design on the front of them too!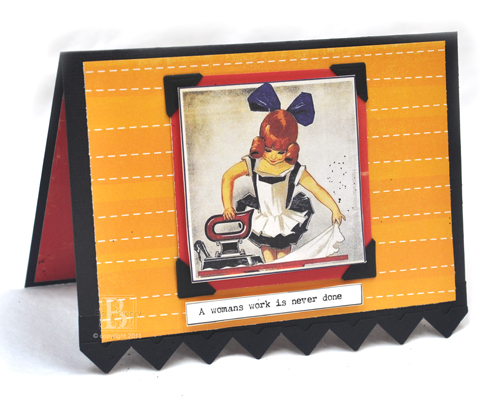 I used these Supplies:
SCRAPBOOK ADHESIVES BY 3L Black Photo Corners, Black 3D Foam Squares, Mounting Squares (Clear, Permanent)
Echo Park Paper Co.: Little Boy Strawberry, Summer Days Ice Cream patterned papers
Crafty Secrets: Heartwarming Vintage Creative Scraps Domestic Goddess images
Sparkle N' Sprinkle: Black Ice Glitter
Thank you for stopping by today!