It seems like only yesterday I was flipping my air conditioner on and wishing it would cool off a little, but here we are with snow on the ground and the promise of much more to come!
While I tend to layer myself in sweaters that double as blankets, my kids prefer to go out in this crazy snow and play. For hours. I couldn't just leave them out there without photographing it…so I stood inside and opened the door to capture it all on film. The result is this two-page layout, complete with bright winter colors and a quilt of patterned paper for a background.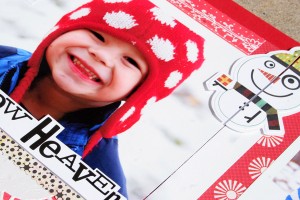 I loved these cute snowmen, so to unify the two pages, I cut it in half and used 3D Foam Squares to make both parts pop off the either side of the center line.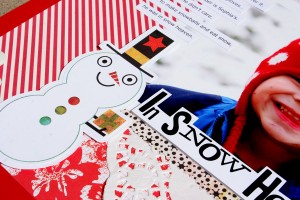 I added another snowman to the left of the photos and used a combination of letter stickers on cardstock to create my title. The title is also popped up with 3D Foam Squares because I'm obsessed with them and thing they're the best thing since sliced bread.
For the rest of my layout, I stuck with the trust MyStik™ Permanent Strips adhesive, which is just the easiest adhesive out there, making all those scraps in my background come together like they were always meant to be. I hand-stiched the buttons on almost simulating the idea of falling snow, layered a doily underneath my photo using the Scrapbook Adhesives Crafty Power Tape and then added my journaling strips. Super easy and captures my son's love of this crazy cold season!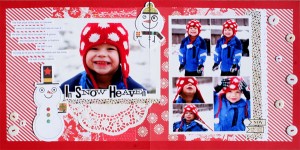 The results? Snow heaven.