Hello there, Latisha here.  With Summer CHA right around the corner, it is time for me to start using up some of my older product to make new for the new stuff.  I love, love, love tags.  I put them on everything, and are probably my most favorite thing to make.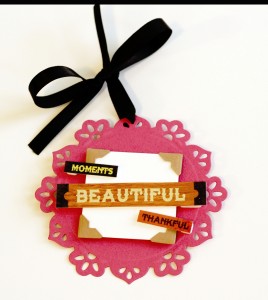 I had a die cut laying around that I never used, so I decided to start with that as my base.  Then, I took some white scrap card stock and trimmed it down to a 2″ x 2″ square.  I placed kraft Photo Corners on each corner, and then placed 3D Foam Squares on the back (white), and adhered the square to the pink die cut.  I had a sheet of Crate paper stickers laying around, so I took a few that would go well, placed 3D Foam Squares (white small) on the back of the stickers, and placed each sticker onto the tag.  I finished the tag by adding black satin ribbon.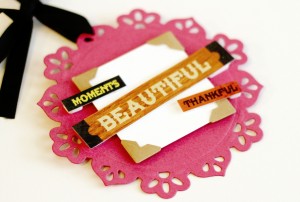 Go look through some of your paper crafting stuff, and make some pretty tags.  If you happen to blog them, share your link in the comments, I would love to see what you make!