Nathalie Kalbach is a Mixed Media Artist and Scrapbooker living with her American husband in the second biggest city of Germany, Hamburg. Living in the heart of the city in a neighborhood thriving with art & craft, she gets inspired by her urban surroundings. Nat loves to design, teach and write – doing all of it wholeheartedly. She has her own column with Somerset Memories (Stampington) called "Nathalie's Studio" and also writes for the German Scrapbooking Print Magazine "ScrapArtZine".
Nat designs for Tattered Angels and SCRAPBOOK ADHESIVES by 3L™. She is a certified Educator and Golden Ambassador for Tattered Angels.
Nathalie has been published in several magazines and idea books including Somerset Memories, Somerset Home, Somerset Studio,  Scrapbook Trends, Simple Scrapbooking and ScrapArtZine.
Nat loves to play with paints and other media.
Nathalie is absolutley thrilled to be part of the SCRAPBOK ADHESIVES by 3L™ Design Team for the second year now.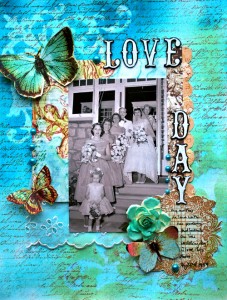 Favorite Project
It is hard to pick a favorite project since it changes every time I'm working on a new project that very same project then becomes my favorite one. But Love Day is a layout I still absolutely love – it was published in the Scrapbook Trends Magazine. I used my favorite colors to create the background paper, I love Vintage Photos and the Vellum Tape Runner, E-Z Runner and Crafty Power Tape by SCRAPBOK ADHESIVES by 3L™ made for an easy adhering of all the elements.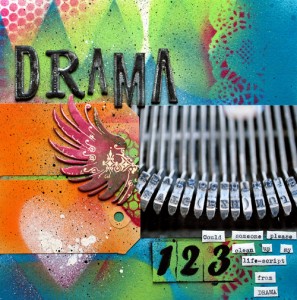 My style
This layout I think describes my style the best. It was just published in Somerset Memories as part of an article I wrote. It includes all the elements – creating my own backgrounds, using lots of colors, spray paints and other different media, including personal thoughts and hidden meanings into a project. Especially the usage of different media makes it necessary to work with quality tools and supplies – that is how I learned the hard way that a good adhesive is absolutely necessary to have a meaningful project for a long time.
I'm looking forward to my next year with SCRAPBOOK ADHESIVES by 3L™ and I hope I can bring you some inspiration and ideas out of the box to use your adhesives.
Have a wonderful day