Hi there!
Don't you just love getting gifts? I do! And I love it even more when people take the time and effort to make it unique  and special.
Today I'm sharing with you a cute gift bag with a picture of the lucky receiver printed on a transparency to make it very personal and unique.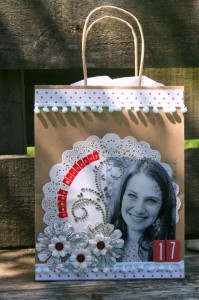 To make a bag like this you apply a doily on the paper bag using E-Z Runner Permanent  Fine. This paper is so thin that any other adhesive would shine through but the vellum tape works perfect for it!
Print a black and white picture on a piece of inkjet transparency and apply it to an Adhesive Sheets 4″ x 6″ / 10 x 15cm and go over it with a brayer firmly to get the adhesive equally on the transparency,  put the transparency on top of the doily.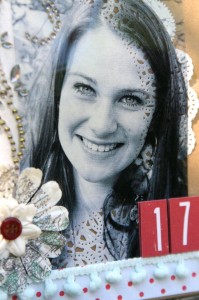 See how the doily underneath the picture shines true. Love that!
Cut strips of patterned paper and adhere them to the bag using MyStik™ Permanent Strips Dispenser.
Take 2 pieces of Crafty Power Tape – 81'/25m with Built-In Dispenser and fold it lengthwise to get very thin strips. Apply the strip along the paper strips and add the pompon ribbon.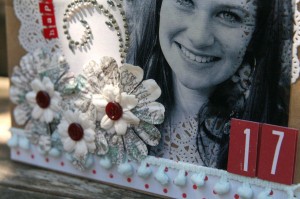 Add the crystals on top of the doily and then apply the flowers using Crafty Power Tape. Also use Crafty Power Tape for the buttons.
Cut out the numbers from patterned paper twice. Apply the first set to the back using MyStick Permanent and then the second set on top of them using 3D Foam Squares – White, Regular Size.
Finally add the letter stickers.
Thanks for visiting the Crafty Power Blog today!
Save
Save