Hi everyone.
In the summer of 2011, my 4 sisters-in-law and I went to Gaasten, Denmark,  to visit Graasten Castle.
It's the castle where our queens mother, Queen Ingrid, lived during the summertime when she was still alive. It has a wonderful garden, which she had built over the years, and many of her plants can still be found there.
I used Prima swirls "say it in crystals", flower border and paper from the series: "Romantique Collection". Two papers "Orchard" and "Hedgerow".
Lots of Scrapbook Adhesives by 3L 3D Foam Squares, and Crafty Power Tape. The 3D Foam Squares are strong enough to hold the big flower border.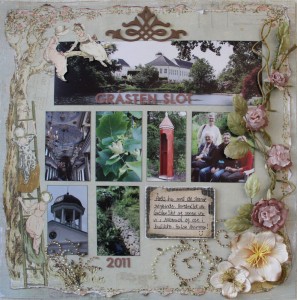 To day the sun is shining from a lovely blue sky, here in Denmark. Awesome 🙂
Have a nice day.
Karin Strandby