We're happy it's Monday, and even happier to be blog hopping with our friends at Graphic 45!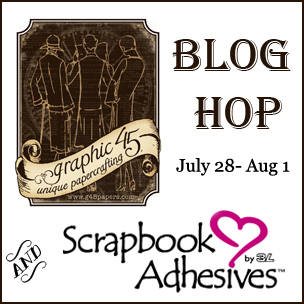 How to Enter to Win
We're doing this a little differently this time, here's how to enter to win one of our 3 awesome prizes of  Scrapbook Adhesives by 3L® and Graphic 45 goodies~
Enter through the Rafflecopter app on each blog each day with a comment. Additional entries are available by commenting on our Instagram Page,  be sure to tell us your profile name on the Rafflecopter app. You can also enter a third time via Facebook. Either click through the Rafflecopter app to comment on our Facebook page, or click on the Giveaway tab on our Facebook page. Each day there will be 2-3 new blogs to visit, and you can enter each day!  Then visit Graphic 45 to enter their drawings too!
Today's bloggers are:
Be sure to visit all the fabulous inspiration from Graphic 45!
Andrew Roberts' Blog
Annette Green's Blog
Donna Espiritu's Blog
Ginger Ropp's Blog
A little about Graphic 45~
Graphic 45 an award-winning scrapbook and paper crafting company- owned
and operated by a mother and her two daughters.
*Diane Schultz-*Designer and CEO (aka mother)
"I'm passionate about being creative and eager to make it possible for
others to find their creative voice. My background includes stints as a
designer for, McCalls, Simplicity, Vogue/ Butterick, Mattel Toy Company and
a host of other jobs that each, in some way, led me to what I do now. At 45
I went back to school and got my degree in graphic design- I named the
company to celebrate that achievement."
*Aimee Filimoehala*-Director of Operations
"I wear a lot of hats and love it that way. Business, marketing,
operations, etc. have made me a pro at multitasking (aka
juggling-figuratively and literally). When we launched Graphic 45 just five
years ago we had no idea what was in store, working together as a family
has been an amazing journey that we all feel so grateful to be a part of."
*Charee Filimoehala*-Director of Customer Service and Social Media
Coordinator
"I joined the team in 2009 and haven't looked back. What a life-changing
experience this has been. I love working with and around creative people
and products (not to mention I like my co-workers quite a bit). I spend my
days working with our friendly stores and talented design team. The
occasional trip somewhere warm is pretty nice too."
Together we create vintage inspired crafting products that capture the
flamboyant style of the 1920's and 30's – with vibrant color, irresistible
texture and imaginative design to create products with decades-old appeal
that's both fresh and familiar. Let our products inspire your next
scrapbook layout, card, album or home decor project.
Find Graphic 45 online on Facebook, Twitter, Instagram and Pinterest!
Find Scrapbook Adhesives by 3L online on Facebook, Twitter, Instagram and Pinterest!