Hello my peeps! Donna Salazar here to share one of my favorite new flower techniques with you. I especially love adhering these new flowers to rustic looking sticks to make home decor.
This project that has a few of the organza flowers together in a tiny little ceramic vase that one of my kids made in their ceramic class in high school. It was the perfect size for this project.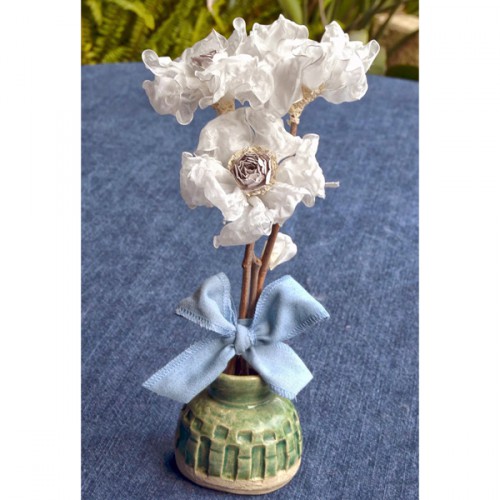 I added the flowers to some of the many sticks that my grandson, Hunter, gathers for me on our walks. I post pictures and videos of him gathering sticks on our walks on Instagram, Facebook and Twitter (it is his favorite thing to do) and Beth Pingry (Scrapbook Adhesives by 3L's "everything gal") gave one the hashtag #branchmanager… it gave me a good chuckle. 😉
Below is the video showing you how to create the center flower, made with my Bitty Blossom and Carnation Creation dies from Spellbinders, as well as how to build the organza flower. I hope you enjoy it!
Product used:
Scrapbook Adhesives by 3L®
Crafty Power Tape
Dodz™ 3D & Dodz™ Medium
Texture Ribbons (Organza)
Canvas Ribbons (light blue ribbon)
Lace Ribbons
Spellbinders™
Bitty Blossoms
Carnation Creations
Thanks for Stopping by!!! Smooches ~D~