Hi there,
it's Stephanie here today and I want to show you a mixed media flower card with Texture Ribbons – Organza from the Donna Salazar With Scrapbook Adhesives by 3L® New product line.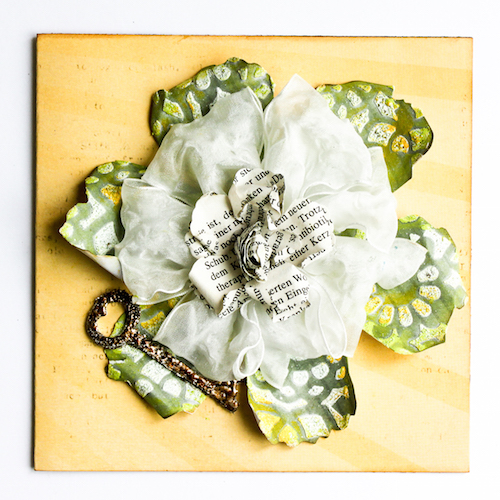 I followed the video instructions from Donna Salazar how to create a beautiful Organza Flower on a stick. But at this time I wanted to use that flower on a card And it works very pretty too.
And here is my tutorial how I made it.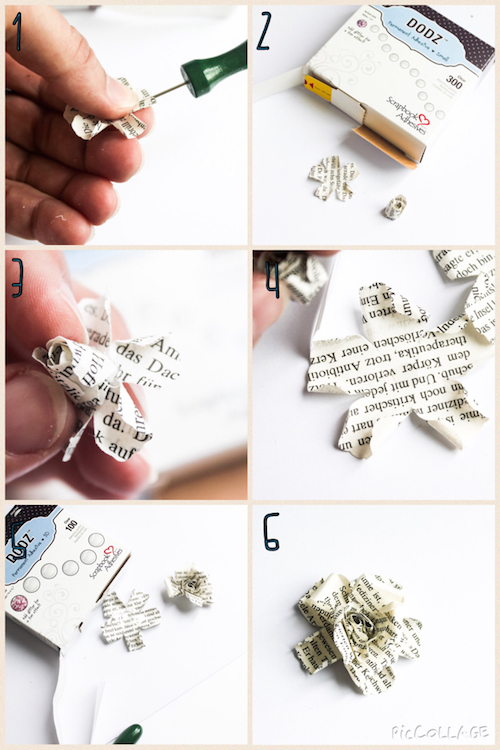 1) Cut out some flat flowers, 2 small and 2 bigger flowers and roll up the corners a bit.
2) Roll up the inner flower, like a bud, by getting the opposite sides are glued together with some DODZ™ – Small.
3) Then put this little bud on the second small flower also with a DODZ™ – Small.
4) Curl the bigger flowers.
5) Glue the bigger flowers to each other with a DODZ™ – Medium.
6) You finished your first part, the paper flower rose.
7) If you like you can cut out another paper flower, to make your flower bigger.
This is what I used, a Die I stenciled and embossed and colored with Distress and Gelato.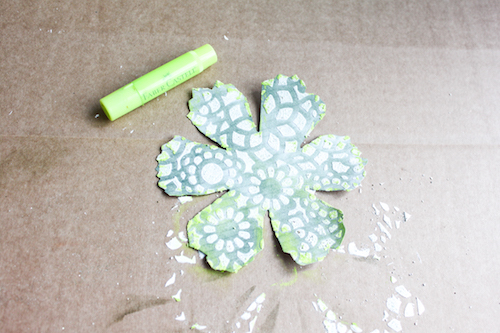 Now create your organza flower.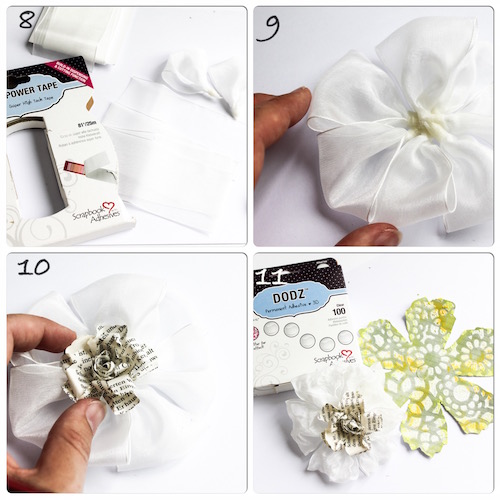 8) Cut out 7 stripes of Organza from Donna Salazar, glue the end together and make loops. Use the Crafty Power Tape – 81′. Then gather up the ends and wrap around your Crafty Power Tape – 81′.
9) Place the petals to a flower. You don't need additional glue because of your Crafty Power Tape – 81′.
10) Adhere your paper flower to your organza flower with a DODZ™ – Medium.
11) Use your heater to crumple the organza and adhere your Organza flower to the big paper flower with a DODZ™ – Medium.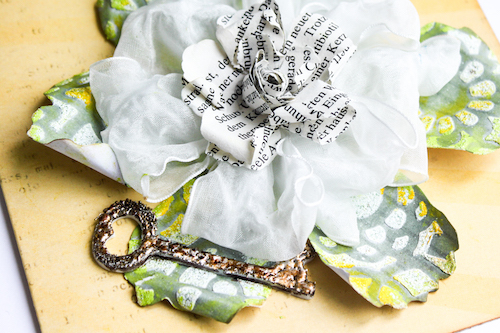 You can also use the Crafty Power Tape – 81′ to adhere your big flower on your cardstock. Now you can decorate it more. I love the 3D Foam Keys from Donna Salazar, so I embossed one of the keys and added it to my card.
Tip: Emboss the 3D Foam Shapes directly on the Foam Sheet. You can replace and apply it better after embossing.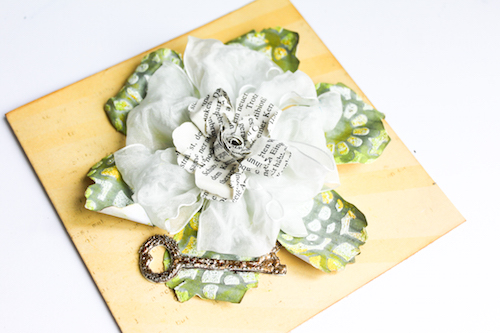 It was such a fun to create this big dimensional flower. Thanks Donna for this great idea!
Have a nice day!
Stephanie 🙂
Supplies from Scrapbook Adhesives by 

3

L®
Texture Ribbons – Organza
3D Foam Keys
Other Supplies:
Sizzix Big Shot Plus, Thinlits Die Set – Couquette , Bigz Die – Tattered Floral
Embossing Powder
Book Pages, Scrapbook Paper