Introducing Guest  Designer Tracey Sabella! She's on Donna Salazar's Creative Team. We loved the projects she sent to us for CHA. We are pleased to have her to show how to make these fabulous flowers using Girlie Grunge Twine.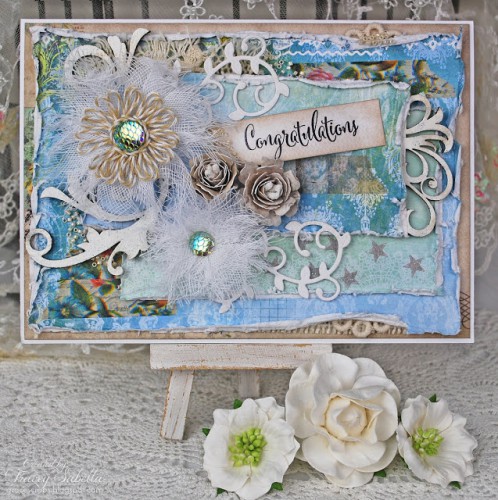 Hi I'm Tracy, and I'm so excited to be guest designing here at Scrapbook Adhesives by 3L®!
I have created a video tutorial for Girlie Grunge Twine Flowers used on projects I created for the Scrapbook Adhesives by 3L 2016 CHA MEGA Show booth with the new Donna Salazar with Scrapbook Adhesives by 3L® Girlie Grunge Twine.
Here's the trio of wedding themed projects I created with these flowers: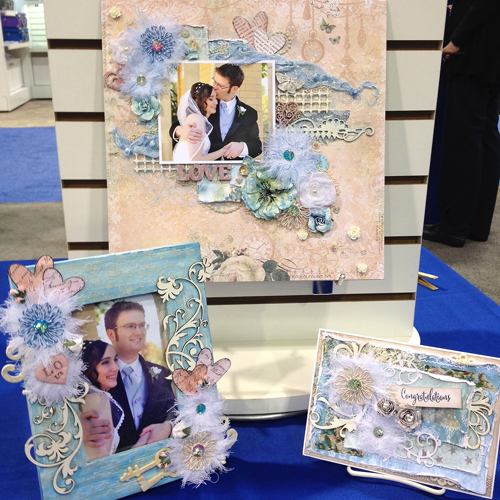 Here's a close up of the Girlie Grunge Twine Flower: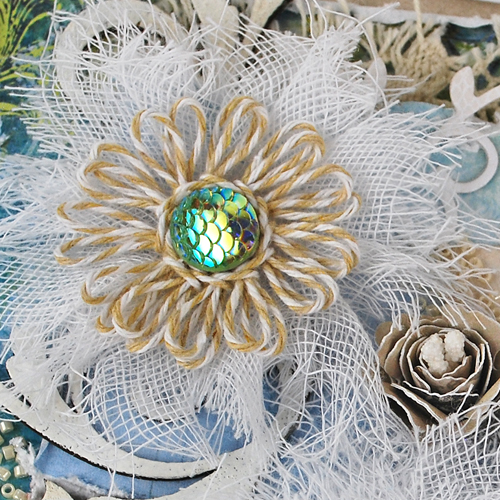 I created this journal page using the Donna Salazar Denim Art Journal, featuring Girlie Grunge Twine Flowers with glittered DODZ™ 3D centers.
Here's the close-up, yes those are Dodz™ 3D with glitter – so pretty!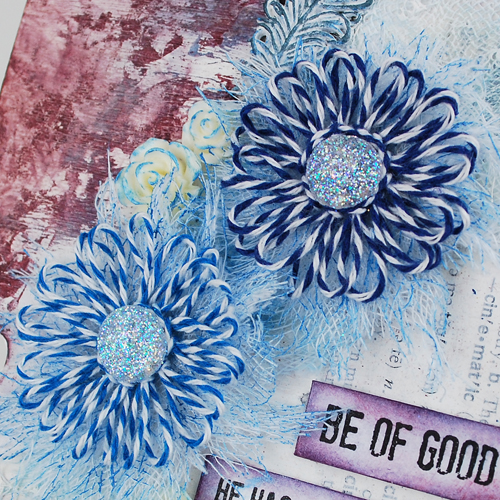 I hope you enjoy this Girlie Grunge Twine Flower Tutorial!
Thanks for stopping by!
If you would like to see more of my CHA projects, check out these links: Tracey Sabella's Wedding Card, Tracey Sabella's Wedding Frame and Tracey Sabella's Wedding Love Scrapbook Layout
~ Blessings, Tracey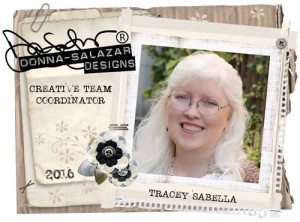 Supplies
For Flower:
Donna Salazar with Scrapbook Adhesives by 3L – Girlie Grunge Twine
Scrapbook Adhesives by 3L – DODZ™ 3D
Donna Salazar for Clearsnap – Twinkle Dust Glitter, Mixed Berries
For Loom:
2 inch chipboard circles x 2
straight pins x 12
Journal Page
Donna Salazar with Scrapbook Adhesives by 3L®
Pigment Powder Wine, Pigment Powder Silver
Girlie Grunge Twine – Navy, Aqua
Girlie Grunge Gauze
Denim Art Journal
Pigment Powder Blue
Dodz™ XL
Scrapbook Adhesives by 3L® ~ DODZ™ 3D,  DODZ™ Medium
Home & Hobby ~ Premium Double-Sided Tape 1/8″,  Premium Double-Sided Tape 1/2"
Clearsnap®/Colorbox®
Mix'd Media Inx® ~ Indigo, Schoolhouse, Black
Twinkle Dust Glitter ~ Mixed Berries
Smooch Spritz® ~ Sea Breeze, Mixed Berries, Holly Berries
Other Products
Dictionary Page ~ Stash
Tim Holtz ~ ideology – Heirloom Roses
The Paper Studio ~ Spare Parts – Metal Feathers, charms
Golden ~ Soft Gel, Light Molding Paste
Liquitex ~ Matte Medium, Gesso, white
Stampendous ~ Clear Stamps – Hope Verses
Americana Classic ~ Stencil – Jacobean Floral
Darice ~ Heat Tool