Hello everyone! It's Judy here today to share a burlap flower that I chose to use as a gift box topper. It could easily be used on an album, card, napkin ring, place card and more!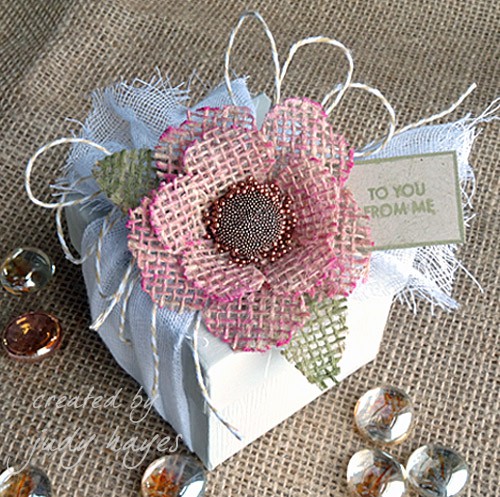 I love the look of burlap and its texture! Die cutting burlap is easy; however, it comes apart easily because of the loose weave. To prevent that for my flower, I brushed on a light coat of Girlie Grunge Art Medium on the back side of burlap.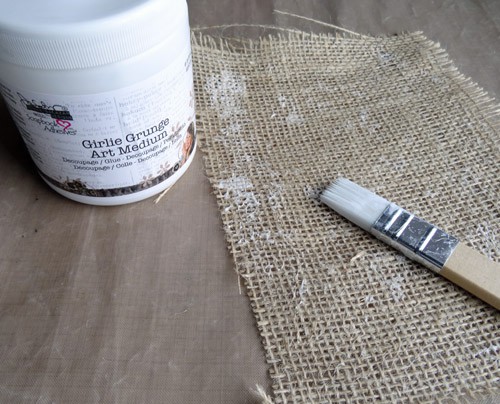 It didn't change the burlap on the front side, yet the fibers stuck together and it stiffened it so the petals could be shaped. Once it was dry (I have no patience for drying time so I used my heat tool to speed that up!), I die cut two flowers and leaves.
I applied color directly to the petals and leaves with an ink pad. I assembled the flower with several Dodz™ Small on the petals of the large flower, and then pressed the small flower in place. Leaves were also fastened with Dodz™ Small.
The flower center is a button covered with mini and micro beads. To make it, I threaded a piece of craft wire through buttonholes and twisted it together on back side. This makes a "handle" to hold while applying the beads. Next, I placed a Dodz™ XL on the button and wrapped it around the edges.
Then for the magic! I dipped the button, sticky side down, into a jar of micro beads. I didn't press it in far as I wanted the edges to be free of beads. I pressed the sides into a jar of mini beads. I then pressed it back into the jar of micro beads, this time pressing firmly, to fill in any gaps. Voila! A super cool flower center!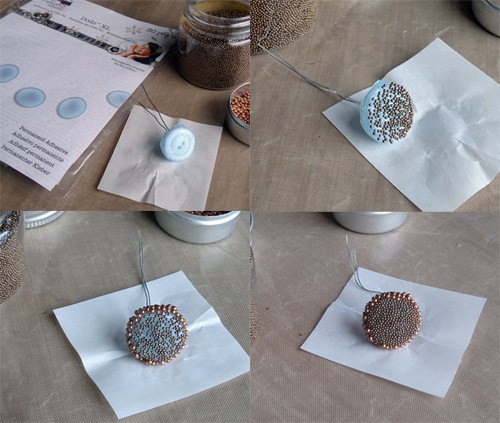 I used Dodz™ Small near the burlap flower center to hold the button in place and snipped off the wire ends. I used a toothpick to add a tiny bit of Girlie Grunge Art Medium on the flower around the button and added more mini beads.
To complete the gift box, I wrapped a strip of Girlie Grunge Gauze around the box and tied a bow of Girlie Grunge Twine around it. I added a little Girlie Grunge Art Medium to the twine to stiffen it. The flower is held in place with a Dodz™ 3D. I added a tiny tag tied on with more twine.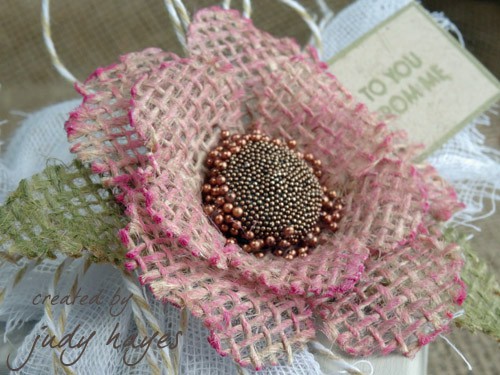 I hope I've inspired you to try Girlie Grunge Art Medium for this project or one of your own. It's really a versatile product.
I'm so happy to be on this design team! Happy crafting!
Judy
Supplies:
Donna Salazar with Scrapbook Adhesives by 3L® Girlie Grunge Art Medium
Donna Salazar with Scrapbook Adhesives by 3L® Dodz XL
Donna Salazar with Scrapbook Adhesives by 3L® Girlie Grunge Gauze
Donna Salazar Designs with Scrapbook Adhesives by 3L – Girlie Grunge Twine
Dodz™ Small
Dodz™ 3D
Other Supplies:
Spellbinders® Rose Creations, Burlap, Memento Luxe® Ink: Rose Bud, Pistachio, Button, Twine, Mini and Micro Beads, Avery Elle Simply Tags Everyday, card stock