Hello everyone! Donna Salazar here with a "Quick Craft Tips" video tutorial for you. I am constantly playing mad scientist in my studio and experimenting with my products to see what new techniques I can come up with.
Today I'm going to show you how to make an alcohol based sparkly spray with my Pigment Powders and how the sprays differ when using different ratios of Pigment Powder to rubbing alcohol. There's no Gum Arabic or  liquid medium like Girlie Grunge Art Medium added to the spray because I was afraid it would clog the nozzle. This spray isn't permanent if used on an untreated surface; however, the video will show that you do get some color and lots of sparkles when sprayed on an untreated surface even without a binder to make the spray permanent.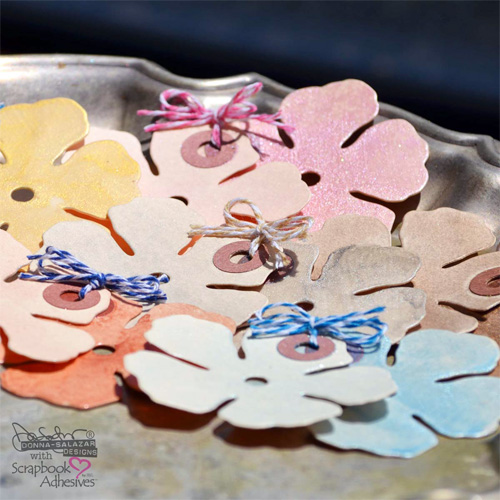 Here are the recipes that I created for each bottle. I used 5 Tablespoons of rubbing alcohol in all of the spray bottles then added Pigment Powder in the quantities below:
Pigment Powder Blue:  3/4 teaspoon
Pigment Powder Wine:  1/2 teaspoon
Pigment Powder Gold:  3/4 teaspoon
Pigment Powder Silver:  1/2 teaspoon
Pigment Powder Pink:  3/4 teaspoon
Pigment Powder Brown:  1 teaspoon
See below Donna's video on how to create these fabulous color sprays.
Below are some close up photos of the sprayed flowers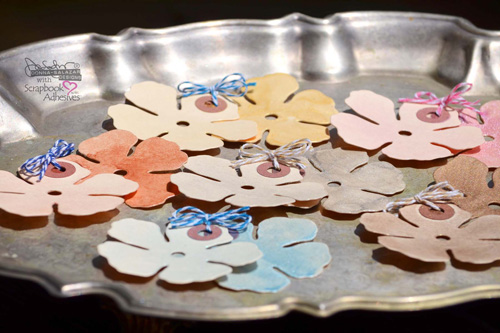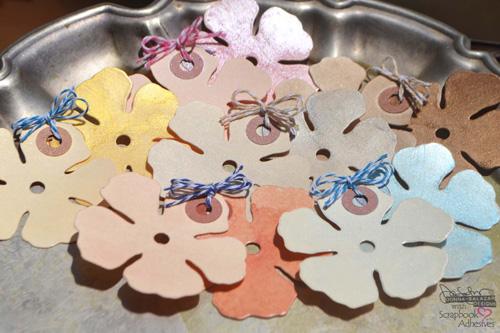 Products Used:
Donna Salazar Designs with Scrapbook Adhesives by 3L®
Pigment Powder Blue
Pigment Powder Wine
Pigment Powder Gold
Pigment Powder Silver
Pigment Powder Pink
Pigment Powder Brown
Girlie Grunge Art Medium
Girlie Grunge Twine
Spellbinders® Paper Arts/Donna Salazar Designs
Jumbo Rose Contour™ Steel Rule Die
Thanks for stopping by!!! Smooches ~D~