Hello everyone! Donna Salazar here with a photo tutorial for you using my Girlie Grunge Art Medium (which is pretty much my "this does EVERYTHING" product) and today I'm going to share another fabulous use for it… Image Transfer for your artwork.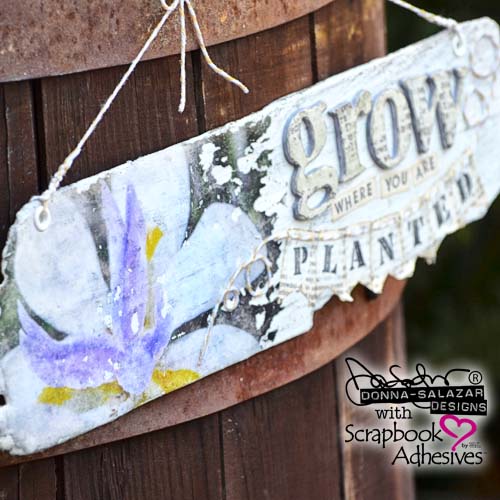 Before we get into the tutorial I just want to share a bit about this amazing product. We called it "Art Medium" because it has so many different uses. It dries clear, smooth, and never tacky and easily blends with water. When diluted it has a matte finish. One coat undiluted will give you a semi glossy finish, two coats and more will give you a glossy finish.
This one jar of medium works as a strong craft glue. It can be diluted with water to make the ideal decoupage medium and sealer. It can be used undiluted to stiffen and sculpt paper and material which has a bajillion uses in and of itself. It can be mixed with Pigment Powder to create paint and the paint can be diluted with water to create a glaze.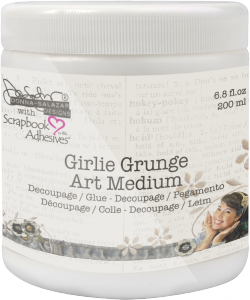 OK… Now that that is out of the way I'm going to show you how AMAZING Girlie Grunge Art Medium is for creating Image Transfer artwork.
You will need to use a photo that is printed on matte photo paper or white card stock for this technique to work. You should also start with a white painted surface. I'm using an old barn shingle that a friend gave me. I tried doing the image transfer without painted the surface first and since the shingle was so dark the image was totally lost.
Paint a thick layer of undiluted Girlie Grunge Art Medium over the area where your photo will be… Remember that the image will be reversed so keep this in mind when you are placing your photo.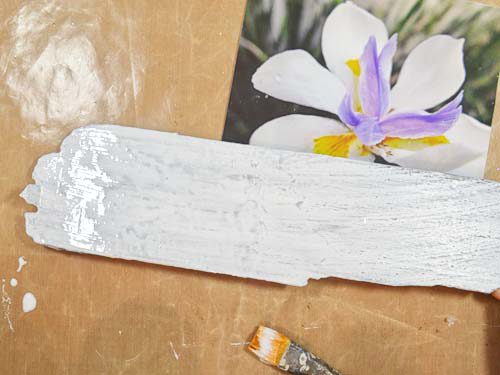 Place the photo face down over the wet Art Medium and press the photo firmly into the surface. You can use a bone folder or your hands but just make sure there are no bubbles.
Dry the photo with a heat gun (or allow to air dry). You need to make sure that the medium under the photo is completely dry. You can stand over the photo waving a heat gun about 6-8 inches away for a while or you can walk away and let it dry overnight… It just depends on the level of your patience… LOL!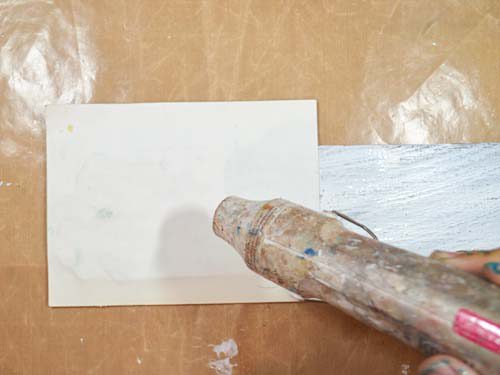 Once it's dry you are going to add water to the back of the photo until it is saturated, then let it sit for a minute or two. I know it sounds funny but we need the medium dry before we wet the photo for this to work. You need to saturate the back of the photo and let it sit for a minute or so.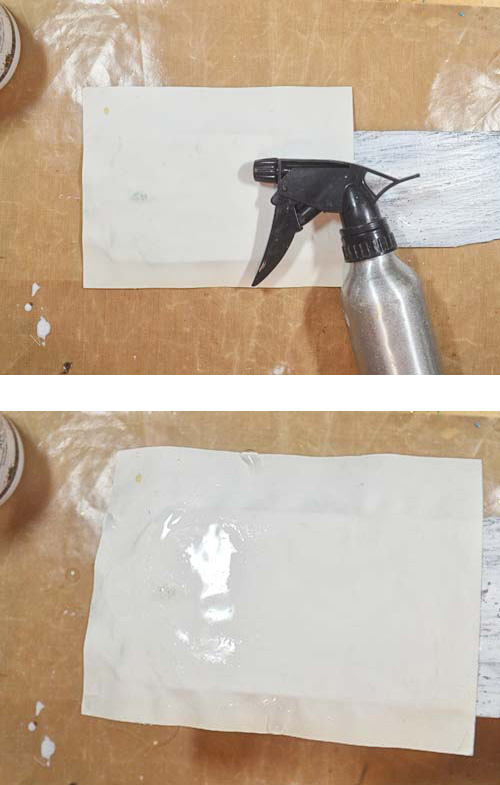 After the water starts to soak in, begin rubbing your hand across the paper until the pulp starts to roll up.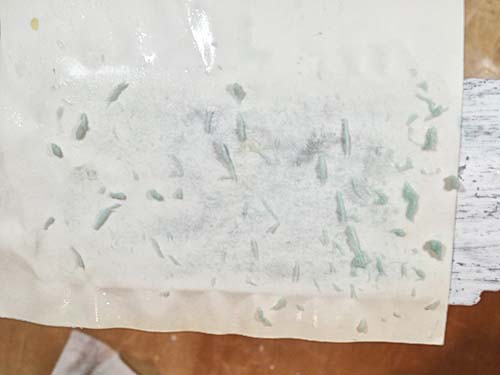 Continue rubbing until you start to see the image appear adding water periodically.
Once it is getting close you will see the full image, just a little cloudy with white.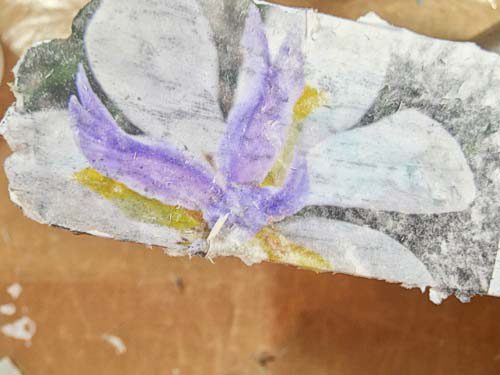 This is where you need to be careful. Too much rubbing and you will rub the image right off, not enough and you will have a cloudy image. I wanted the edge to be kind of grungy so I went to town and ended up with a raggedy edge and some holes.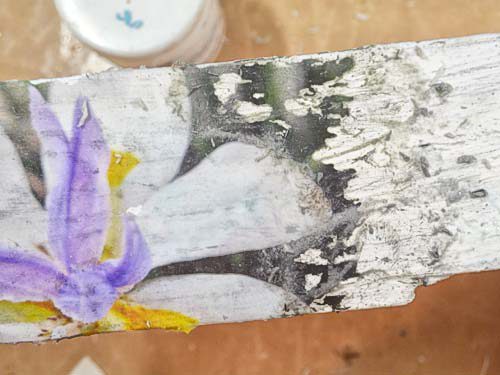 The image transfer looks good at this point and if you want a clean image STOP here! Just paint a layer of Girlie Grunge Art Medium diluted by 1/2 with water as a sealer over the image and dry with a heat gun. I also wanted to point out that in this photo there are 2 jars of my Girlie Grunge Art Medium. That's because I keep a second jar that has my Art Medium that is already diluted by 1/2 with water to use for decoupage and sealing.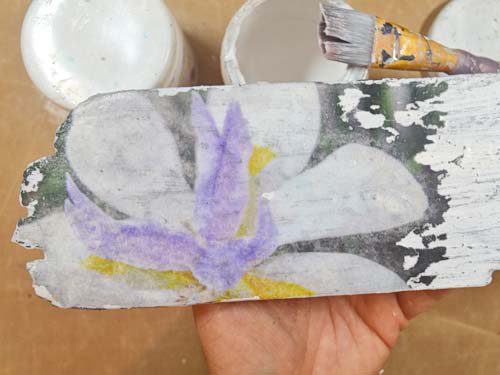 But… I wanted to see how much of the paper pulp I could remove to get a really clear image and I decided this AFTER I had painted the Art Medium over the image. I got a really clear image but I also got a few bits of the photo that came off too.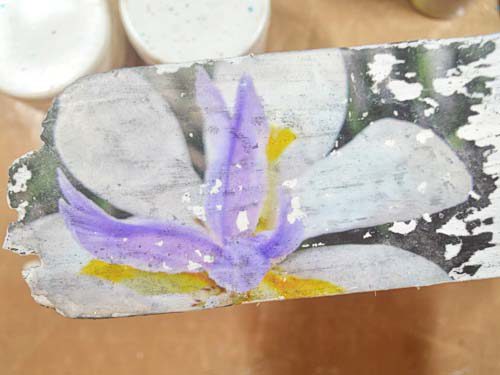 I finished the sign by adding some chipboard letters (that I've been hoarding for over 5 years) and I used my watercolor paints made with my Pigment Powders to add a lavender edge to them (a combination of Pigment Powder Pink, Silver and Blue was used to achieve the lavender color). I used the Girlie Grunge Art Medium to adhere the letters to the sign and I used my diluted Art Medium to adhere the stamped words. I die cut and stamped the banner with my Alpha Bits stamp/die combo from Spellbinders, sewed the pieces together with my Girlie Grunge Twine and adhered it to the sign with the E-Z Runner® Micro Refillable Dispenser.
Then I used my Girlie Grunge Art Medium (undiluted) to paint over the letters and banner and to also shape the ends of the twine into loops.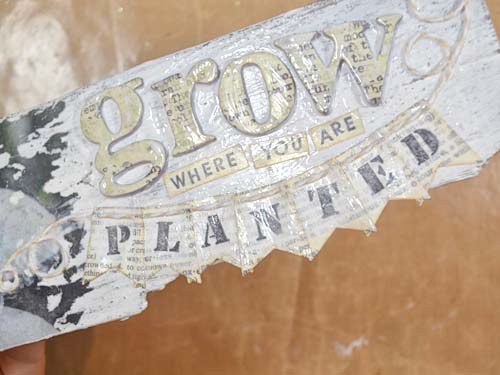 I punched holes through the shingle and added eyelets to string more Girlie Grunge Twine for the hanger.
And this is the finished sign!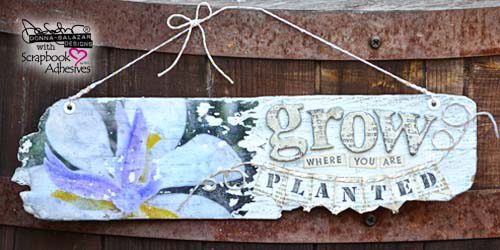 Here is a close up of the Girlie Grunge Twine stiffened into loops on the sign as well as tied through the eyelet for the hanger. You can also see some of the lavender sparkling peeking out from the side of the chipboard letters.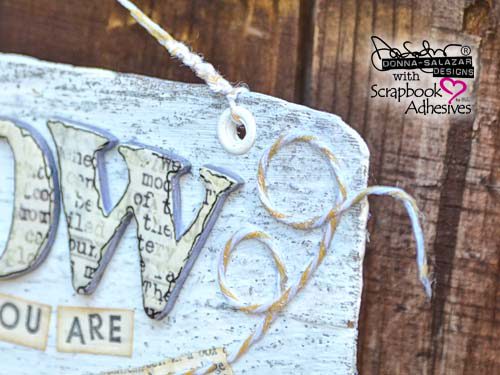 Here is a close up of the banner. I used my Mix'd Media Inx CHOX to stamp the letters and ink the edges.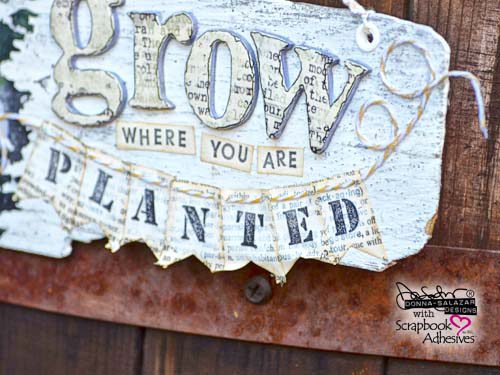 Here is a close up of the grungy image transfer.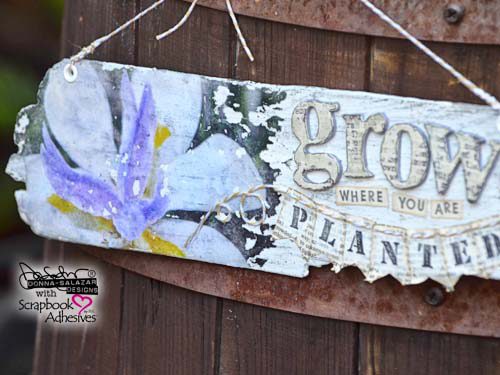 Here is a side view of the sign.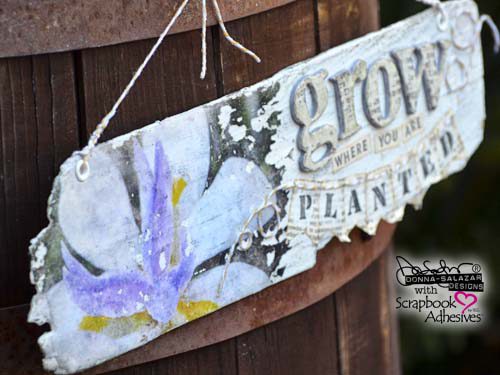 Product used:
Donna Salazar with Scrapbook Adhesives by 3L®
Girlie Grunge Art Medium
Girlie Grunge Twine
Pigment Powder Silver
Pigment Powder Pink
Pigment Powder Blue
Scrapbook Adhesives by 3L®
E-Z Runner® Micro Refillable Dispenser
Spellbinders® Paper Arts
Alpha Bits stamp/die combo
Colorbox®
Mix'd Media Inx CHOX (Midnight & Driftwood)
See more of Donna's Projects:
I hope you enjoyed learning about my Girlie Grunge Art Medium. Thanks for stopping by!!!
Smooches ~D~