Hello everyone! Donna Salazar here with a mixed media medal tutorial. Create these for crafty occasions… or just because, using Donna Salazar with Scrapbook Adhesives by 3L® products!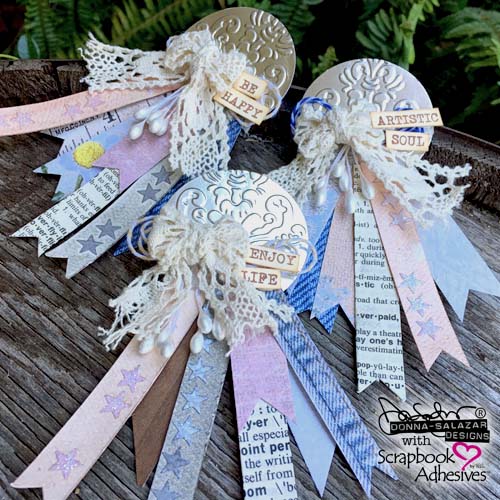 I started by cutting several different pieces of patterned card stock into strips of various widths and lengths. You want to keep them no wider than 3/4 of an inch and no longer than about 4 inches. I also cut 3 pieces of watercolor paper into strips that were 1/2 inch wide and 4 inches long, even though only 2 are showing. Cut a notch into the end of all of these strips.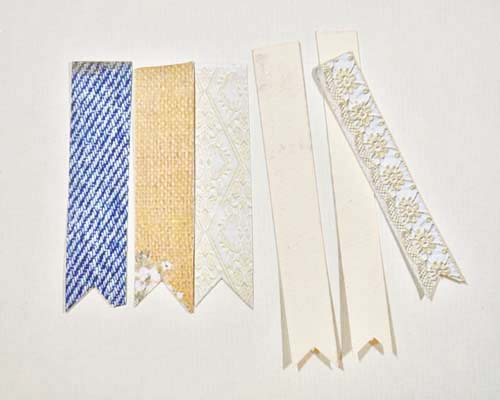 I used my E-Z Stars Runner Refillable Dispenser to add some double sided adhesive stars to each of the watercolor paper strips. You can do a continuous line or break up the pattern like I did on mine.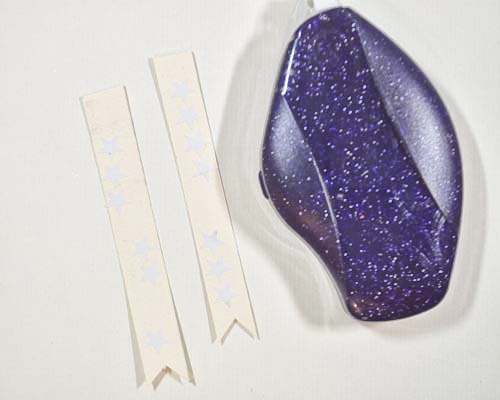 I burnished Pigment Powder Silver over one of the strips with my finger. Tap into the powder and rub it in (which made the stars show up really well). I added glitter to the other E-Z Stars strip then watercolored over the glittered strip with one of the watercolors that I made with my Pigment Powders (Pink, Gold & Silver) and gum arabic. See the tutorial here!
I then used some of my Girlie Grunge Art Medium diluted by half with water to decoupage a book page to the last watercolor paper strip then cut a notch in the bottom of this strip as well. Paint a layer of the same diluted Girlie Grunge Art Medium to seal the other two watercolor paper strips.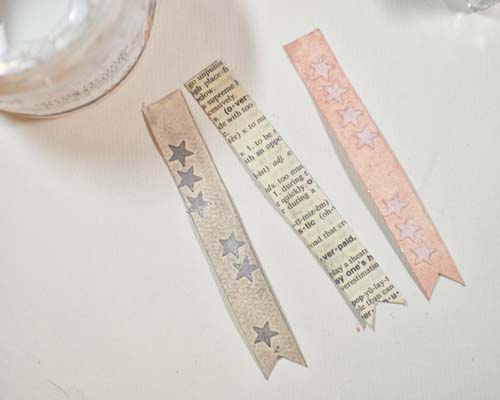 Layer all your paper strips together into an A shape.
Staple the strips together at the top then trim off the excess above the staples so you have a straight top edge then staple the strips to an embossed metal tag. I ran the metal tags through die cutting machine with my Medallions embossing folder to create the embossed design on the metal tag.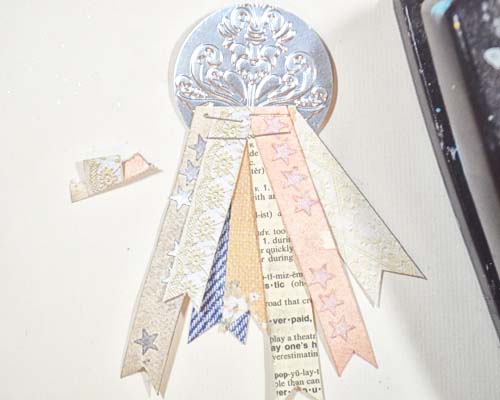 Wrap some Girlie Grunge Twine around 3 fingers about 4 times then cut the end and twist in the middle to make a figure 8.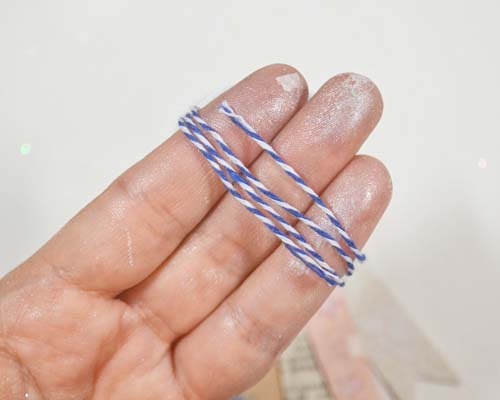 Add a little bit of Crafty Power Tape 81′ over the strips and lay the Girlie Grunge Twine over the adhesive.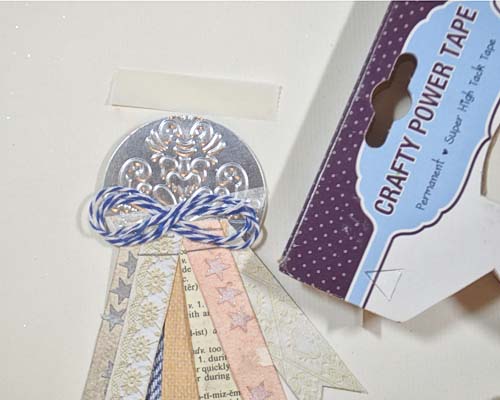 Fold several flower stamens in half. Fold a piece of Crafty Power Tape over the end of the stamens. Lift up the liner from the short end then roll the stamens to give you an adhesive end.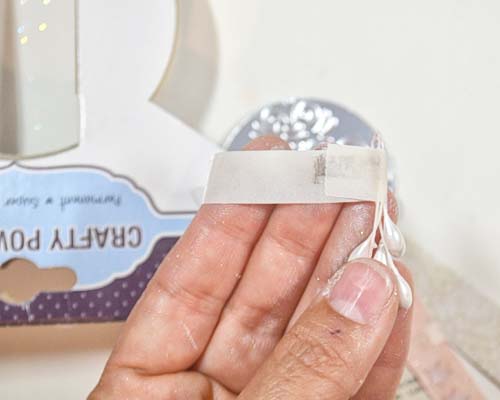 Place the stamen with the adhesive in the center of the Girlie Grunge Twine. Add a Dodz™ Adhesive Dots 3D to the back of a bow tied with my Lace Ribbons and adhere over the adhesive on the stamens.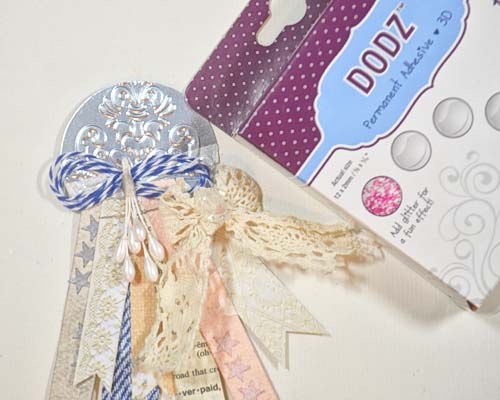 Stamps some words with my "Journal Words" stamp set using my Mix'd Media Inx CHOX onto strips of paper. Use 3D Foam Squares – White, Small on the back of the words and adhere to the medal.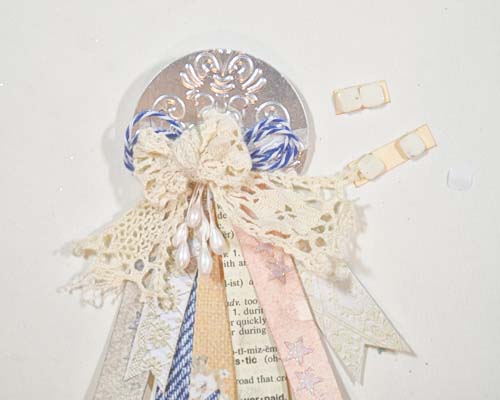 Add a pin back.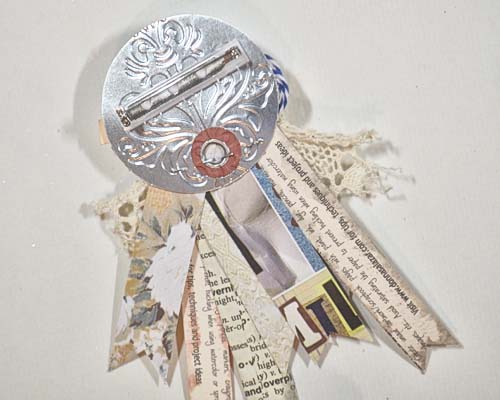 And this is what the finished medals can look like!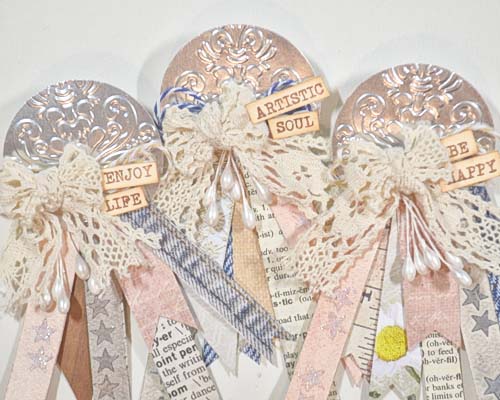 Products used:
Donna Salazar with Scrapbook Adhesives by 3L®:
Girlie Grunge Art Medium
Girlie Grunge Twine
Lace Ribbons
Pigment Powder Gold
Pigment Powder Pink
Pigment Powder Silver
E-Z Stars Runner Refillable Dispenser
Scrapbook Adhesives by 3L®:
Crafty Power Tape – 81′
Dodz™ Adhesive Dots 3D
3D Foam Squares – White, Small
Spellbinders® Creative Arts:
Medallion Embossing Plate
Journal Words Stamp Set
Clearsnap®
Mix'd Media Inx CHOX – Sparrow
Others:
2" metal embossable tags
multiple patterned card stock
watercolor paper
flower stamens
gum arabic
pin back
See more posts using Donna's Pigment Powder watercolor paints!
I hope you enjoyed this tutorial! Thanks for stopping by!!! Smooches ~D~
Save