Mounting Squares 500 White Initially Repositionable
---
Our temporarily repositionable Mounting Squares are a remarkable solution for those "just-in-case" moments. For 5 minutes after application, the square of adhesive can be repositioned. After the 5 minutes is up, a trusted bond is left behind.

500 mounting squares
½" x ½" / 12 x 13mm
White, sets to permanent, double-sided adhesive
Suggested Retail Price $3.49
Visit our Preferred Retailer List to find a retail store near you.
Projects using this product
CONGRATULATIONS CARD USING MOUNTING SQUARES
Vintage Notebook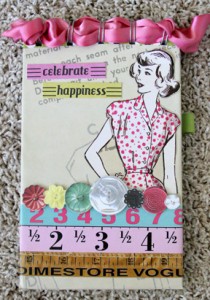 Altered Notebook