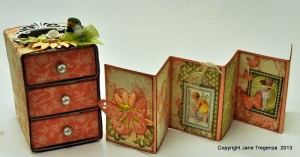 Hello Everyone.
Today I have a cute mini project for you. I love making small projects and this one is on the small side. For this little cutie, you need three old matchboxes. I used three that were a bit bigger than the normal size matchbox. I have made one for Graphic 45 using two of their match boxes. But for this project you can use three old matchboxes. Each one has something different in the draws. I have used Graphic 45 "Little Darlings" print papers.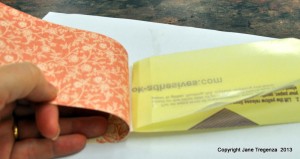 Cut a piece of print paper the same width as your matchboxes. But leave it the full 12 inches long. Cover the back of it with some Adhesive Sheets, I used the 12 x 12 inch sheets.

Only peel the backing of enough of the adhesive sheets to cover the top of your match box. The sides and base need to be sticky free at this stage.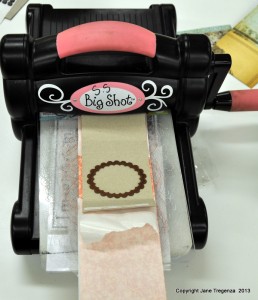 I used one of Spellbinders oval scallop dies in my Sizzix Big Shot. I chose one that was small enough to fit on top of my match box.  Cut out the oval, this will give you an opening on the top matchbox so you can see what is inside.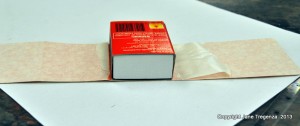 Once you have cut the oval, place the draw back in and adhere all three matchboxes on top of each other. Peel the backing off the Adhesive Sheet and wrap it up each side of your matchboxes and overlap the print papers on the base of your top matchbox.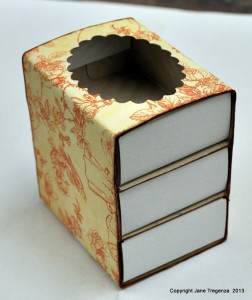 Your three boxes should now look like this. Take out each draw and measure the front of each draw. Cut a strip wide enough to cover the front of the draw and about 4 inches long. Use a E-Z Runner® and adhere one strip to the front of each draw, the strip will be long enough to wrap around each side for about 1/2 inch.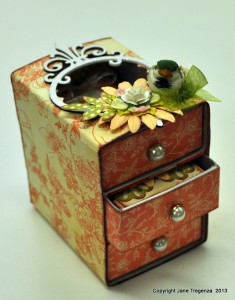 Use a pearl brad in the middle of each draw to make a knob. This will let you open each draw. I painted an oval Imaginarium Designs frame with white gesso and I adhered it to the top of the matchbox. It fitted over the oval and gave strength to the top of my matchbox.  I adhered three flowers on top of each other and adhered them to the bottom of my frame. I used DODZ™ -Medium for adhering all my flowers together. I punched a leaf out of paper and tucked it under the flower. I had a little mushroom bird and added to my frame, again I used another Dodz. I love the way these little Dodz work so well. They are quick and easy to use and stick just about everything down. I tied a little bow in ribbon and tucked it next to the bird.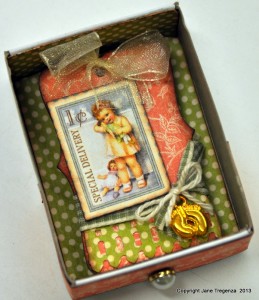 I lined each draw using more of my Adhesive Sheets. I find these sheet are great to use. They make the job so quick and easy to use. In the top draw I have a mini tag which I have placed in my draw building it up with 3D Foam Squares – Black, Variety Pack. I used three squares on top of each other. I can't get enough of these squares, I love them. The small ones are perfect for all the little projects I do and the big ones in the pack for all my larger projects.  I must say that the black ones are my favorite.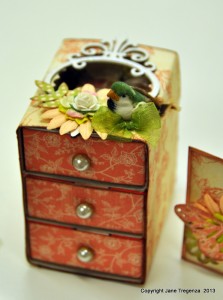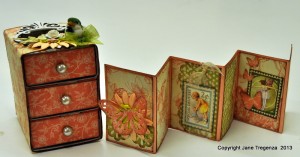 I even made a mini book for one of my draws. It was quite simple to make. I used a piece of cardstock, I measured the inside of the draw and worked out where to fold it so I got 6 pages folded to make a mini concertina book. I used lots of my scraps of paper, more DODZ to adhere all the little flowers, butterflies and embellishments to my mini book.
Well I hope you feel inspired to have a go making one of these.
Thanks so much for looking
Hugs
Jane Tregenza