Hello- AJ here to share with you a fun Easter treat container you can fill with just about anything!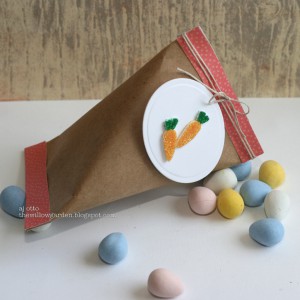 My kids are starting to get to the age of no Easter baskets, but they still do enjoy all things chocolate egg related!!  😉 These sour cream containers are super easy to make, and fill with just about anything they like.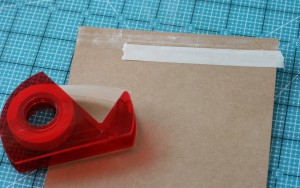 Adhere several pieces of Crafty Power Tape to the long end of your cardstock-(It's 4 1/2 X 5 1/4″ here) and secure into a roll shape.  Burnish the inside with a bone folder.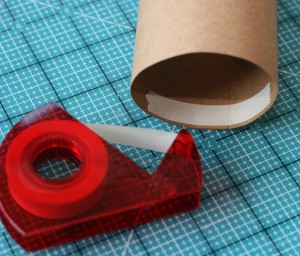 Now, on the short end, again add Crafty Power Tape and secure closed, pinching it off.  *Fill with treats before closing both ends* Flip over to the open end, and repeat making sure to close the alternate direction.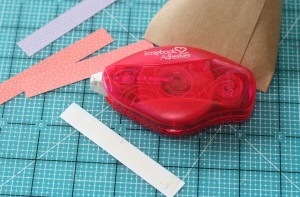 Add a few strips of patterned paper to the seams for a splash of color using E-Z Runner® Strips Permanent Refillable.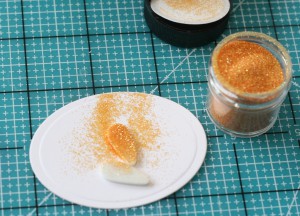 Next up, place your carrots from the 3D Foam Easter shapes on to a die cut and cover with glitter.  First with orange, then with green. I do love that they come in pieces like that to make customizing easy!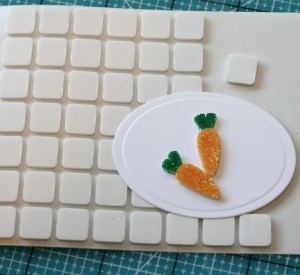 To finish it off, adhere the die cut to the container with 3D Foam Squares.
You can also fill with non candy items, or even use for birthday party treats.
enjoy!
Spellbinders Paper Arts Dies; Lawn Fawn patterned paper; Art Glitter; Twine