Hi it's Beth, and today's card features Adhesive Sheets and ribbon. I've had this idea in my head for a while, and I'm so happy with the way it turned out. Let me show you how I did it.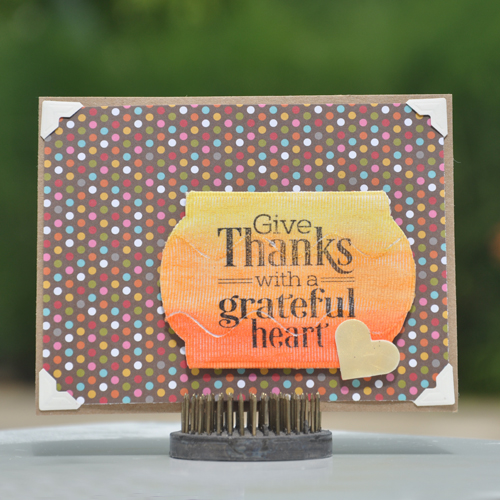 Adhesive Sheets are a great way to cover a lot of area fast, so they were the perfect choice for this project!
First, trim a scrap of cardstock to a little larger than the die you'll be using. Peel the yellow layer off the Adhesive Sheet and place it adhesive side down onto the cardstock.
TIP: Save the yellow sheet for later!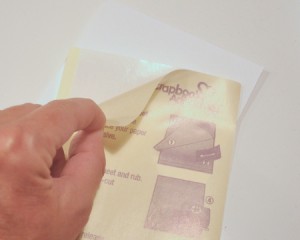 Next peel off the back of the adhesive sheet, which leaves you with cardstock covered in a thin layer of adhesive.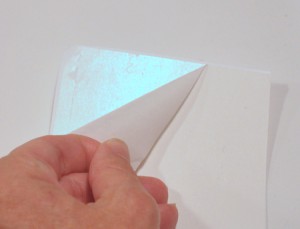 Next, cover the adhesive with ribbon, here I used wide ribbon so it only took 3 pieces.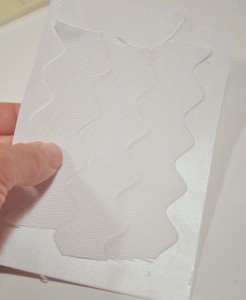 Optional step: alter the ribbon! I used Gelatos to create fall colors on the ribbon. If your ribbon is already just the way you want it, skip this step.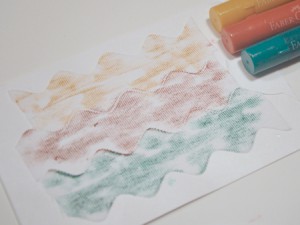 I had some fun with the Gelatos, by rubbing the color in with my finger, then adding a bit of water to continue to blend it. (I messed up in a further step and had to re-do so I went with a different set of colors. Why am I craving candy corn?)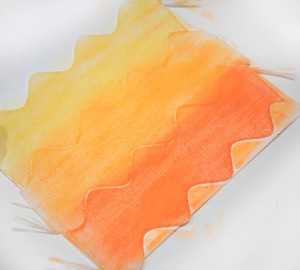 Once the ribbon was colored, I stamped a sentiment, then die cut it. Now, the variable part here is the thickness of the ribbon, cardstock and the type of die you use. I used a thin metal die, and ran it through my machine a few times, but I still had to trim some of the edges with scissors. Not a biggie, because the ribbon was thick.
Did you save the yellow sheet from above? Place it over any exposed adhesive before die cutting, and your paper won't stick to the cutting plates!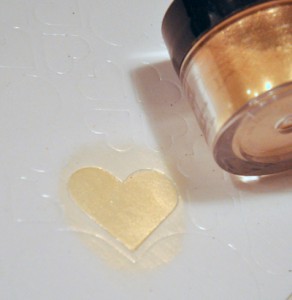 It says "Grateful Heart", so I had to use a 3D Foam Heart, right? I added pigment powder to it, using my finger. Plopped it onto the ribbon (yes, it sticks to the Gelatos and ribbon!) so it was a bit skewed. To keep it the same height as the rest of the die cut, I trimmed a 3D Foam Square to support the edges, then added more around the back side of the die cut.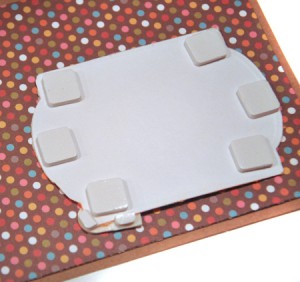 See how that looks? I love this card, I hope you do too!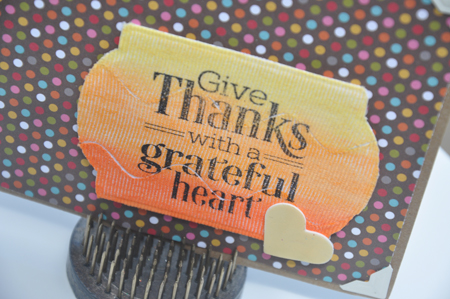 Thanks!
I used these supplies:
Scrapbook Adhesives by 3L®: Adhesive Sheets 4×6″, Creative Photo Corners Ivory, 3D Foam Hearts, 3D Foam Squares
A Jillian Vance Design: Autumn Blessings stamp, Chalkboard Backdrop Die
Simple Stories: Snap Life paper
Design Memory Craft: Gelatos
May Arts Ribbon: large white ric rac ribbon
Imagine Crafts/Tsukineko: Stazon Ink – black
Jacquard: Brilliant Gold pigment powder
Kraft cardstock