Hi everyone, Yvonne here with a glittered Autumn card. What I love about autumn so much is seeing the green leaves turn into beautiful and bright colors like yellow, orange, and even bright red. These colors inspired me to make this card.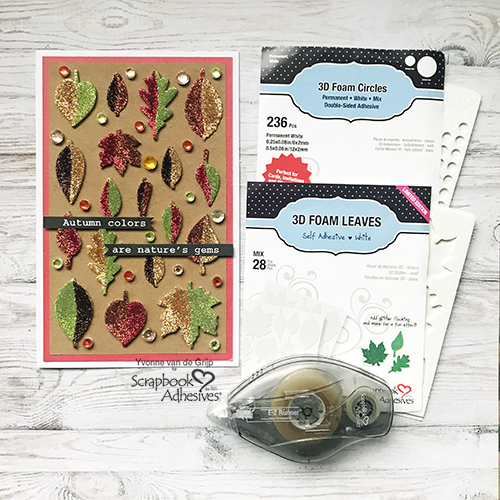 What's great about this card is that it's really super simple to make using 3D Foam Leaves. With a technique called Wear Your Adhesive on the Outside, even beginning card makers can achieve this look. Shall we get crafty?
Autumn Card Base Layers
Use the E-Z Runner® Ultra Strong Refillable Dispenser to adhere a rectangle Kraft card panel on top of a slightly larger dark salmon panel.
Glittered Autumn Leaves
Start by adhering 3D Foam Leaves onto the kraft card panel until you get your desired look.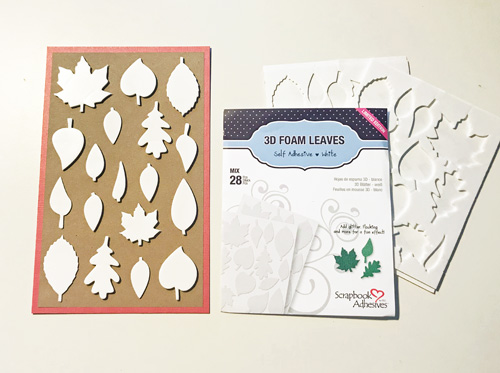 Using a craft knife, cut through the top liner over the length of each leaf.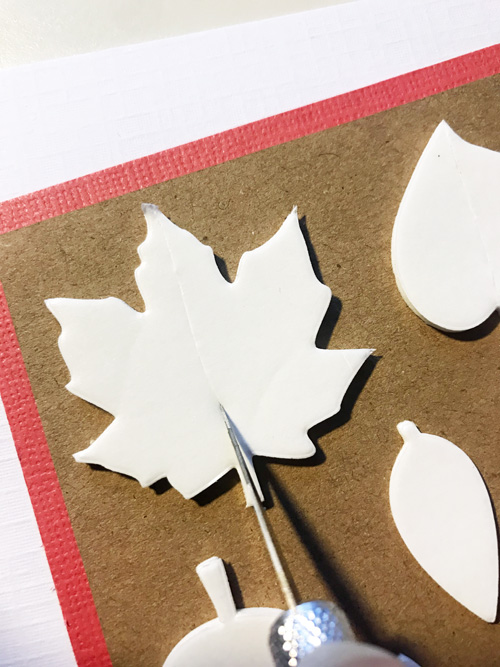 Randomly gently peel off half of some of the leaves and sprinkle an Autumn color glitter over the exposed adhesive. Press the glitter to secure and tap off any excess glitter.
Repeat this process with several autumn color glitter until all the leaves are covered. This technique showcasing your adhesive is called Wear Your Adhesive on the Outside.
Autumn Gems Placement
To add the gems in autumn colors in a unique way, I first adhered 3D Foam Circles White Mix in between gaps of the leaves. Then peel off the top liner and placed rhinestones on top. Perfect sparkle and lifts the rhinestones so it doesn't get lost with the glittered leaves.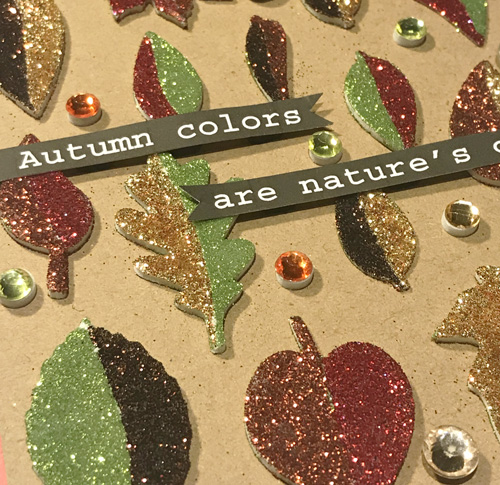 For a finishing touch, I printed an autumn sentiment and adhered it to the card using 3D Foam Squares White Small Size.
And voila…your Autumn card is ready to make someone happy.
I hope you enjoyed this tutorial and wish you happy crafting!
Hugs,
Yvonne van de Grijp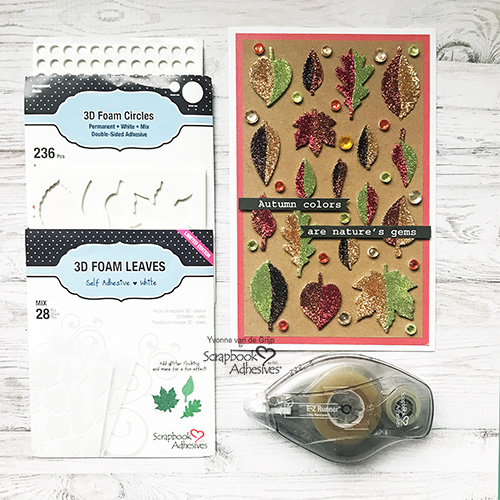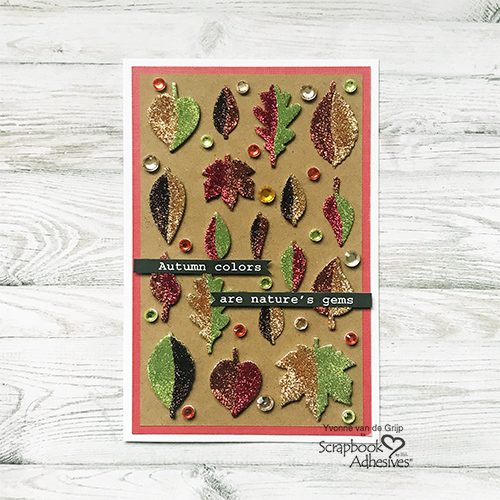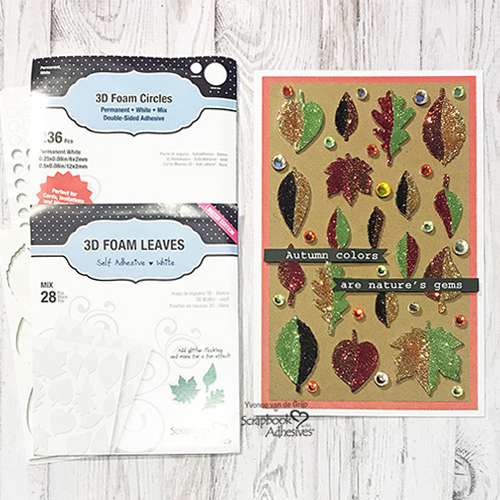 Creative Time: 30 minutes
Skill Level: Beginner
Materials Needed
Scrapbook Adhesives by 3L®
3D Foam Leaves
E-Z Runner® Ultra Strong Refillable Dispenser
3D Foam Squares White Small Size
3D Foam Circles White Mix
Other
Cardstock (White, Dark Salmon, Kraft); Printed sentiment; Rhinestones; Paper Trimmer; Bone Folder; Tweezers; Craft Knife
Save It!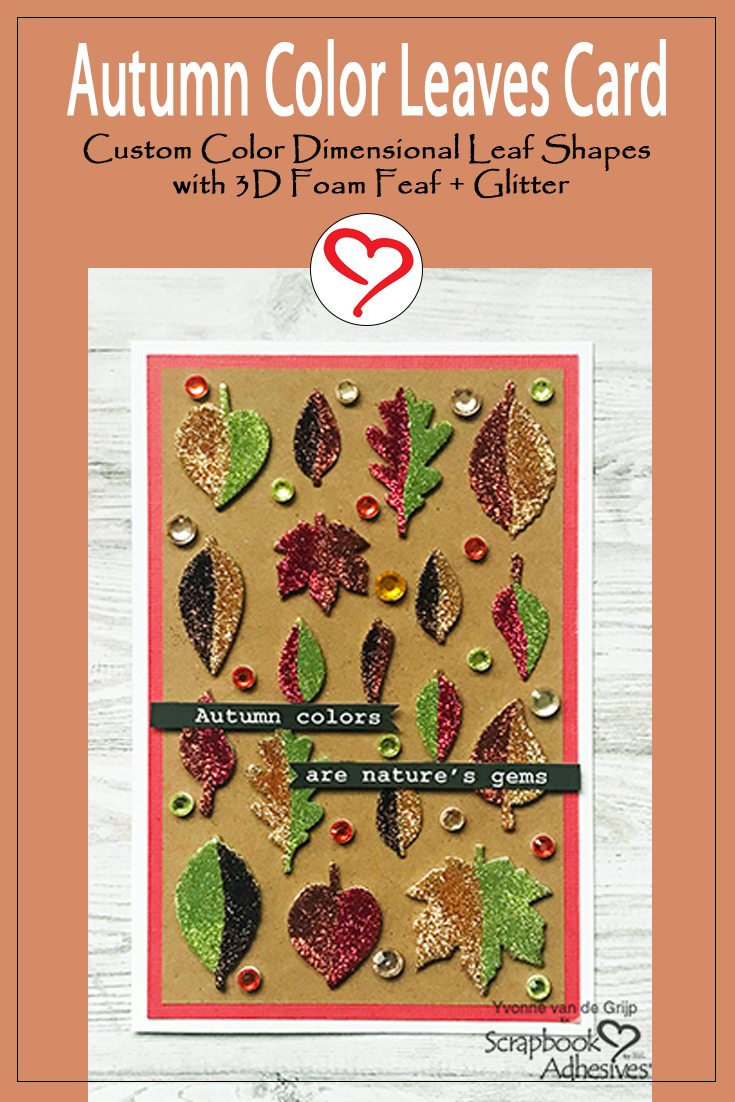 Let's Connect!