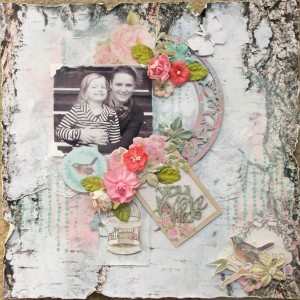 Hi There!
Shell Carman here to share a step by step to create a shabby chic mixed media page
Steps 1-9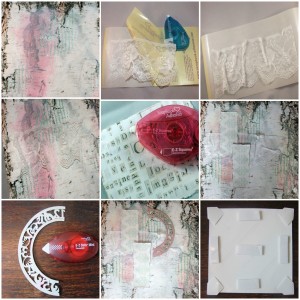 Steps 10-18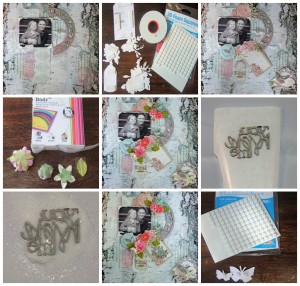 1. Start with Kaisercraft Base Coat 1 Bark as the background. Use gesso, paint & Shimmerz Texturez with a mask to create a mixed media background.
2,3,4 Apply a thick piece of lace to Adhesive Sheets 6X12″ . Start by slowly peeling back the yellow liner. Stick down lace as you go until the yellow liner is completely peeled off. Firmly press/rub lace onto adhesive sheet. Remove lace from adhesive sheet (the adhesive will have rubbed off onto lace) Apply lace to the page so it is slightly crumpled. Use the E-Z Runner Permanent Fine Adhesive to stick down any lumpy bits.
5,6 Use the E-Z Squares Refillable Dispenser to stick down X 2 pieces of 2X4″ Kaisercraft True Romance Lovestruck paper
7,8 Alter the Imaginarium Designs clockface without centre & hands using paint & Shimmerz Texturez. Cut the Clock in half. Stick down using E-Z Dots Mini Permanent. This is a perfect adhesive to use on curves & chipboard as it is very flexible.
9,10 Place Photo Corners Classic Style White on the corners of a Black & White 4X4″ photo (distress edges of photo). Use Crafty Foam Tape to stick photo down
11,12 Use Crafty Foam Tape & 3D Foam Squares White Small to stick down True Romance Collectables & Tag
13,14 Use Dodz Medium to stick down a variety of flowers.
15,16,17 Use Adhesive Sheet 6X4. Peel off yello liner & place Imaginarium Designs Chipboard Phrase You Inspire Me face down. Press firmly so that adhesive transfers to chipboard. Sprinkle some fine glitter in a glitter tray & place the phrase sticky side down so that glitter transfers onto chipboard. Use E-Z Dots Mini Permanent to stick phrase onto tag.
18. Stick Butterflies down using 3D Foam Squares White Small
Scrapbook Adhesives by 3L Products Used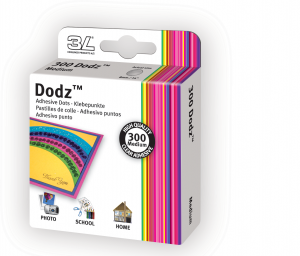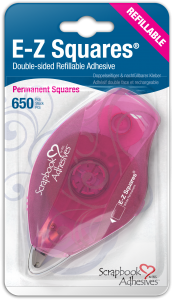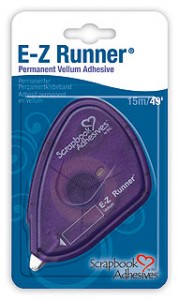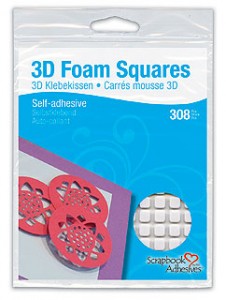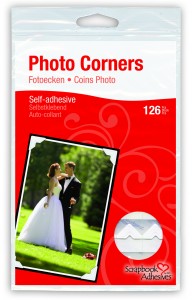 Other Products
Kaisercraft Base Coat paper, True Romance Paper, True Romance Collectables & acrylic paint
Prima flowers & mask
Imaginarium Designs Chipboard
Shimmerz Texturez
Thanks for looking!
Shell Carman Another Scrappy Day