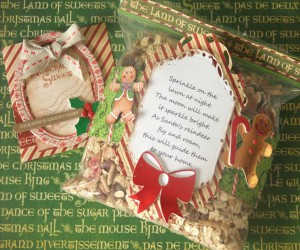 Hi There!
Shell Carman here today with some Christmas craft fun. Every year my kids love to hand out some special Reindeer food (museli mixed with glitter) along with their Christmas cards to the other Children in their class. Each year I change the packaging but I always like to keep it simple (because there are so many to make)but cute!
This year I used a simple glad bag & covered the white strip with some paper from Graphic 45 Nutcracker collection using some Crafty Power Tape. I printed out a cute little poem that I found on Pinterest & used the Spellbinders Label 28 dies to cut & frame the poem.
The 3D Foam Christmas Shapes were perfect for this project I really couldn't go past the adorable gingerbread man! To keep things nice & simple I used Clear Snap Designer Foils in Lucky Penny to cover the body. To add detail to the eyes & mouth I used some Papercraft glitter in Crimson & Ranger Distress Glitter in Black Soot. I used a white gel pen to draw the piping onto the body and added some Basic Grey Candy Buttons.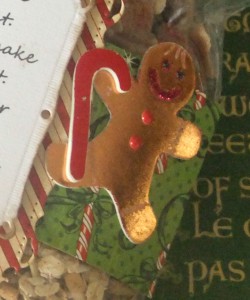 The candy cane & bow were covered with red Foil.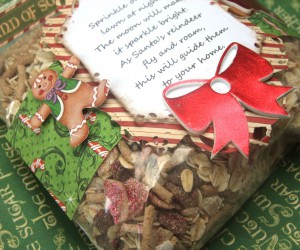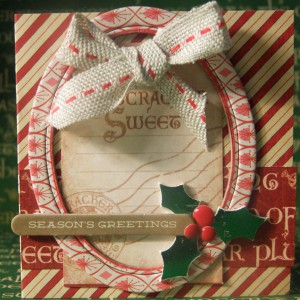 I like to create small 4X4 cards when making them in bulk. I have used Graphic 45 Chipboard Stickers & some gorgeous ribbon.
The holly leaves were from the 3D Foam Christmas Shapes and covered with craft Foil and the berries are Basic Grey Candy Buttons

I hope you enjoy making your Christmas Crafts & don't forget to sprinkle your Reindeer food outside on Christmas Eve For the Reindeers to find!
Thanks for Looking
Shell Carman- Another Scrappy Day
Scrapbook Adhesives by 3L Products Used
3D Foam Christmas Shapes Crafty Power Tape
Other Products
Spellbinders Shapeabilities Label 28
Graphic 45 Nutcracker paper
Basic Grey Candy Buttons
Basic Grey 25th & Pine Designer Chipboard Stickers
Ranger Distress Glitter Black Soot
May Arts Ribbon 463 58 14 Jute
Papercraft Glitter Crimson