Hi, my crafty friends! It's Lisa Adametz here with you today for a quick and easy card that can be given to cheer anyone up or just to say "hello". I've found myself needing way too many of these kinds of cards lately, so it's always nice to have a bunch on hand.
I rounded up the patterned papers I wanted to use, embossed a piece of white cardstock, and gathered up all of my adhesives! I also knew ahead of time the colors I was going to work with so the card would take less time. I can ALWAYS add more, right? RIGHT!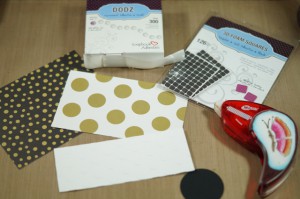 I started by adhering my pattered paper using the MyStik® Permanent Strip Adhesive. I used this to adhere the large polka-dot piece to the black polka-dot piece (as shown below) and also the dry embossed white polka-dot piece to the large polka-dot piece. (Say THAT three times fast!)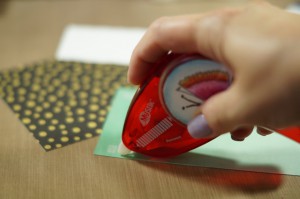 Once all the main panels have adhesive on them I can then add my twine. I wrapped it three times and once tied I want to make sure the bow won't shift. I do this by using a small Adhesive Dots Small. Such a great product!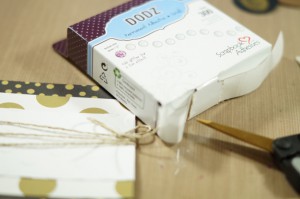 After I had my sentiments heat embossed and punched with a circle punch I was ready to add some dimension. The perfect product for that is the 3D Foam Squares! Since one of my circles is black I chose these: 3D Foam Squares Black, Small. For the other I used the "regular" squares. I like to use the tip of my scissors to put them on. I'm weird that way. 😉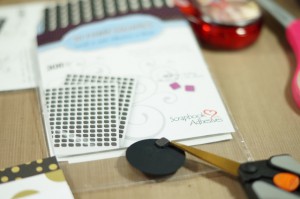 I don't take the backings off until I know I have all the elements ready for my card. As you can see in the finished card, I decided to add a few more die cut elements, so by not taking the backings off, I saved myself a little card reconstruction (haha!).  I also used the E-Z Dots® Permanent Refillable Dispenser to adhere tiny strips of black cardstock for added interest.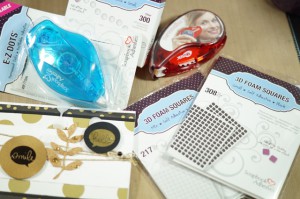 So, there's my little card with all my lovely adhesives! I bet you didn't know how much adhesive you used on your cards, did ya? 😉
I hope you enjoyed the card today and don't forget to spread a little love to someone out there who needs YOUR smile.

Scrapbook Adhesives by 3L® Supplies:
MyStik® Permanent Strips
3D Foam Squares White, Regular
3D Foam Squares Black, Small
E-Z Dots® Permanent Refillable
Adhesive Dots Small
Other Supplies Used:
Penny Black Creative Dies
My Mind's Eye Patterned Paper
Lawn Fawn Twine
Mama Elephant Stamps
Embossing Folder
Versamark Ink
Embossing Powders
Cork
Vellum
Rhinestone Gems
Let's Connect!