Good morning! Michele here with a non-traditional, somewhat funky holiday card! I  often start projects with a particular product in mind to use…and then somehow take a total detour from my original plan!  I had just purchased a cool circle die cut and wanted to do something fun with the circles.

Some glittered 3D Foam Snowflakes, black jingle bells, and a shiny sentiment and you've got yourself a quirky holiday card!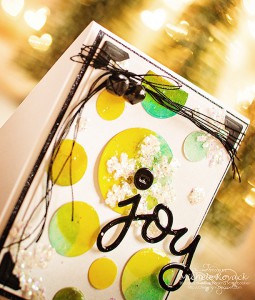 I die cut the circles and pulled the color inks I wanted to use.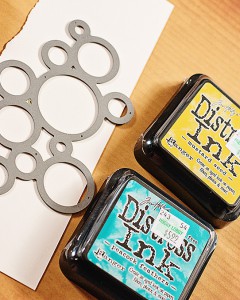 I randomly inked up the circles. Messy, and not really sure where I was headed with all of this yet.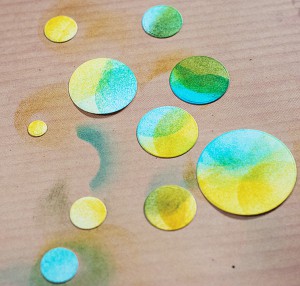 I used my E-Z Runner® Permanent Strips to attach the circles to another piece of cardstock.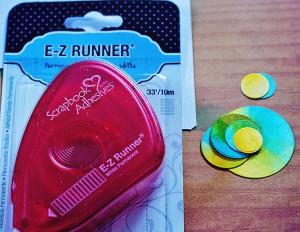 I used the die as a guide as to where to place the circles.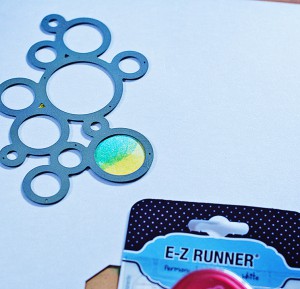 Pull the die away and Voila! I added a few of the little dots from the 3D Foam Snowflakes to fill in a few of the gaps.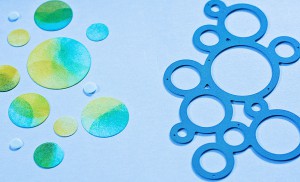 I added glossy accents to the circles.  I sprinkled clear, coarse glitter on just the small 3D foam dots.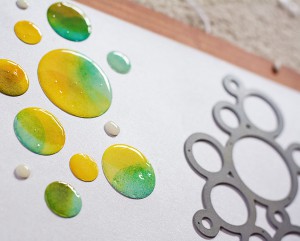 I had die cut the sentiment, joy, from scrap card stock and used black enamel to paint it.  I wanted it to have a sheen to it to match my shiny circles.  I pulled out my  Crafty Foam Tape and cut it into skinny strips. I adhered it to the back of my sentiment.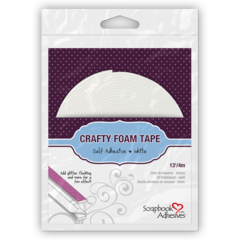 I apologize that the sentiment is rather ugly on the back.  But no one will see that side….well, except you that is! 😉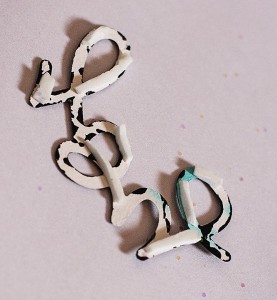 I used a couple of the 3D Foam Snowflakes (as well as the dots I had used above) to add to a few of my circles.  I sprinkled them with clear, coarse glitter.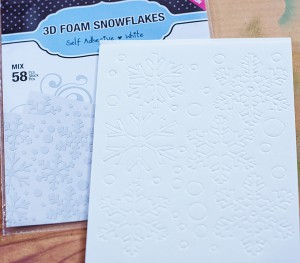 You can see my sentiment is now attached, as are the snowflakes.  I added a black button to the center of the larger snowflake to "dot" my j in joy.  I added some Creative Photo Corners in Black, to bring out a touch more black.  I think it makes the vibrant yellow and green pop a bit more!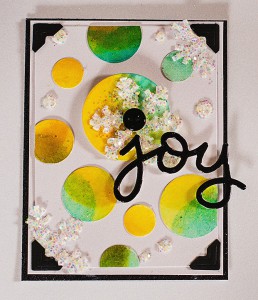 For a finishing touch I tied black string with a couple of jingle bells to the top.  I think it brings the whole card together.  🙂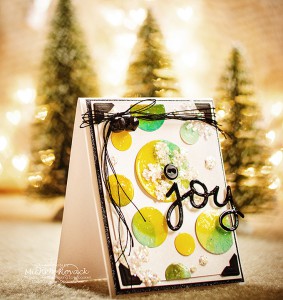 I love playing and experimenting with my very large stash of craft supplies.  Sometimes it doesn't work out and they end up in the trash.  But most of the time it turns out pretty darn cool! Thank you for stopping by! Have a great day!
Supplies:
Scrapbook Adhesives by 3L
Other Supplies:
Circle die
glossy accents
jingle bells
black string
glitter
sentiment die