Hello everyone! Asia King here :). Did you all have a nice Christmas? Christmas may be over but winter is still here and what a better way to make the most of it than go ice skating! Sadly, there's no snow around where I live so DIY ornaments with stamped Ice Skates will have to do for now :). I prepared a short 'pin-torial' for you for this fun and easy project.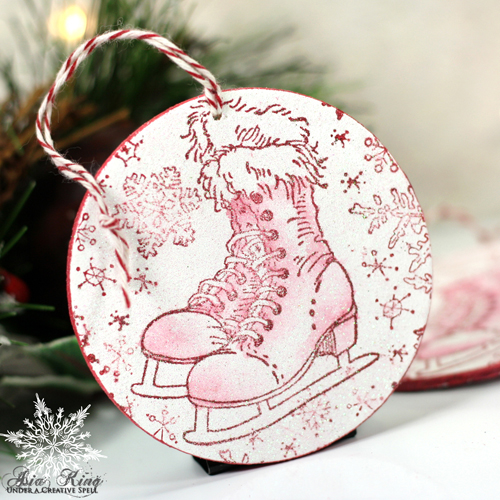 You will need:
Scrapbook Adhesives by 3L­®: Adhesive Sheets 4×6″
Other supplies: Ice Skates and Snowflake Sky rubber stamps , Crystal Micro Glitter (Stampendous); DecoArt Chalky Finish Paint – Everlasting; Brilliance Pearlescent Poppy ink; water brush; wooden flat coasters; baker's twine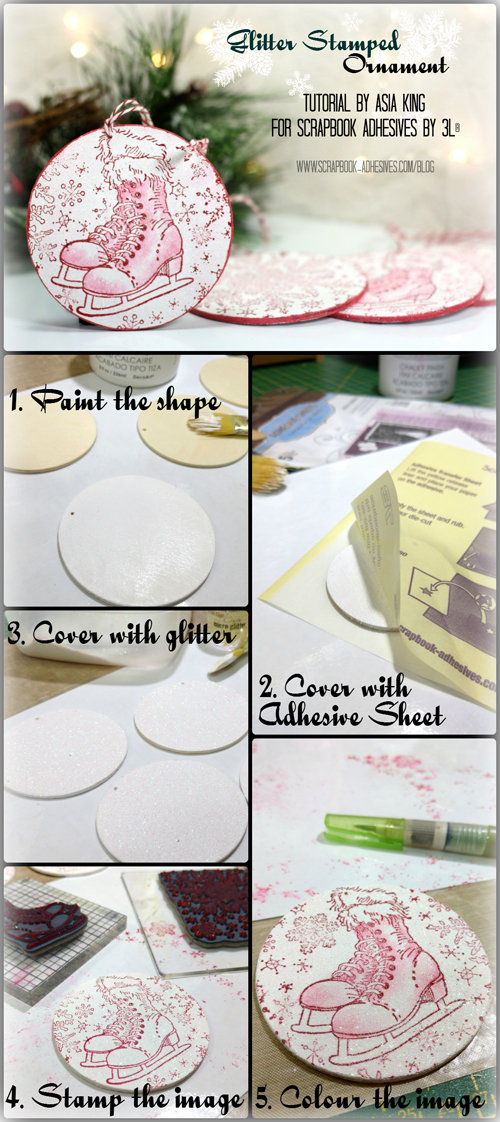 Here are the steps explained:
Paint your wooden coasters both sides with white chalky finish paint and allow to dry. Chalky finish paint will take the adhesive better that ordinary acrylic or poster paint.
Cover the coasters with adhesive using Adhesive Sheets 4×6″. Use a wooden spoon or spatula to burnish over the protective sheet to make sure the adhesive transfers fully.
Sprinkle the glitter over the adhesive, press to cover fully and shake off the excess. No need to wait for the adhesive to dry! 🙂
Stamp the ice skates and snowflake images directly onto the glittered surfaces and heat set with a heat tool.
Pick up some ink from a craft mat with a water brush and add some shading to the ice skates. Swipe the ink pad around the edges to add a finishing touch. Allow the ink to dry.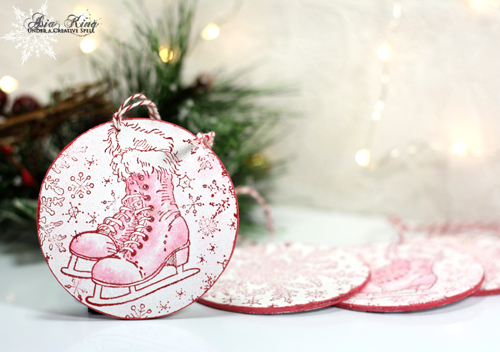 And that's it – you've got yourself a nice glittery set of ice skate ornaments. I'm going to use mine as tree ornaments so after drilling a small whole I added a twine for hanging. But you can use yours as mulled wine coasters after a chilly day of ice skating! If you do, be sure to cover them with a proper varnish for a waterproof finish.
This is my last post this year so I'd like to wish you all a wonderful New Year 2016, full of accomplished dreams and crafty goodness!
Big hugs