Hello everyone! It's the beginning of February and to me that brings thoughts of Valentine's Day and all things love! So I made a Pocket of Love canvas filled with tags ready to add notes of love, encouragement and appreciation for someone special. I think this would be fun to use all year, especially for a young girl.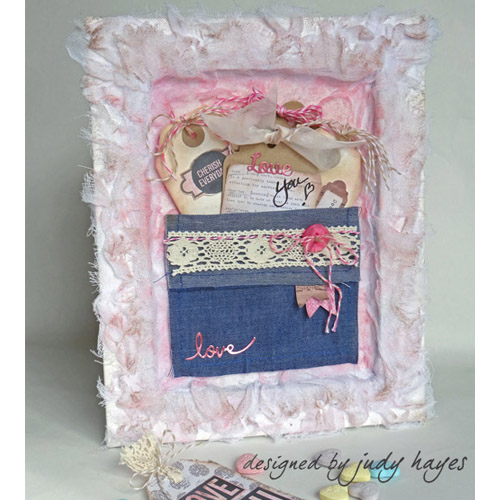 To create the Pocket of Love canvas, I used the back side of canvas. I cut ragged strips (about 4ʺ) of cheesecloth. I brushed the Art Medium onto the canvas edges and pressed the cheesecloth into it. I added a rectangle of cheesecloth in the canvas center that laps over the edges. All pieces were scrunched into the Art Medium to form wrinkles and folds. Inks were lightly rubbed over it when dry.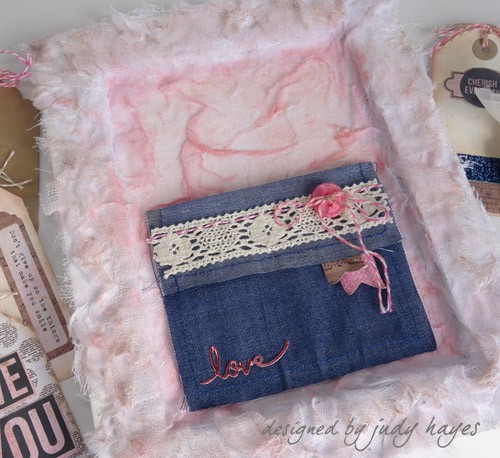 I added a denim pocket from scrap material. The edge is folded over and secured with Extreme Double-Sided Tape ¼ʺ. A piece of pink twine was woven through a piece of Lace Ribbons. It's fastened to pocket edge with Art Medium which worked fantastic to bond the lace to denim! A button with twine bow is fastened with a Adhesive Dots 3D. A couple little stickers are tucked under the pocket flap.
The pink metallic die cut "love" was placed on Adhesive Sheets to make it a sticker to add to the pocket. The pocket is fastened to the canvas with Crafty Foam Tape Black and Extreme Double-Sided Tape ¼ʺ. I used both to get dimension with the Crafty Foam Tape and better adhesion for the fabric with Extreme Double-Sided Tape. I applied the Extreme Double-Sided Tape to both sides of strips of the Crafty Foam Tape to fasten the pocket to the canvas.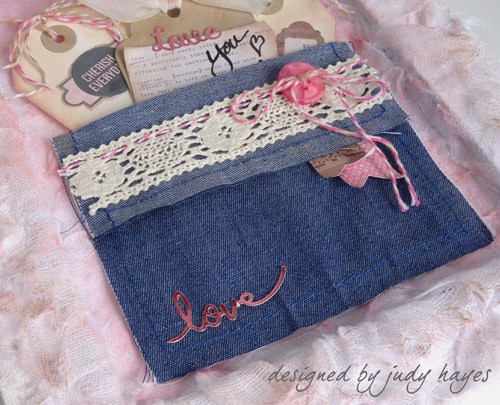 The die cut tags are decorated with washi tape, twine, lace and other ribbons, plus papers, stickers and die cut "Love".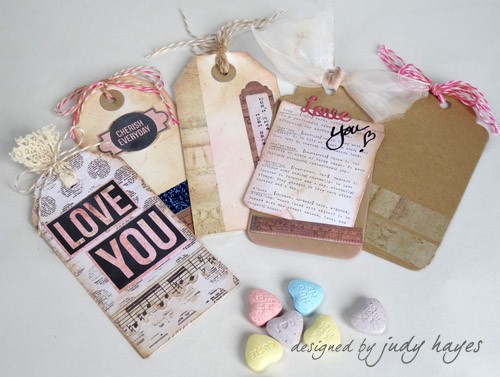 All that's left is to add some personal words of LOVE!
I hope you've learned a new technique that you can apply to your creative projects! Make your own Pocket of Love for someone special!
Happy Creating!
Judy Hayes
Supplies:
Scrapbook Adhesives by 3L®
Adhesive Dots 3D
Crafty Foam Tape Black
Adhesive Sheets 4 x 6ʺ
HomeHobby
Extreme Double-Sided Tape ¼ʺ
Other:
8 x 10ʺ Canvas, Clearsnap Mixed Media Inx (Vintage, Chiffon, Peaches), Button, Cardstock, Spellbinders – Tag, You're It, Sentiments Three, Celebration Two dies, KaiserCraft Kaleidoscope Collection, Pink Metallic card stock