Hello everyone! I have a Sweet Denim and Hearts Album to share! This album could be for a new baby or a sweet little girl. It's perfect for the first year or any special event!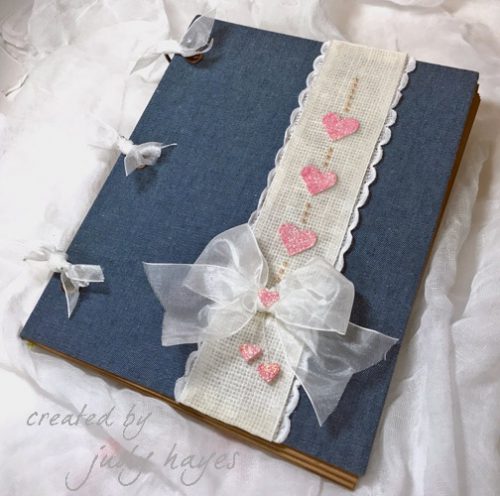 Add a band of texture ribbons, burlap and sheer ribbon layered together with scalloped gauze edges over the denim cover. The little scalloped edge was made with a folded piece of cheesecloth stitched along the fold with hem stitch. The zigzag stitch draws the gauze into scallop. Attach in place with white glue before band was applied. Burlap ribbon was applied with a light coat of white glue brushed onto the cover. Place sheer ribbon over it and attach at the ends (fold under at top and bottom). A combination of Extreme Double-Sided Tape ¼ʺ and white glue hold ends in place. 3D Foam Hearts covered in glitter decorate the band along with tiny pearls. Two tiny hearts dangle from cord below the sheer bow.
Adding glitter to 3D Foam Hearts is one of my favorite techniques.  It's so easy! And looks so pretty! Simply remove heart from sheet and sprinkle with glitter.  Press glitter into the adhesive on the heart to get good coverage. For a visual tutorial, see video below.
Because these hearts are on an album that may be handled often, I added Adhesive Dots Medium in addition to adhesive on heart to fasten on ribbon band.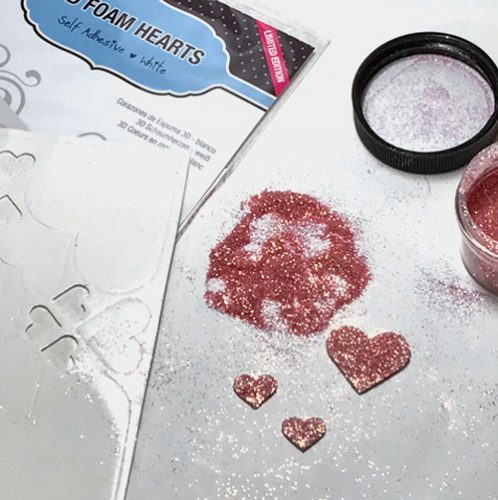 To make the tiny dangle hearts, cover two hearts with glitter on one side. Place the end of cord between the two hearts (remove liner from both hearts) and sandwiching together.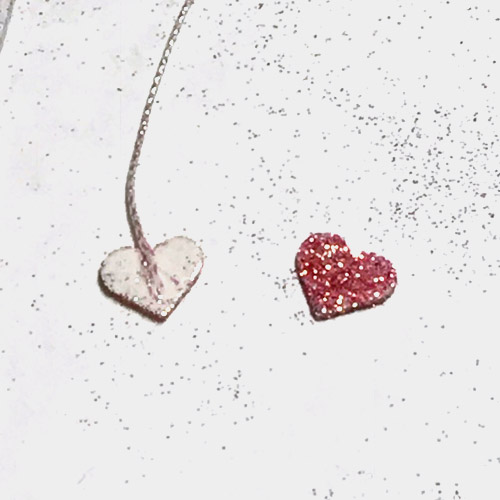 Center a tiny glittered heart on the bow by using a Adhesive Dots Small, along with adhesive on heart to give it more holding power. Bow is attached with Adhesive Dots Medium plus a few stitches.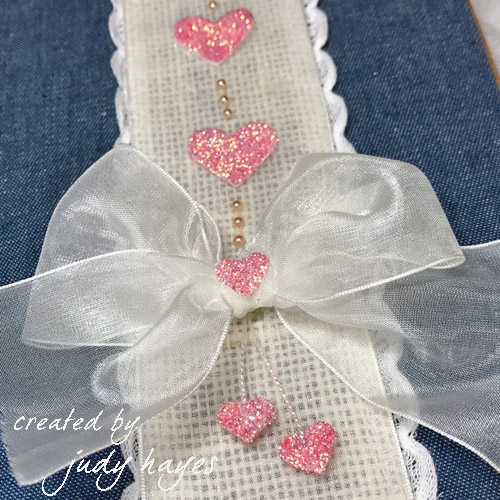 Short pieces of sheer ribbon are tied around the book rings. Inside covers and pages can be decorated with patterned papers, embellishments and photos.
Thank you for visiting!
Judy
Scrapbook Adhesives by 3L®:
Adhesive Dots Small
Adhesive Dots Medium
3D Foam Hearts
Extreme Double-Sided Tape ¼ʺ Permanent
Other Supplies: Art Institute Cheeky Pink Glitter; Holographic cord; KaiserCraft Latte Pearls; Carta Bella – Baby Mine Baby Girl Stripe, Denim Art Journal, white glue, Burlap Ribbons, cheesecloth