Hello there, Latisha here to share an easy way to decorate and embellish a heart box, featuring Extreme Double-Sided Tape 1/4″, Adhesive Dots and Lace Ribbons.  I think we all have little card board boxes hanging around, so I decided to paint it red using regular acrylic paint.
Once it dried, using the HomeHobby Extreme Double Sided 1/4 inch tape, i ran a strip of it along the outside lid. Then placed a small strip of the lace ribbons right over the double sided tape.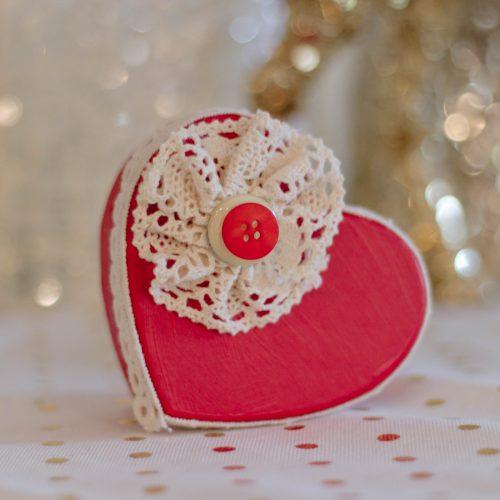 To embellish the top, I created a rose florette, by adding the larger Lace Ribbons, to the top of a Dodz Adhesive Dots, and then added a few buttons using Adhesive Dots Medium.  This project is so easy to do, and so customized depending on the holiday or event.  Filling this with chocolate or small jewelry and this is the perfect way to present a gift.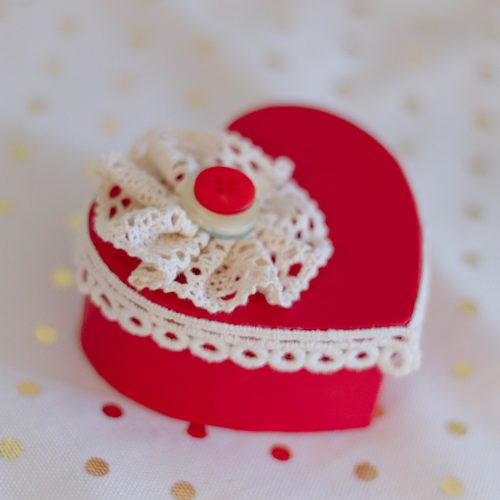 Materials Used:
Scrapbook Adhesives by 3L®:
Dodz Adhesive Dots Medium
Dodz Adhesive Dots
HomeHobby
Extreme Double-Sided Tape 1/4″
Other:
Lace Ribbons"; Kraft Cardboard Box; Buttons; Red Paint