Michele here to share a fun Halloween Plaid card using Premium Double-Sided Tapes! It has felt like fall for quite some time in Chicago, so I figured I'd roll with it and start my fall cards!
To create the plaid design, I used Premium Double-Sided Tape 1/2″ and in Premium Double-Sided Tape 1/4″.  In making your own background, I would recommend finding images on the Internet for inspiration. I did one layer at a time and gave it a generous coating of glitter as I went.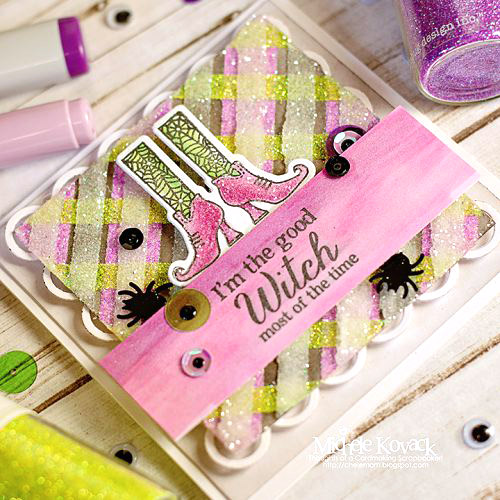 Mad about (Halloween) Plaid
For the very top layer I used white glitter and a bit of clear dimensional gloss medium to make it a bit thicker and more opaque. I didn't want the background competing too much with my stamped image. For the witch's shoes, I stamped, colored and cut it out. Then I adhered the shoes and my sentiment with Crafty Foam Tape.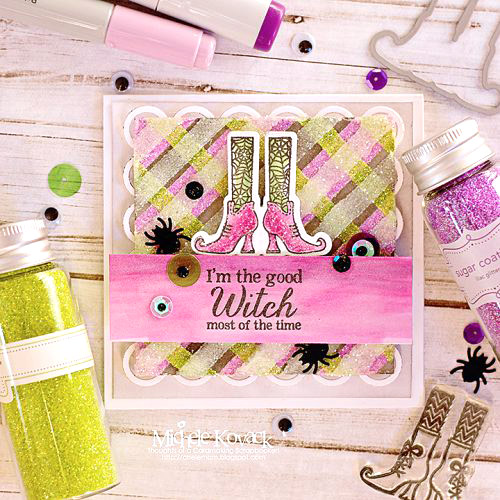 Embellishing the Rest
To add a few sequins (including a couple of spiders!), I used Adhesive Dots Mini to attach each one.  Then I added a drop of black enamel accents to the centers of each sequin.  The Halloween plaid background was attached to the scalloped die cut underneath it using E-Z Squares® Refillable Runner. Next it was attached to the light grey card stock using Crafty Foam Tape.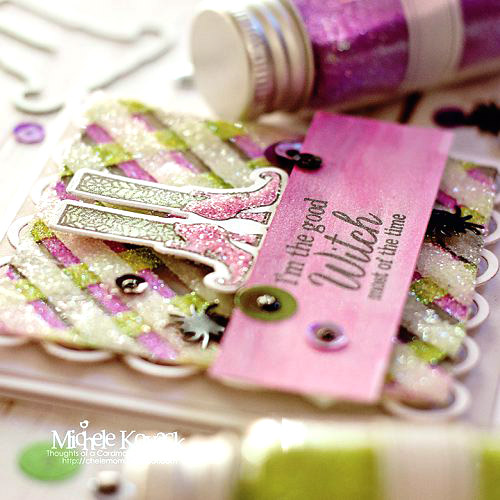 I love using the Premium Double-Sided Tapes to create interesting backgrounds! A couple of years ago, I did another kind of plaid design. To see my step outs for this, CLICK: Creating Plaid Backgrounds!
Give this technique a try when you want something cool and sparkly! Thank you so much for stopping by today.
Michele
Scrapbook Adhesives by 3L® Supplies:
Crafty Foam Tape
E-Z Squares® Refillable Runner
Adhesive Dots Mini
HomeHobby by 3L®
Premium Double-Sided Tape 1/2″
Premium Double-Sided Tape 1/4″
Other Supplies:
Stamp; Copic Markers; Glitter; Sequins; Clear dimensional gloss medium; Die cut
Save
Save