Happy January! Can you believe it's half-way done with the month already? My kids received a few gifts from friends and family each year. I encourage them to send handwritten thank you notes. Creating handmade notes to send give them more personality and thoughtful touches. I included a cute bag (or sleeve) for the card to go in before placing it in an envelope.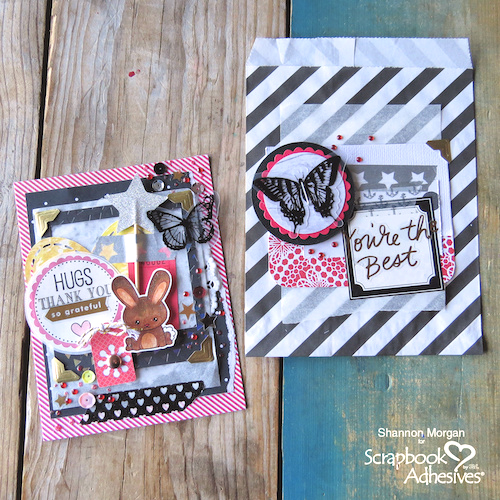 Assembling a Note Card and Bag
Sharing a collage of step out images with instruction below it. You can see how I assembled the card below.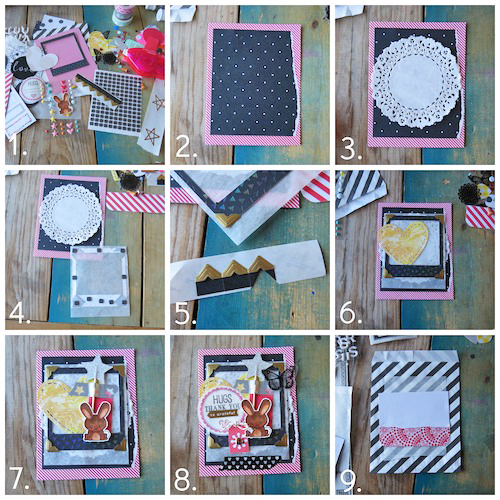 Step by Step Instructions
Gather up supplies for the card, including patterned papers, embellishments, a card base and of course, Scrapbook Adhesives by 3L adhesives!
Start with adding a contrasting layer. I stuck with a lot of basic patterns (stripes, dots, basics) as they pair well together.
Of course, I added a doily. You do not have to do this, I just love doilies.
Add a piece of tracing paper behind a frame die cut, using the E-Z Runner® Micro Refillable Dispenser which works perfectly for this. Place 3D Foam Squares Black Small along the back of its frame edge. Note before adhering to the card, I added photo frames for detail and more interest.
To accommodate the narrow corners at the top, I trimmed the photo corner in the picture as shown, this makes it possible to adhere to the frame without showing the photo corner backing.
Adhere the frame to the card front. Then adhere the heart in an off-center position.
For the rest of the elements, you can see I layered on items randomly such as a ticket, washi tape, a starred cupcake topper and even added a stamped bunny image.
Then a few more details added like a dainty tag, more washi tape, a butterfly tucked in the corner, and lastly the sentiment.
Lastly, I embellished a bag (or a sleeve) with similar elements like the card to coordinate.
Here are a few close-ups of the details on this card and sleeve.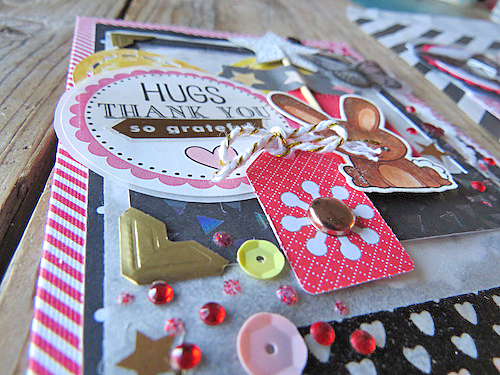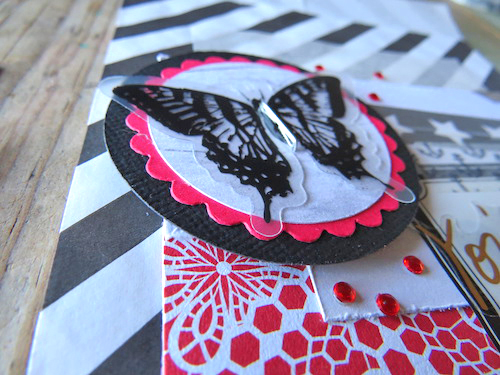 Thank you for letting me share with you! Thank you notes are always nice to have on hand, I hope I have inspired you to build your stash!
Creative Time: 45 Minutes
Skill Level: Beginner
Materials Needed
Scrapbook Adhesives by 3L®
E-Z Runner® Grand Refillable Dispenser
E-Z Runner® Micro Refillable Dispenser
3D Foam Squares Black Small
Adhesive Dots Micro
Adhesive Dots Small
Creative Photo Corners Gold
Other
Patterned Papers, Cardstock Scraps, Sequins, Rhinestones, Twine, Stickers, Kraft Paper Bag, Acetate Butterflies (Maya Road), Washi Tape, Stamp, Brad, Glitter
Pin It!