Hi, Connie here with a fun scrapbook page using 3D Foam Adhesives to adhere letters and embellishments to this special page. I haven't created a scrapbook page in over a year and even though my pattern paper is not the latest and greatest, I had fun putting this Permit Time page together and that is what counts!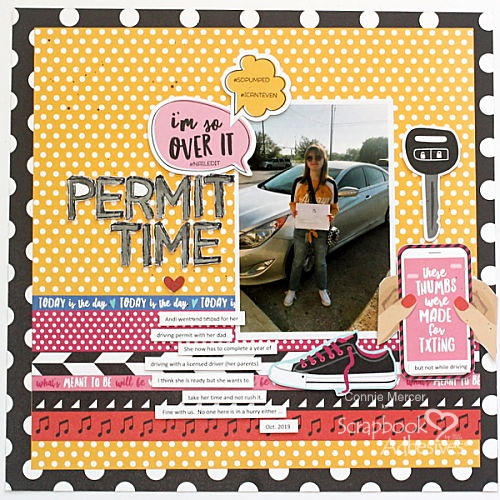 The 3D Foam Adhesive makes the embellishments pop off the page and I love the look!! Besides the obvious, the embellishments will stay where they are placed which is what we (as scrapbookers) want.
Permit Time Scrapbook Page Step by Step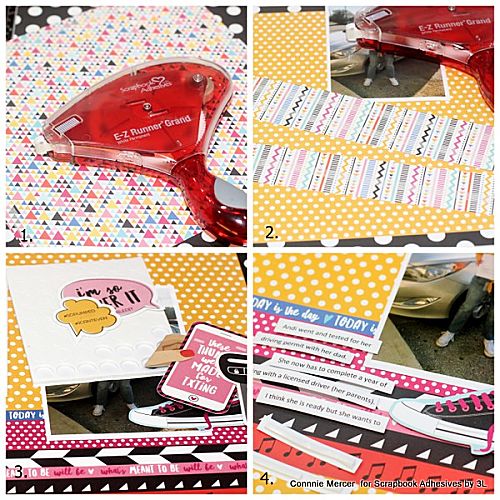 1. Adhere the two sheets of pattern paper together after trimming 1″ off of both sides of one of the pattern papers. I took 1″ off the orange polka dot paper and then adhered over the black polka dot paper using the E-Z Runner Grand Refillable Dispenser .
2. The border strips and photo were adhered using the E-Z Runner Grand Refillable Dispenser to the page front.
3. The 3D Foam Circles White Mix were used to adhere and give dimension to the die cuts.
4. The 3D Foam Strips were used to adhere the journal strips to the front of the page. Side note: these have quickly become a favorite product of mine. The are perfect for the journal strip sentiment for cards too.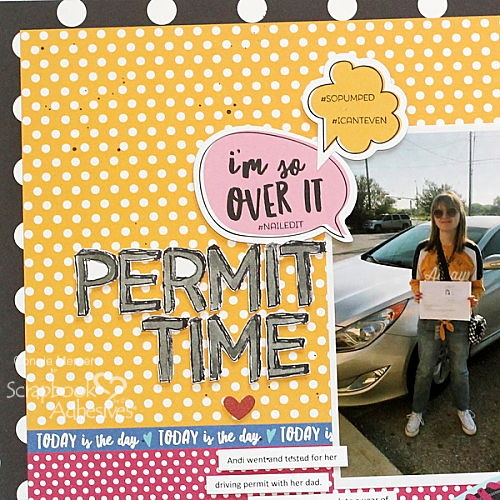 Other Page Details
I adhered the 3D Foam Circles White on the edge of the die cut so the adhesive did not touch the photo. Love that there are two sizes in the package. Very handy!! I also used the NEW product 3D Foam Micro Squares White to adhere the letters along with 3D Foam Strips.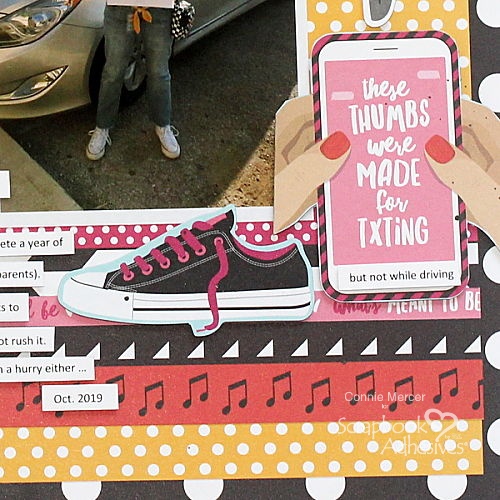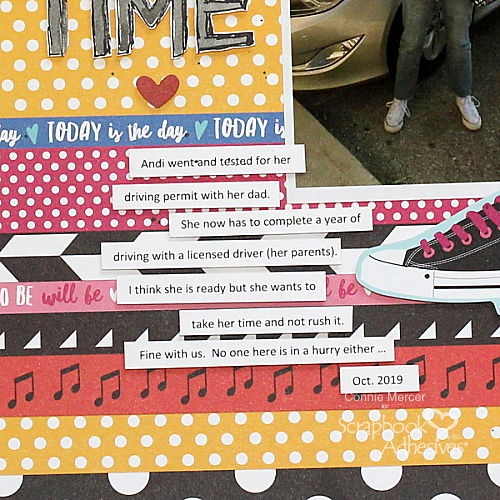 The 3D Foam strips were perfect to adhere the journal strips. The 3D Foam Strips are a great tool. They help with keeping the journal strips lined up…and easy. I love easy!!
I hope you try some of the 3D Foam Adhesives on your projects like my Permit Time Scrapbook Page.
Thanks for stopping by!
Connie Mercer
Creative Time: 60 minutes
Skill Level: Intermediate
Materials Needed
Scrapbook Adhesives by 3L®
E-Z Runner Grand Refillable Dispenser
3D Foam Strips White, 3D Foam Micro Squares White and 3D Foam Circles Mix White
Other:
Patterned Paper: Bella Blvd (Addison), Stamp: Darkroom Door (Alphabet), and Ink: Distress Oxide Ink
Pin It!