Hi everyone, Yvonne here with a wedding-themed True Love Art Journal. I love Art Journaling and find inspiration for many occasions. For this page, I used a picture taken at my own wedding a couple of years ago. Using Scrapbook Adhesives by 3L® adhesives it's ever so easy building all the layers for the pages. Wanna join me in creating an Art Journal like the one I made?
Edit to Add: Simple Stories Feature Hop & Giveaway is Closed. Thank You for Participating!!
Congratulations to the winners, Amanda W., Connie J + Debra R.! 🎉
Just a reminder that we are having a giveaway featuring our friends at Simple Stories! From 9/15/2021 until the end of September, we are giving away three adhesives and paper pack packages. Please read through Yvonne's wonderful art journal project to the end for the giveaway details!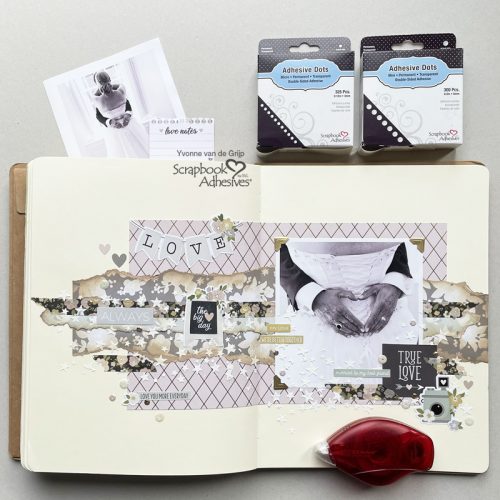 Making the Art Journal Background
For the background of the Art Journal, I trimmed a piece of patterned paper to a rectangular size and adhered it into my Art Journal using the E-Z Runner® Permanent Strips Refillable Dispenser.
Then I tore two pieces of patterned paper into strips. Next, I altered the edges of the torn paper strips using brown ink and an ink blending tool.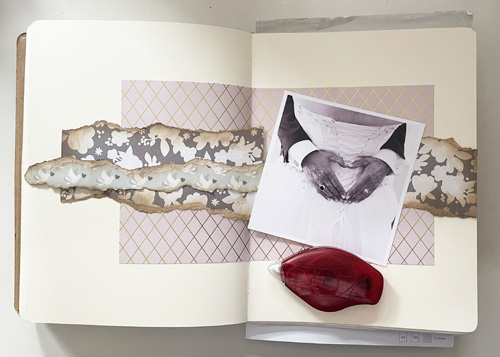 Now adhere the strips onto the Art Journal pages using the E-Z Runner® Permanent Strips Refillable Dispenser.
Building the Layers
As I mentioned, my Art Journal layout is all bout layering. First, adhere a piece of washi tape in a horizontal line over the torn and inked paper strips.
Then adhere the photo along with Creative Photo Corners Gold (which I put on 3 corners) onto the layout. Use the E-Z Runner® Permanent Strips Refillable Dispenser to adhere to the photo.
Next use a stencil and white structure paste to create the starry pattern: put the stencil onto the Art Journal layout and keep the stencil into place using your hand or some washi tape. Then use a spatula to even the structure paste over the stencil. Now gently lift the stencil to prevent staining and let it dry thoroughly.
Embellishing the Art Journal Pages
To embellish the Art Journal layout I used a black true love quote and adhered it onto the layout using the E-Z Runner® Permanent Strips Refillable Dispenser. Then I adhered stickers (the banner, hearts, camera, and text) onto the Art Journal layout.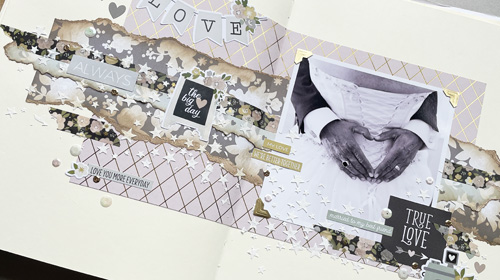 Finally, I finished the page by adhering sequins onto the layout using Adhesive Dots Micro and Adhesive Dots Mini for adhering.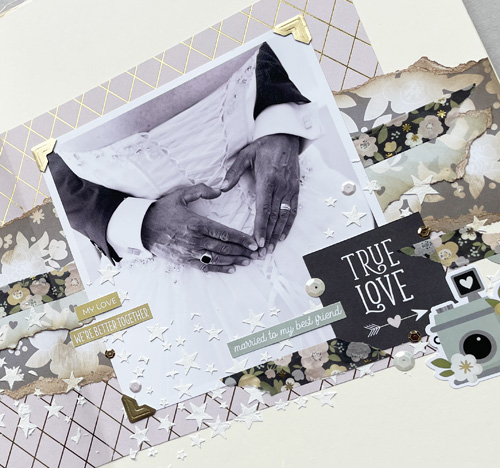 I hope you enjoyed this tutorial and wish you happy crafting.
Yvonne van de Grijp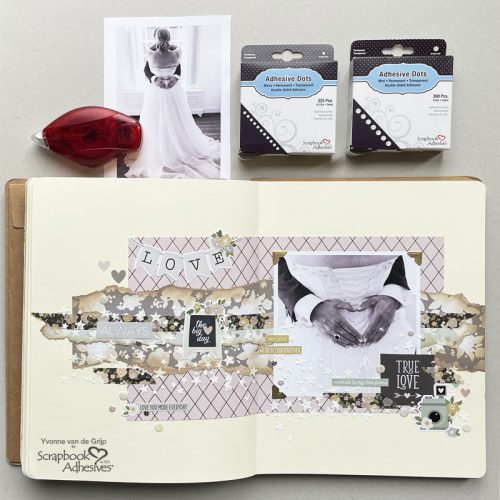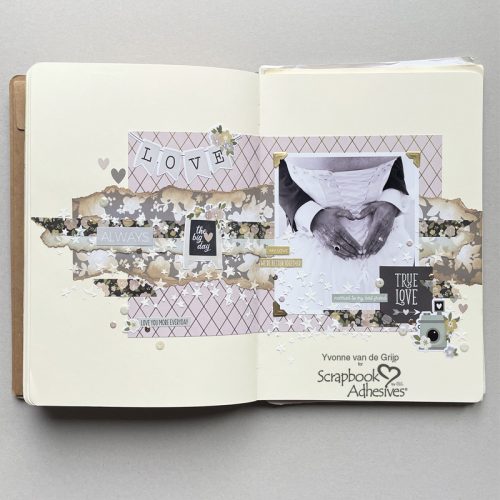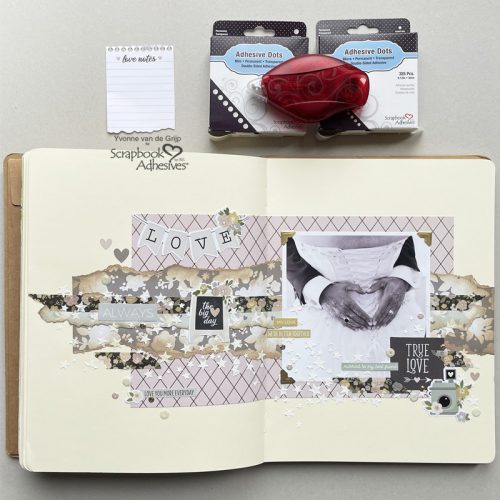 Creative Time: 60 minutes
Skill Level: Intermediate
Materials needed:
Scrapbook Adhesives by 3L®
E-Z Runner® Permanent Strips Refillable Dispenser
Adhesive Dots Micro and Mini
Creative Photo Corners Gold
Other
Art Journal (A4 size); Patterned paper (Simple Stories™: Collector's Essential Kit: Happily Ever After); Sequins, Structure Paste; Spatula; Brown inkpad; Ink Blending Tool; Scissors; Tweezers; Paper Trimmer
Save to Pinterest!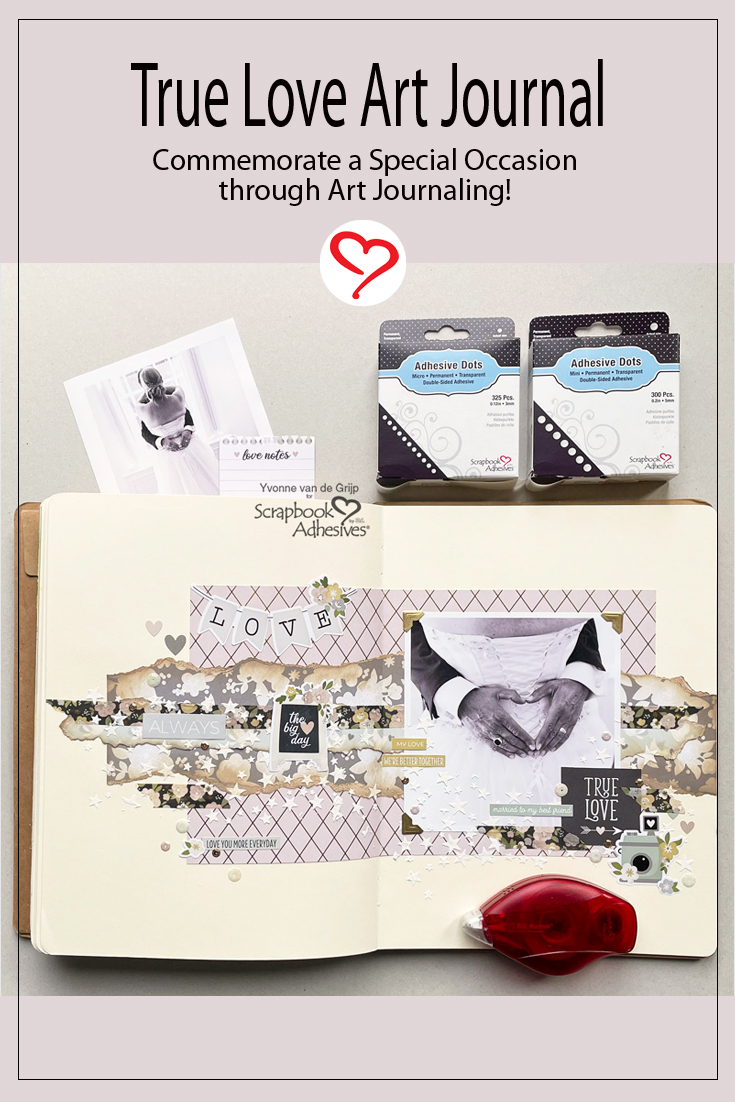 Scrapbook Adhesives by 3L feat. Simple Stories Giveaway!
Can't find the comment section at the bottom of this post? Click below and scroll to the bottom of the post. We moderate comments several times a day, if yours doesn't appear right away, it will be approved before the contest is closed.
Did you miss these posts?
9/15: Celebrate Birthday Card and Gift Box
9/19: Good Fun Page
9/21: Happy Place Layered Embellishments
9/23: Cards for Travelers
9/25: School Life Mini Tag Album
9/27: First Day of School Scrapbook Page
9/29: Coffee & Donut Scrapbook Page
Enter for a chance to win one of our three GIVEAWAYs of an Adhesive + Patterned Paper Kit Prize Packages! This giveaway is from September 15 through the 30th, 2021! Click the link below and follow the prompts.
http://www.rafflecopter.com/rafl/display/0f302f8d68/?