Hi, everyone! Love the look of dry-embossing? Teri here with a fun twist on the technique. I'm here today to show you how to create faux embossed cards with flock and 3D Foam Shapes! The Wear Your Adhesive on the Outside technique is so easy to pull off and looks so cool on completed cards.
Create Background with Foam and Flock
Start by cutting a couple of panels of cardstock to go on a couple of cards. You want to use cardstock that is the same color as the flock you plan to use. Also, you can just make one panel at a time if you wish. I find I like to make a couple of panels at a time when trying out this technique because of the steps involved.
Randomly apply foam shapes onto your paper panels. Remove the backing release paper and apply flock onto them.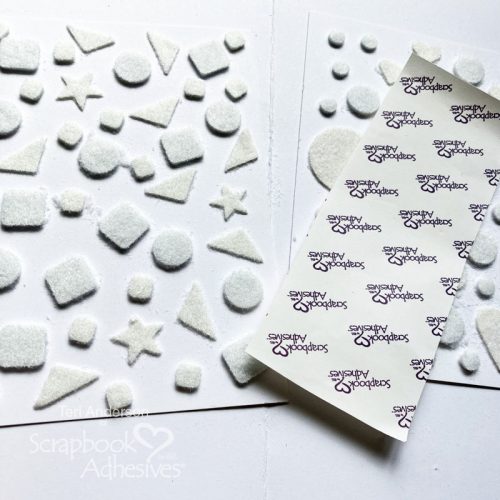 Tap off the excess flock. Use wax paper to burnish the flock onto the shapes. The leftover backing paper from the 3D Foam Shapes works for this too!
Mount your panels onto cardstock and then to A2 cards. Set them aside.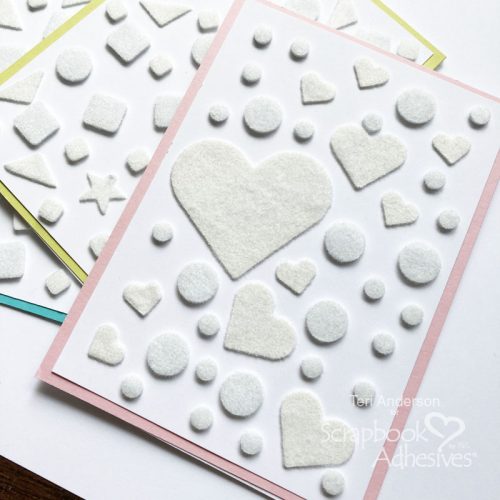 Make Sentiments and Completed Cards
Cut several strips of cardstock to fit across your cards. Affix them together and add a sentiment strip on top of each one.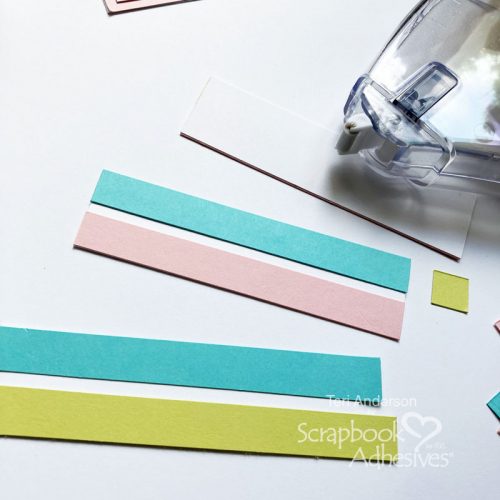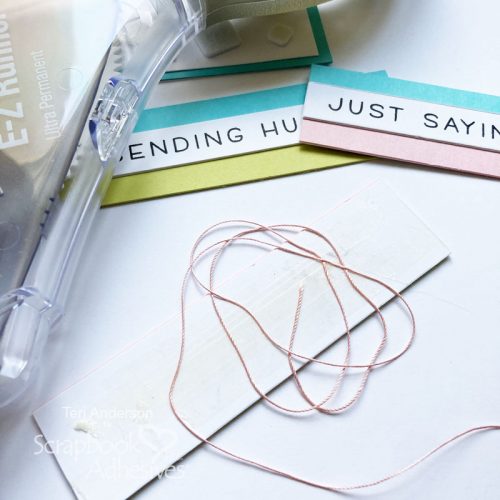 Flip your paper strips over. Apply adhesive onto them. Randomly add some thread or floss to the back of them.
Mount your sentiment strips to your cards. Look for openings on your card panels and add additional foam pieces to hold them onto the cards.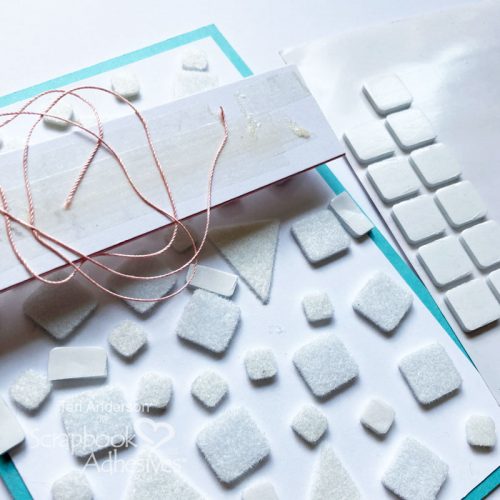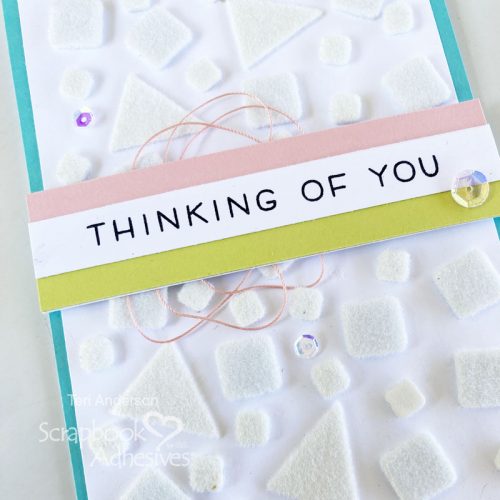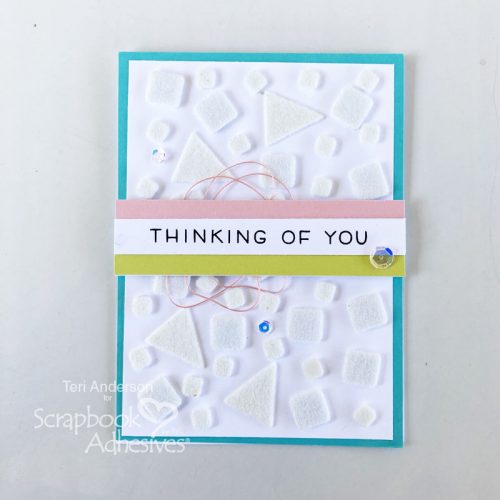 Complete your cards by adding sequins, gems, or some other embellishments to them.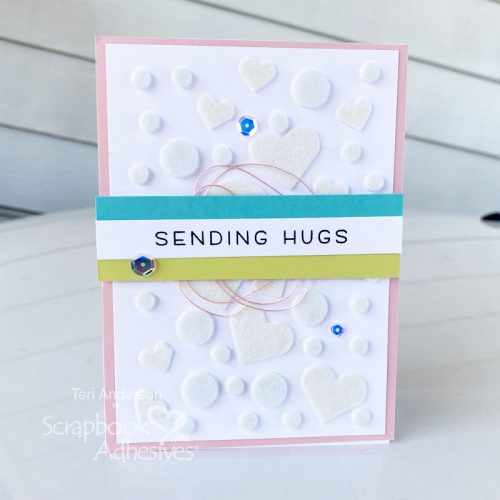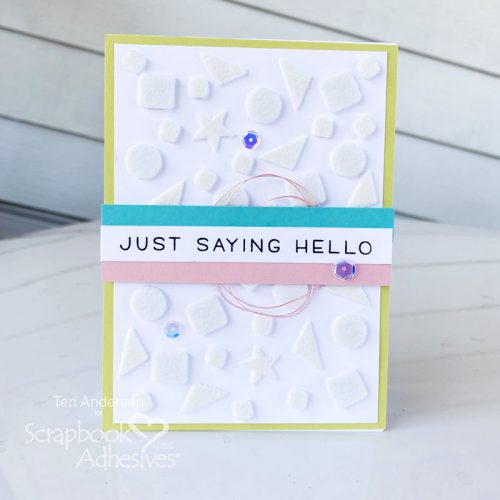 Words about the Faux Embossed Technique
Don't have any flock to work with to pull off this faux embossed look? You can achieve similar results with glitter and foil. Just remember to use the same color of cardstock as the glitter or foil you use.
And remember to have fun when trying this technique! There are all kinds of 3D Foam Shapes you can use to make faux embossed backgrounds with it.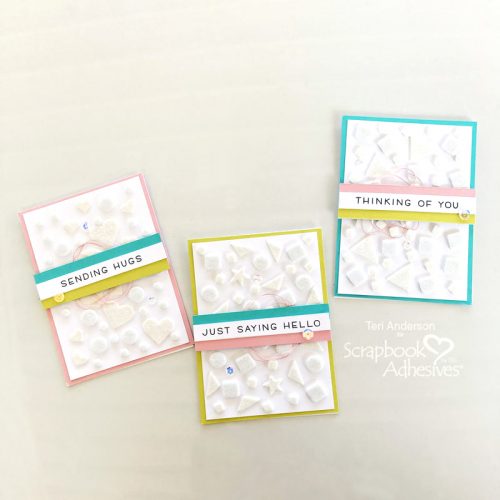 Thank you so much for stopping by today. I hope you'll give this technique a try!
Happy creating!
Creative Time: 60 Minutes
Skill Level: Beginner
Materials Needed:
Scrapbook Adhesives by 3L®
Other
Cardstock: Neenah Paper, Waffle Flower; Stamps: Lawn Fawn (Simply Sentiments); Ink Pad: Ranger Ink; Pink Silk Thread: Coats & Clark; Sequins: Pretty Pink Posh; Flock: Stampendous!
Save to Pinterest!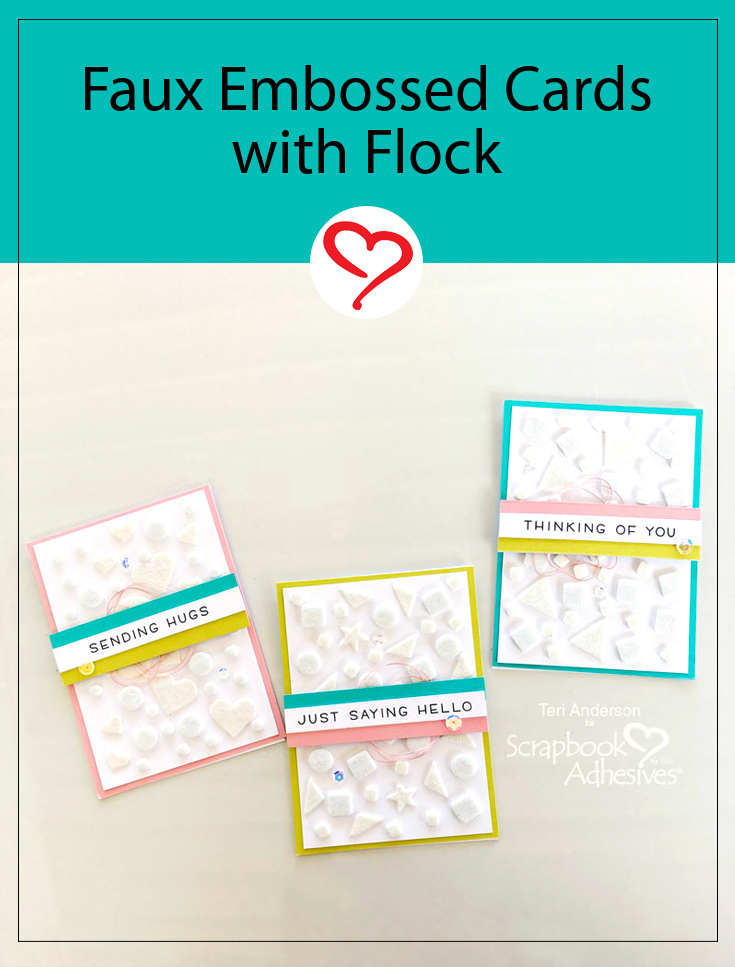 Visit our Website and Blog!
Sign up for our Newsletter so you never miss a contest or giveaway!