Hi Everyone….Kelly here to show you how to add sparkle and "wear your adhesive on the outside" when designing a scrapbook layout.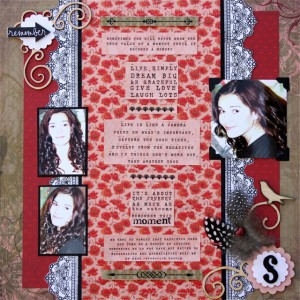 On her sixteenth birthday, my daughter decided to invite all her friends out for dinner. They dressed up in their party dresses and had a "Girls Night Out."  I thought I'd design a scrapbook layout to remember this event, but also to give her some advice, which I found in the form of these Kaisercraft rub-ons that I adhered to the centre of the page.
I wanted to add some "sparkle" because every girl likes glitter, right? Especially when you are 16! So I used my Crafty Power Tape™ to create the black sparkly borders along the edges of the stamped lace.
It's a little hard to see the glittery shine, but trust me…it looks so pretty in real life!
Here is how I made these sparkly borders:
First I used a Kaisercraft lace stamp on a 12″ long piece of paper.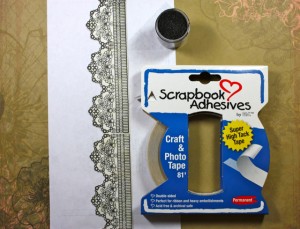 Then I ran my Crafty Power Tape™ along the entire length of the edge.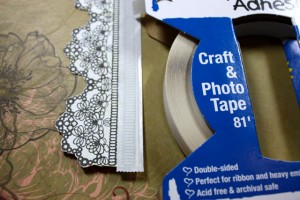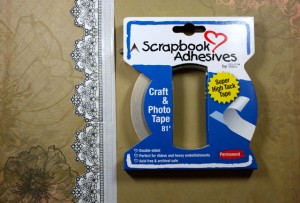 I pulled off the adhesive backing.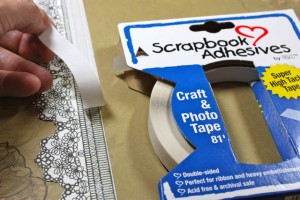 I have a scrap piece of paper under the border while I pour on the glitter, then shake off the excess. I used Craft & Glitz Glitter.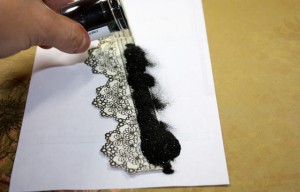 This allows you to return the remaining glitter more easily into your container.
I made two sparkly borders with this technique.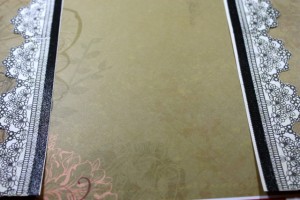 Love this glittery effect!
The rest of my layout came together with the My-Stik™ tape runner and 3D Foam Squares™.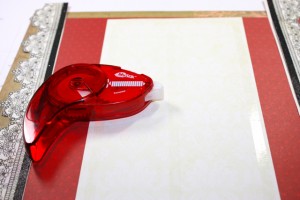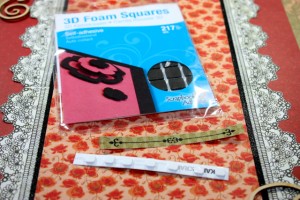 Plus, I used my favourite Black Photo Corners™ to showcase my daughter's portrait.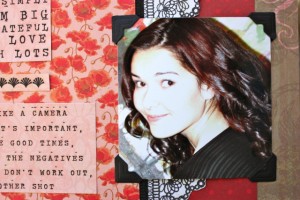 The Kaisercraft "Remember Me" collection was perfect to create a dramatic layout with the black and red colour palette, and I also used a Kaisercraft Saturday Sketch for the design.
I hope this idea helps you add a little "sparkle" to your next project!
Kelly Klapstein  aka KellyCreates
Supplies:
Kaisercraft Paper, Rub-Ons, Wood and Stamp
American Crafts Alphabet Chipboard Sticker
Maya Road Heart Pin
Technique Tuesday Stamp
Clearsnap Ink
EK Success punch