Hi There!
Shell Carman here. I have had a few requests to show how I made my Oval Easel Card so I have put together a step by step!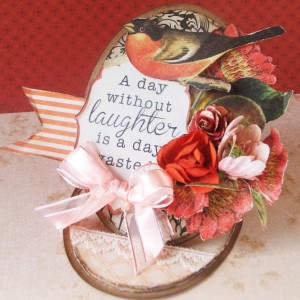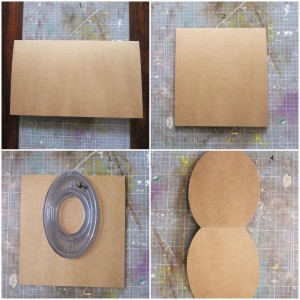 1. Take a piece of 12X12 cardstock. I have used Kraft card. Cut in half to 6X12″. Put the spare half aside to use later.
2. Fold the 6X12″ piece in half to make a 6X6″ card base
3 & 4. Turn the card so that the fold is at the top. Place the Oval cutter (or just print a template from the computer & trace around it) so the top is just sitting over over the fold. You can use any size you like but I have used 3.5X4.5″.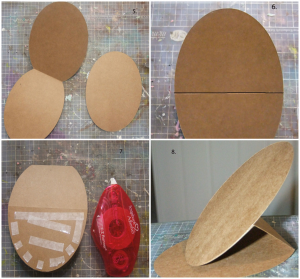 5. Cut a complete oval from the other piece you had placed aside
6. Take the double oval piece. Make sure oval is fully folded out flat. Score the top oval half way. Fold forward.
7. Fold back oval & place E-Z Runner® Permanent Strips Refillable Dispenser on bottom half.
8 & 9. Carefully line up the full oval piece with the folded oval. Ink edges with Dark Brown Ink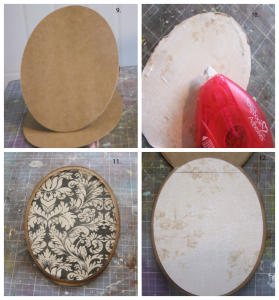 10 & 11.. Cut an oval slightly smaller than the base of your card (Kaisercraft Curiosity Peculiar). Distress & ink Edges. Adhere oval black side up using E-Z Runner® Permanent Strips Refillable Dispenser
12,13,14. Cut another oval slightly smaller than the base of your card (Kaisercraft Curiosity Peculiar). Distress & Ink Edges. Open card base & place oval on bottom oval. Rule a line to cut off tip of oval. Cut off tip. Adhere oval cream side up using E-Z Runner® Permanent Strips Refillable Dispenser to bottom oval
15. Cut another oval slightly smaller than the base of your card (Kaisercraft Curiosity Eccentric). Distress & Ink edges. Score this oval in half. Place tape on either sides of score mark. Stick to top oval making sure you line up score marks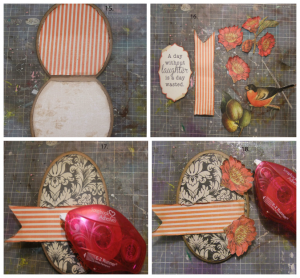 16. Fussy cut bird & half of twig from Kaisercraft Curiosity Peculiar.
-Cut 1.5X5″ strip from Kaisercraft Curiosity Eccentric. Cut a V out the end to make a pendant. Distress & Ink edges.
-Cut the laughter box & the fruit branch from the Kaisercraft Curiosity Unusual paper. Distress & ink
– Cut 2 flowers & X 1 branch with flowers from Kaisercraft Curiosity Queer paper. Distress & Ink
17. Adhere Eccentric strip to front of card using E-Z Runner® Permanent Strips Refillable Dispenser
18. Adhere X2 flowers to front of card using E-Z Runner® Permanent Strips Refillable Dispenser placing one top right & one bottom right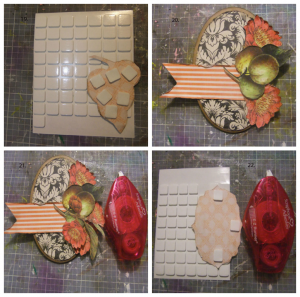 19 & 20. Using 3D Foam Squares White Regular Size adhere fruit branch to front of card middle right.
21.Adhere the flower with branch overlapping fruit branch using E-Z Runner® Permanent Strips Refillable Dispenser
22 & 23.Using 3D Foam Squares White Regular Size adhere laughter box just left of centre. Place foam squares on top, bottom & left side only. Place E-Z Runner® Permanent Strips Refillable Dispenser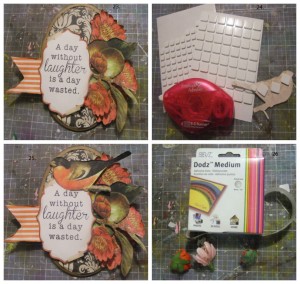 24 & 25. Using 3D Foam Squares White Mix White adhere bird to top of laughter box
26 & 27. Adhere mix of flowers using Dodz™ Medium on top of flower branch
28. Make a bow from coral ribbon. Adhere at bottom of laughter box using Dodz™ Medium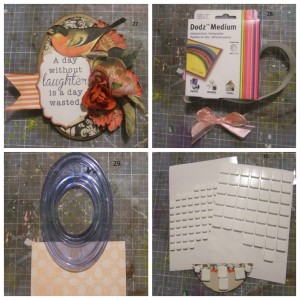 29. Using Kaisercraft Curiosity Extraordinary cut tip of oval using oval cutter or template. Distress & Ink
30 & 31. Using 3D Foam Squares White Mix White adhere tip of oval to bottom of bottom oval
32 & 33. Using Crafty Power Tape adhere a strip of lace along piece cut from 30/31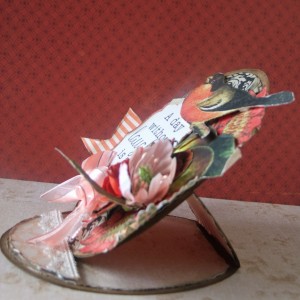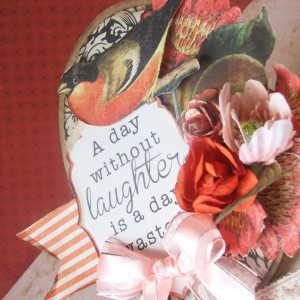 Scrapbook Adhesives by 3L® products used: E-Z Runner® Permanent Strips Refillable Dispenser, 3D Foam Squares Mix White, Crafty Power Tape, Dodz™ Medium
Kaisercraft Curiosity papers
Kaisercraft Paper Bloom Coral
Prima flowers
Ranger Distress Ink Walnut Stain
Kraft Cardstock
Ribbon
If you have any questions just leave a comment & I'll get back to you. I hope you have enjoyed today's tutorial!
Shell Carman
Another Scrappy Day
Save