Hello everyone. Happy Valentine's Day from Asia King! 🙂 Today I would like to share a Valentine's card I made for my other half.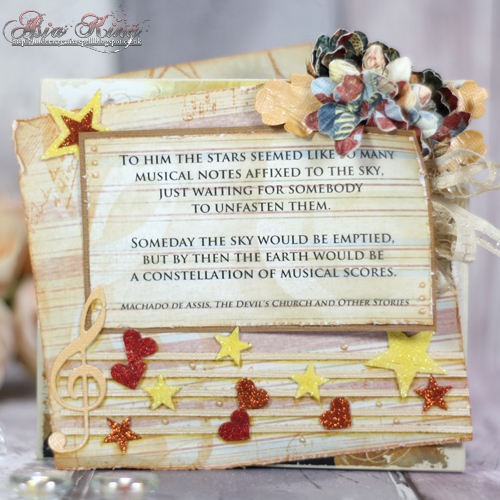 My hubby has recently fallen in love with star gazing and astro-photography (yes, I know, I'm no longer his only love lol). I've been thinking long and hard about what to get him for Valentine's Day as I wanted something that reflected his new interest. But how do you find a nice and thoughtful gift in an area that you have no idea about? Luckily I had a thought – I could give him a star! OK, maybe not a star itself, but an opportunity to give one his own name and have it officially registered. And that's what this card is all about…!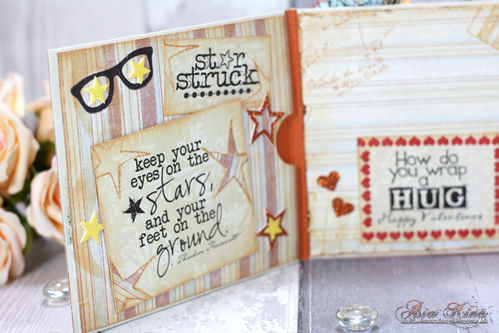 To make the card I altered an old CD folder which had some beautiful music images printed on it, lovely distressed edges, swirls and stuff. It also looked like a little fold up book with hidden pockets so it made the decorating really quick an easy.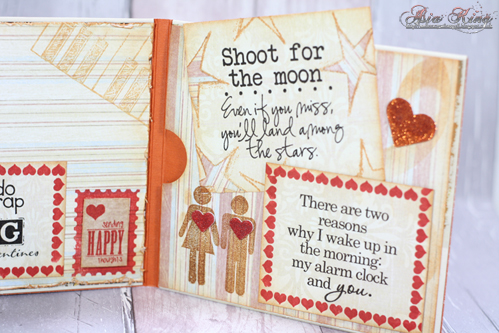 I started by covering the pages with the patterned papers – my Adhesive Sheets 4×6″ were perfect for the job. I added some stamping and inking using the stamp and template from Stampendous Musical Motif set.
For the front page I lifted the corners and tucked in some layered paper flowers and ribbon, all secured with decorative pins and DODZ™ – 3D.
Then I printed some love, music & stars related sentiments onto the decorative papers, mounted them over cardstock mats and adhered to the card with E-Z Runner® Permanent Strips and 3D Foam Squares – White Mix. I added more stamping using some free stamps from the Craft Stamper magazine.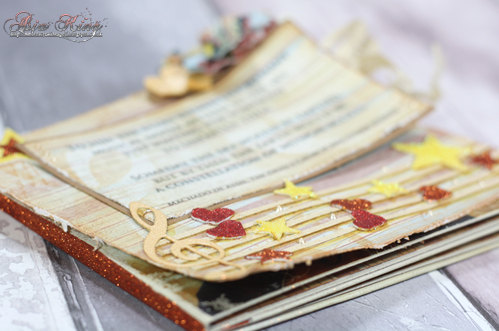 To embellish my front page I cut some strips from textured cardstock to create a stave which I adhered using E-Z Dots® Mini Permanent. I also added a die cut treble clef. As my notes I used 3D Foam Stars and 3D Foam Hearts covered with Stampendous Micro Glitters. I added more stars and hearts inside the card, too. To cover the writing on the spine I added some Crafty Power Tape sprinkled with Micro Glitter.
I hope you enjoyed this Valentine's post. Have a fabulous day, full of love and crafties!

Adhesives:
Adhesive Sheets 4×6″, DODZ™ – 3D,  E-Z Runner® Permanent Strips, 3D Foam Squares – White Mix, E-Z Dots® Mini Permanent, 3D Foam Stars, 3D Foam Hearts, Crafty Power Tape
Music Motif Stamps, Micro Glitters – Stampendous
Treble Clef die – Marianne Design
Flowers – Prima
Ribbon – May Arts
Digital WordArt – Tlc Creations, Rain Drop Echo Designs