Happy (early) Valentine's Day! Just for the occasion I wanted to use my stash of 3D Foam Hearts and to create a sweet and fun canvas piece!
On a prepped canvas (covered with Gesso), I hand drew a heart with pencil. You can also find a heart shape on the internet and print a template.
To figure out how to place all my 3D Foam Hearts, I took off the liners from the hearts and used them to determine the place with the help of Spellbinders® Tool 'n One™ tool.
Next I adhered all the shapes with the exception of the Key (leave space for it) and covered all with Gesso.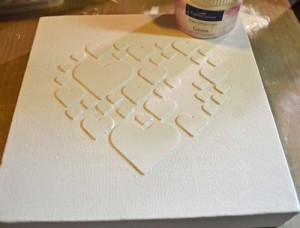 To make the Key stand out, I colored with Silver Ice Gelatos® stick. Don't be afraid to layer on more than one coat of color. Set aside to work on the canvas background.
For the background, I colored with a combination of Bubble Gum, Double Scoop, and Red Cherry Gelatos® Double Scoop® colors to achieve the look I wanted. A subtle outline of the heart was created with Black Licorice Gelatos® and Stamper's Big White Pen, rubbing the colors for a softer look.
After I added the  Key, I outlined the heart with an Artist Pen Black.
Using a piece of burlap ribbon from the burlap set as a stamp, I dipped into Gesso and pressed in different areas of the canvas to create a background texture. Then I layered another color, Chalkboard Paint, on top of the Gesso design.
The sentiment was handwritten with black pen on the white canvas ribbon, cut into pieces and placed on the canvas, using Adhesives Sheets 4 x 6″. The words were outlined with the same pen and highlighted with a White Pen.
To finish, I outlined the edges of the canvas with the pen. Here's another look at the canvas.
Project Supplies:
SCRAPBOOK ADHESIVES BY 3L®: 3D Foam Hearts and Adhesive Sheet 4 x 6″
Tool: Spellbinders® Creative Arts (Tool 'N One)
Color and Mediums: Faber-Castell® Design Memory Craft® (Bubble Gum Gelatos® Double Scoop®, Red Cherry Gelatos® Double Scoop®, Black Licorice Gelatos®, Guava Gelatos® and Sliver Ice Gelatos®, Stamper's Big White Pen, PITT® Artist Pen Black (#199), Chalkboard Paint and Gesso)
Other: 8 x 8″ Canvas
Thanks for stopping by!
MargieH