Hello!  AJ here with one of my favorite cards to date.  If you haven't noticed, Gold foil is on everything lately!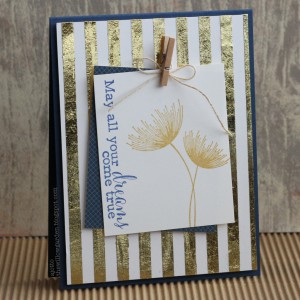 I got some of Clearsnaps Designer Foils a long while back and just recently dug them out to join in on the FOIL craze happening everywhere.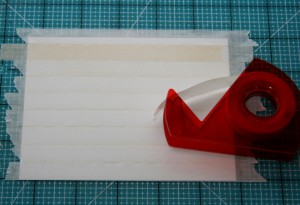 I love stripes. Stripes are hands down my favorite- they are timeless and can be used for any theme or style project.  To start with this project. I placed my card stock on to my work space to make sure it was even.  I just laid strips of Crafty Power Tape down, each one butting up to the previous.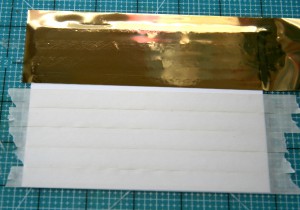 When your card stock is fully covered, remove the backing of about 4 strips.  Place your foil, (color side up) and press into the tape.  You can carefully burnish it with your finger to make it all adhere.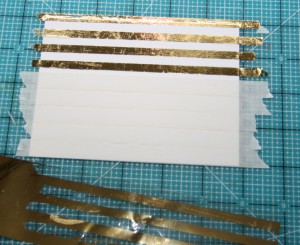 Here's with half done, and the remaining strips left on my foil strip I am using.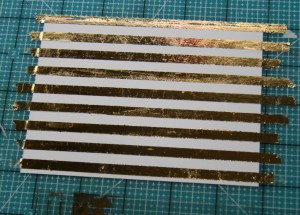 Remove the backing from the remaining strips, and repeat.  Gently lift up from your work space, and press the ends into the back.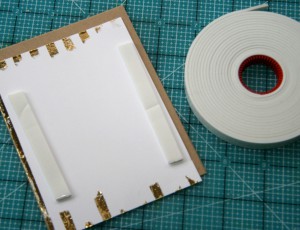 I used Crafty Foam Tape to adhere my panel to my card front.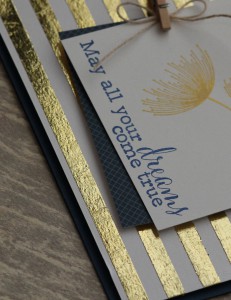 A few close ups of the gold.  I just love it paired with the navy.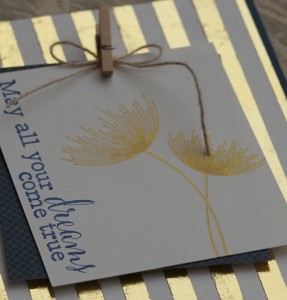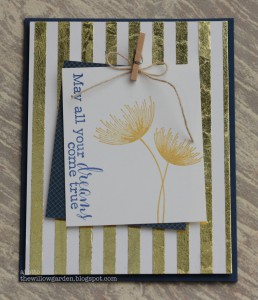 The Clearsnap brand comes with about 6 or 8 sheets.  I still have quite a bit left to play with! Im thinking something for my wall next! 😉
enjoy!
AJ
Scrapbook Adhesives by 3L® Products used: Crafty Power Tape, Crafty Foam Tape
Clearsnap Designer Foils in gold, Tsukineko Delicata in Golden Glitz, Clearly Besotted stamps, Lawn Fawn patterned paper, Canvas Corp clip, twine, card stock.