Hey there crafters! It's Lisa here with you and I have a card to share that's a bit out of the norm for me. Really clean and graphic, but I LOVED making it!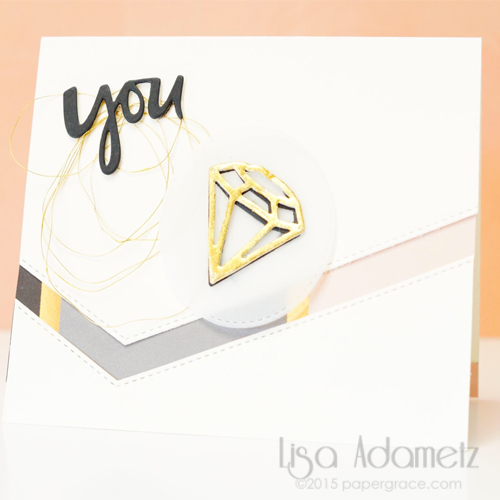 Look at all that pretty GOLD!
1. First create the card base. Super simple. 4 1/4″ x 5 1/2″ A2 sized card, scored on the horizontal edge.
2. I made the die-cuts that I required using a steel-ruled die for the bottom of the card.
3.  Using the MyStik® Repositionable Dots I temporarily adhered the pieces together. Once in place, I could trim off unnecessary paper and rough edges, then adhere permanently with MyStik® Permanent Permanent Strips.
4. For perfectly aligned die-cut words here is my trick: figure out how much cardstock you'll need to die-cut three of your words. Trim that out. Then apply that piece of cardstock to a piece of the Adhesive Sheets (cut to the same size) and start die cutting your words. When you peel the adhesive backing off each word, they'll be sticky and line up perfectly.
5. Since the back of the word "you" is sticky, the gold thread is super easy to create a beautiful nest of and tuck behind.
6. To create the diamond "rock", it's much the same except the layers are a tiny bit different. I used 1 layer of 3D Foam Creative Sheets and 1 layer of black cardstock which had been cut to size (as in step 4.) All the layers were die-cut the same, EXCEPT prior to diecutting the 3D Foam Creative Sheets I had already burnished it with gold foil.
7. Die-cut a circle out of cardstock weight vellum. Stick diamond "rock" on top. Place teeny pieces of 3D Foam Squares Small, Black underneath (so that they can't be seen).
Lots of adhesive to create this pretty card!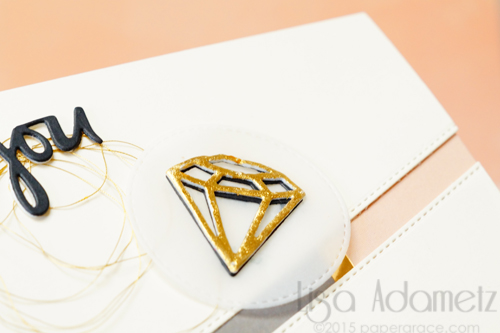 And just another angle to see the dimension:
Supplies:
From Scrapbook Adhesives by 3L®:
3D Foam Creative Sheets
3D Foam Squares Black, Small
MyStik® Repositionable Dots
MyStik® Permanent Strips
Adhesive Sheets 12 x 12"
Other Supplies:
My Favorite Things Die-Namics Dies (Stitched Basic Edges
My Minds' Eye Patterned Paper (Fancy That)
Essentials By Ellen Dies (You Rock – Limited Edition)
Wow! Gold Fab Foil