Hello everyone! It's Lisa and I have a fun card using your dies and our awesome Adhesive Sheets today.  I love using the Adhesive Sheets to create a focal point for cards and it's SO super easy to do!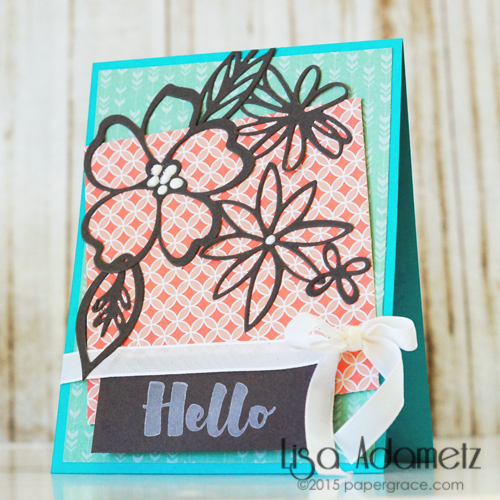 I first used my E-Z Runner® Grand Permanent Strips to adhere my patterned paper to the base card, then I cut a separate piece of patterned paper in a square and popped it up using the Thin 3-D Foam Squares for just a teeeeeeeny bit of dimension and to offset the two pieces of patterned paper.
Then using cutting a piece of cardstock large enough to place all of my floral dies I made sure that I had a matching piece of Adhesive Sheet in the exact same size. I peeled off the backer to the Adhesive Sheet and adhered the two together. I like to use a bone folder and burnish lightly to make sure the two pieces have completely adhered.
Place the dies on the cardstock side of your newly adhered cardstock/Adhesive Sheet piece and run through your die-cutting machine (I run it through twice) and you have perfectly die cut pieces ready to be adhered to your card. No messy glue and amazingly strong adhesive! Also no glue strings either. Ick!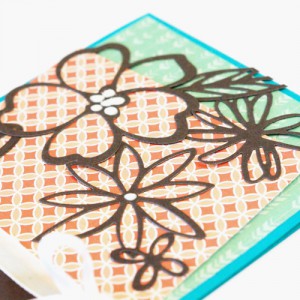 I positioned the flowers as I want them, Added some accents to the centers. Wrapped ribbon around the front and secure with a Dodz™ Medium. When I stamped the sentiment I knew how I wanted to secure it so I used the Extreme Double Sided Tape – ¼" at the top of the stamped piece to adhere it under the ribbon. Strong stuff!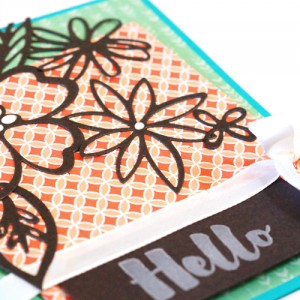 This was such a fun and easy card to put together, but I love how it looks. 🙂 The Adhesive Sheets are the best thing EVER!
SUPPLIES:
Scrapbook Adhesives by 3L®:
Adhesive Sheets 6″ x 12″
E-Z Runner® Grand Permanent Strips
Thin 3-D Foam Squares – Mix, White
Dodz™ – Medium
Extreme Double-Sided Tape – ¼", Permanent
Stamps and Dies by Ellen Hutson, LLC.
Patterned paper by Pebbles, Inc.