Hello everyone!  Latisha here with you today.  Right now Scrapbook Adhesives by 3L finished up having a booth and teaching a class at the Craft & Hobby Association trade show.  This show is where the craft industry reveals new product lines for the upcoming year.  The 3L design team provides stunning artwork for the booth, and today I am sharing one of the projects that I created for this years show.
I painted, embellished a 9×11 inch canvas.  I call it mixed media-clean-latisha-style lol.  I love mixed media, but I also love clean lines and design and seem to over edit.  Maybe I need to learn to just let go and add more layers?  Anyhow, I do not have a photo tutorial for you, but I will walk you through the steps on how I created the canvas below.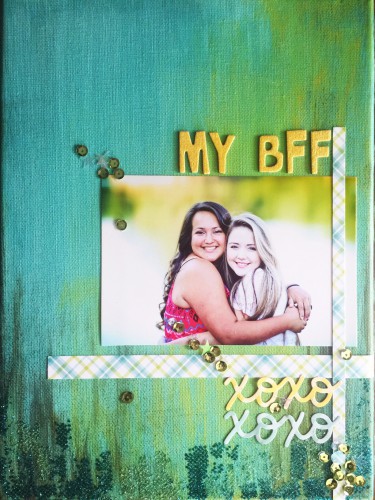 Decide on a photo to use, then select acrylic paints that compliment the photo.
I used, yellow, aqua and black for my acrylic paints.
To get the mixture of colors, I added in the yellow paint right before the aqua paint was dry, to get some green.
Once dry (you can use a heat gun to speed up the process) adhere the photo using  Home and Hobby Extreme Double Sided Tape.  This is a strong permanent adhesive that will keep the photo in place.
Using Scrapbook Adhesives by 3L E-Z Dots Permanent Refillable, apply strips of adhesive at the bottom of the canvas.
Sprinkle green and aqua glitter over the adhesive.
This gives the canvas another layer of texture, it looks cool, plus its glitter…super score for me.
Adhere strips of pattern paper using the Double Sided tape again.
Using Scrapbook Adhesives by 3L E-Z Dots Permanent Refillable, adhere the xoxo diecuts to the canvas.
Apply sequins to the canvas using Scrapbook Adhesives by 3L Dodz small.
Create a title using stickers.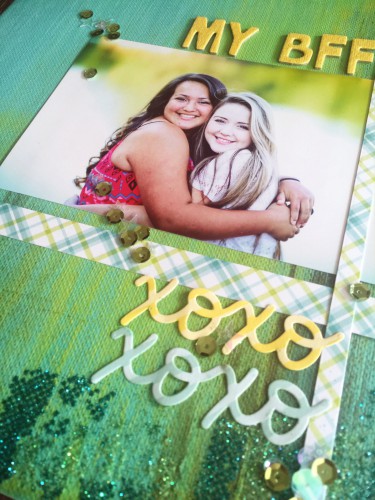 Materials Used:
Scrapbook Adhesives by 3L E-Z Dots Permanent Refillable
Scrapbook Adhesives by 3L Dodz small
Home & Hobby Extreme Double Sided tape
Lawn Fawn pattern paper
stickers
acrylic ink (aqua, yellow & black)
sequins
glitter