Hi everyone! It's Lisa "reporting" live from #CHA2016 and sharing one of my mini canvases that I brought to the show with me. I love doing projects like these because you can really get a full use of the adhesive line in a full spectrum of ways that you may (or may not) have thought of before. I hope to spark your inspiration today.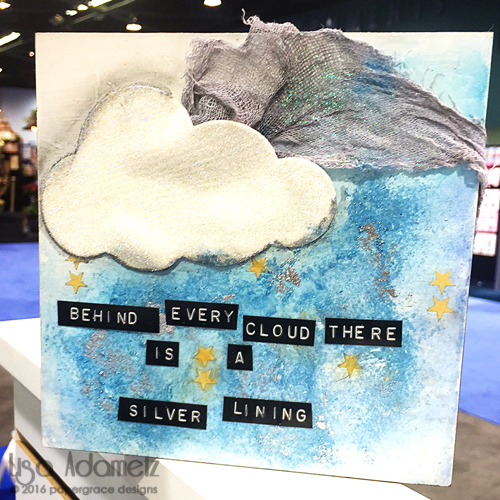 (Why is glitter so hard to photograph? Someone, please tell me. 😉 )
This cute little mixed media piece was created using so many goodies. I colored the gauze with pigment powder (silver) by adding a tiny mixture of water and the pigment.
To make the cloud, I die-cut the shape using 3D Foam Creative Sheets, Mix- Black & White and then coated it completely with the most gorgeous glitter from Fun Stamper's Journey. It's super fine and does NOT come off after being burnished in. To make the cloud look more "puffy", I tucked some Dodz underneath to give it that cloud-like appearance.
The blue background was created with Gelatos® in a few blue shades and a bit of water. Adding shimmer with the pigment powder in blue. Additional interest was then achieved by adding the starssheets. After they were applied, they were dusted with the pigment powder in gold.
I scraped some Glass Bead Bead Glitter Gel onto the surface in a few areas to add some additional texture and shimmer. And I also used scraps of 4″ x 6″ Adhesive Sheets with remnants of silver foil to add high shine.
Here is a close-up: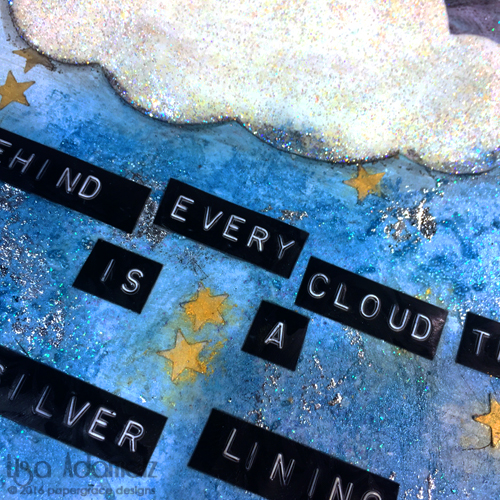 And saving the best for last is a photo of myself, our Media Director, Beth Pingry, and my fellow Teamie, Margie Fujii Higuchi, at the Scrapbook Adhesives by 3L® booth! 🙂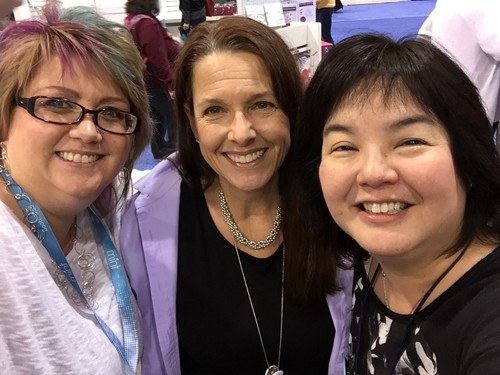 Don't we look happy?! Our feet haven't started to ache yet, I bet. Hahha!! It's been a fun show so far and I hope to see more tomorrow after the demo.  😀
Supplies from Scrapbook Adhesives by 3L®:
Adhesive Sheets 4″ x 6″
3D Foam Creative Sheets, Mix Black & White

Save
Save
Let's Connect!