Hello! Happy Presidents day! AJ here from the marvels of blog scheduling because I am most certain I am sleeping in today sine the kids are home from school! 😉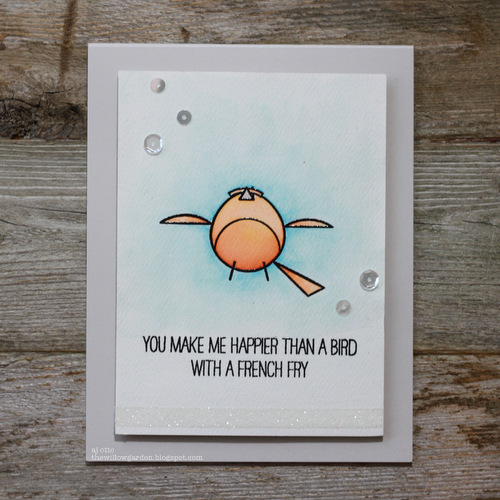 I just recently got some adorable new stamps and thought I would break them in for todays post.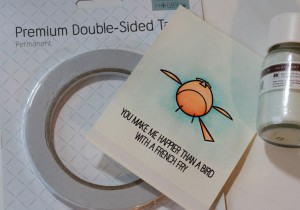 I started by stamping and coloring my main panel in, (still trying to perfect my watercolor technique) and I adhered a strip of the Premium Double-Sided Tape on the bottom and trimmed the excess off the edge.  Remove the backing and cover with glitter.
My watercolor paper always warps a bit, so I end up placing a piece of cereal box or something similar to the backside of the panel.  For this I use the Extreme Double-Sided Tape to make sure it lays flat to my card board piece.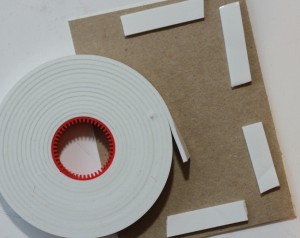 I also pop it up, so a few pieces of Crafty Foam Tape to use to adhere it to my card base are also in order.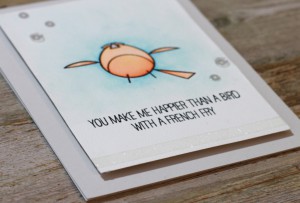 And I just love how the little strip of happy glittery-ness looks with out taking too much away from the main image. Is that bird not the cutest?!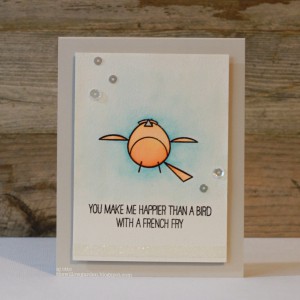 And my finished card for the giving! 🙂 enjoy!!  –AJ
Scrapbook Adhesives by 3L® Products used:  Premium Double-Sided Tape; Crafty Foam Tape; Extreme Double-Sided Tape
Stamps- WPlus9; Spectrum Aqua Markers; Glitter; Seqiuns; Watercolor paper;  Embossing ink; Black Embossing Powder