Here's a Thank You card to our military who keep our country safe! Remembering all those who sacrificed their lives for our freedom and those who serve to maintain that freedom on this Memorial Day weekend!
It's Judy here today. I've created a patriotic "Thank you" card in honor of Memorial Day. With the classic red, white and blue, there's a bit of sparkle on the stars!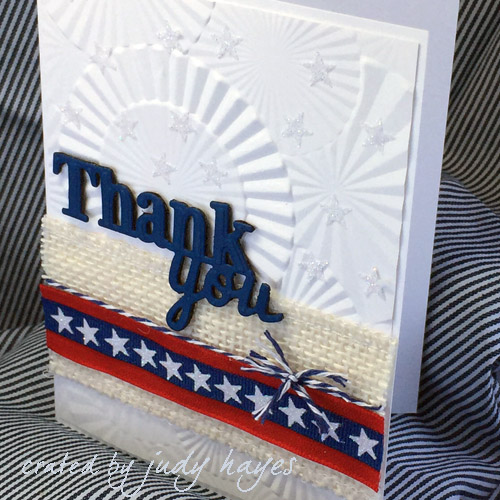 Patriotic Thank You Card Steps
First, form a 4.25 x 5.5-inch white card base. Cut 4⅛ x 5⅜-inch piece of white cardstock panel and emboss with an embossing folder.
Cut 4.5-inch pieces of burlap, blue ribbon and red ribbon. Apply Premium Double-Sided Tape ¼ʺ to long edges on the backs of the burlap and ribbons.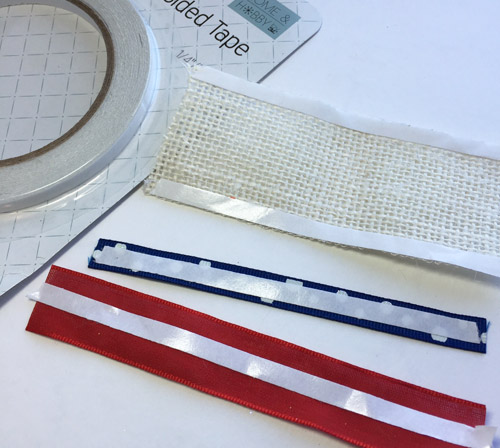 Add a row of 3D Foam Stars to the blue ribbon. Remove the top liners and sprinkle with glitter on top. Press onto stars to secure and tap off the excess.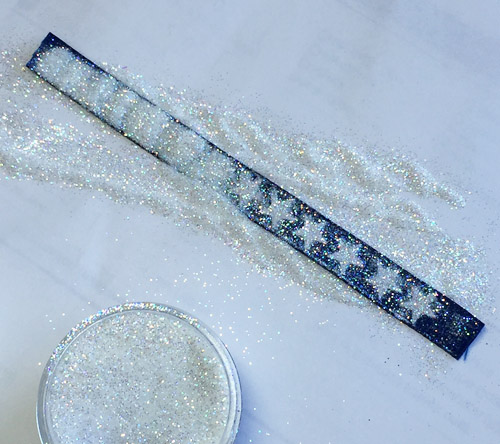 Attach the burlap to the embossed card panel. Adhere the blue ribbon on top of the red ribbon. Add both to the burlap ribbon. Trim ends even with the card panel edge.
Card Panel Details
Wrap and tie a piece of twine around the card panel and above the red ribbon. Place three short strands of twine over the knot and tie again. Trim ends. Use E-Z Runner® Dots Permanent to adhere the embossed card panel to the card base.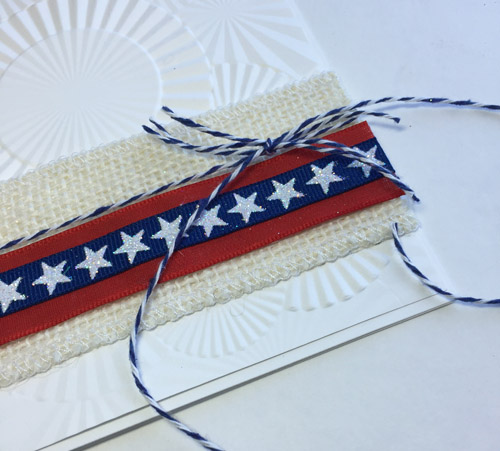 Thank You Sentiment
Cut a piece of blue cardstock large enough to fit thank you die. On the back, cover with Crafty Foam Tape Black.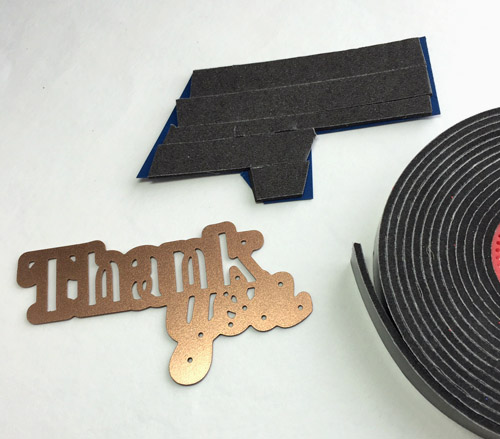 Die-cut the sentiment through die cutting machine two to three times. Most likely the paper and foam will cut but the backing is uncut. Use tweezers to remove all the excess pieces, leaving the sentiment attached to the backing.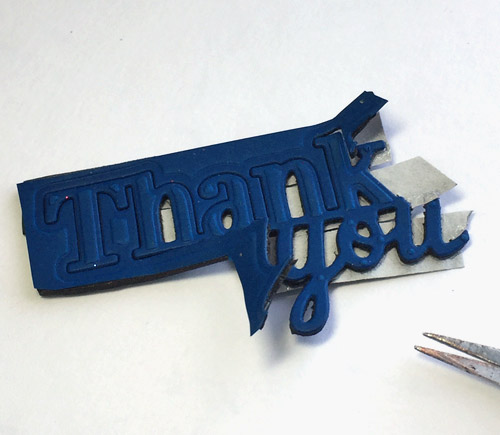 Lay the sentiment on the card front to guide the placement of stars. Apply stars to the top of the card. Sprinkle glitter over stars, press into stars, and remove excess.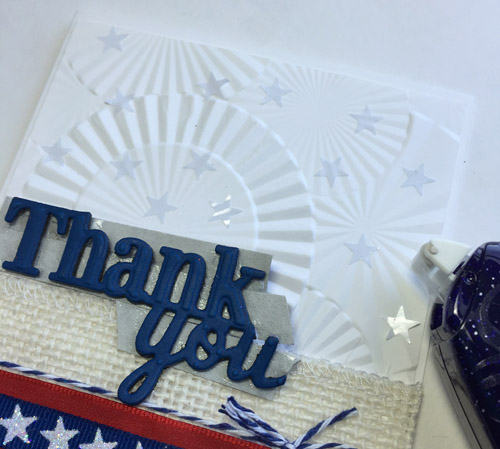 Adhere the sentiment to the card front, overlapping the burlap ribbon.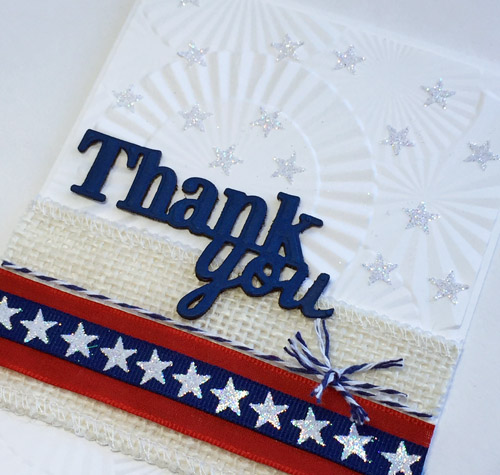 Have a safe Memorial Day!
Judy Hayes
Materials Needed:
Scrapbook Adhesives by 3L®
E-Z Runner® Dots Permanent
Crafty Foam Tape Black
3D Foam Stars
Home Hobby by 3L®
Premium Double-Sided Tape ¼ʺ
Other
Craft Dies: Spellbinders® Paper Arts (S4-564 Simply Said Phrase Set Two and SCF-004 Rosette Wall Embossing Folder); White and Blue Cardstock; Blue and Red Ribbon; Glitter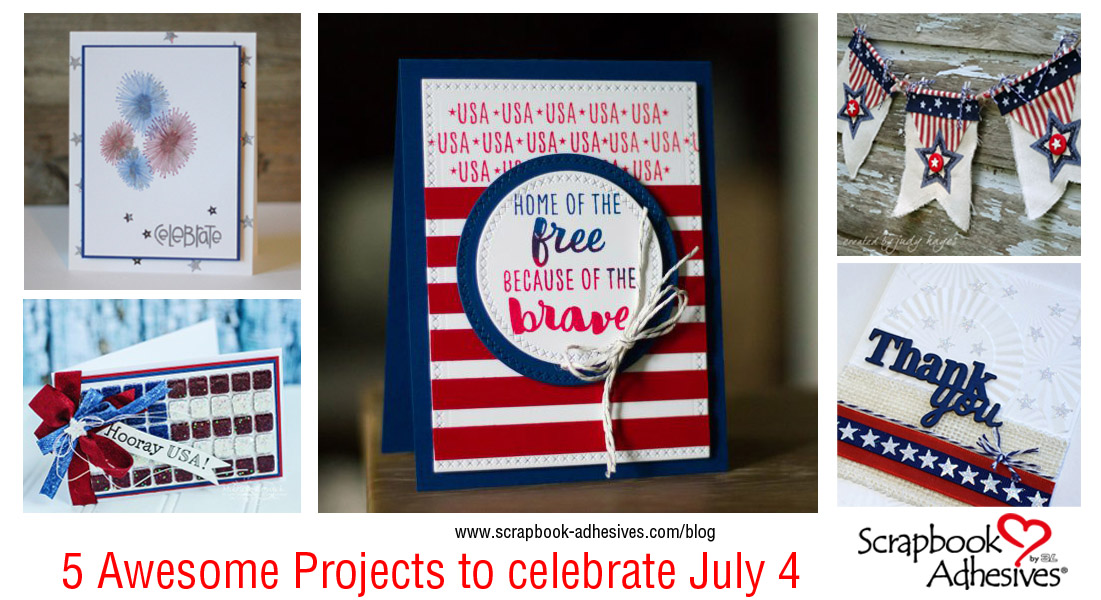 Let's Connect!
Save
Save
Save