Today I thought I would share a heritage layout that I created using the following adhesives: Creative Photo Corners Mix Pack, E-Z Runner® Grand Dispenser, 3D Foam Squares White Regular and E-Z Runner® Grand Dispenser
If you have ever worked on creating a heritage album or even just a heritage layout, you know that you really do want to use the right adhesives to ensure that your precious photos are preserved and taken care of. With that said I would always recommend that you use a copy of your heritage photo instead of an original.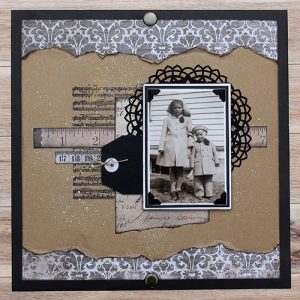 The biggest part of creating is choosing acid free adhesives, in order to preserve and protect those memories. One of my go to choices is the Creative Photo Corners Mix Pack. Photo corners adhere your photo to an album or layout without actually having adhesive directly on your photo. The benefit of this is, if you happen to be using original photos and not copies, the photo can easily be taken out to copy and share. Plus the fact that a photo corner can give you that classic heritage look.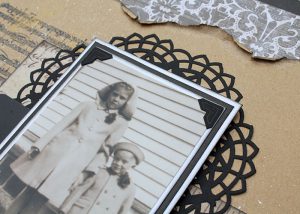 For all of my regular papercrafting with paper layers, my go to adhesive is my E-Z Runner® Grand Dispenser. For dimension, I use 3D Foam Squares like I did with my matted photo. But for all of those little bits and pieces of memorabilia, and other small heritage embellishments like buttons and keys I will grab my Adhesive Dots Micro.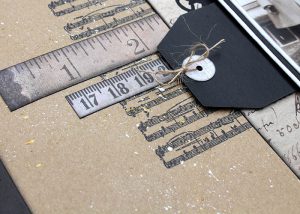 Thanks so much for stopping by to pick up a few heritage layout tips.
Tracy
Scrapbook Adhesives by 3L®:
Adhesive Dots Micro
E-Z Runner® Grand Dispenser
Creative Photo Corners Mix Pack
3D Foam Squares White Regular
Others:
Kraft, Black and White Cardstock
Heritage Paper
Brads, Doily, Tag, Burlap String
Music Background Stamp
Gold and White Paint