Who loves shaker cards?!? Who thinks they are kind of a challenge to make?!? I rarely even attempted them before I discovered a key ingredient to make the process easier: Keepsake Envelopes! Now I find myself regularly pulling out products to put together a Shaker Card, most notably accompanied by the Keepsake Envelopes. Christine joining you today and I am going to walk you thru how to make a Coffee Shaker Card featuring Keepsake Envelopes.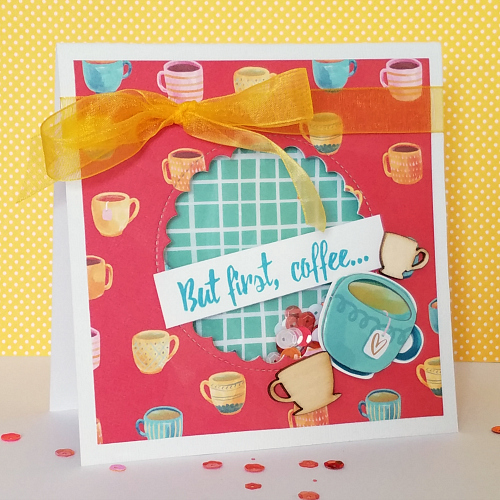 There are two main adhesive ingredients used for my card: the Keepsake Envelopes and the Crafty Foam Tape.  The E-Z Runner® Grand also plays a small role. Additionally, I used a Lawn Fawn die (which you saw me use earlier in the week in this blog post) to create the shaker part of my card.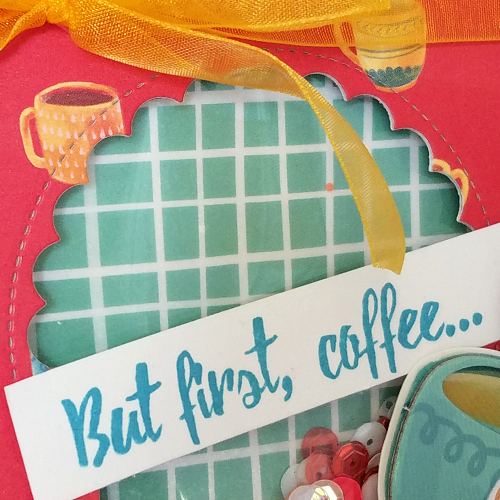 To begin I added the patterned paper to my card base using the E-Z Runner Grand. Next, I ran the card through my die cut machine to cut out the shaker area. After filling the Keepsake Envelope with sequins, I added some patterned paper behind it.  The Keepsake Envelopes have adhesive on the back as a result, it is easy to attach them to anything!
Following that, I used Crafty Foam Tape to attach the whole envelope to my card – making sure to add the Crafty Foam Tape to both the outer edge of the envelope and around the opening for the shaker part of the card.  Using Crafty Foam Tape allows the stuff inside the shaker to move around more, therefore 30 upping the fun level of the entire card! Finally, after I created this I realized it would have been fun to add some actual coffee into the shaker part…oh well, next time!
Walking through the process with a video tutorial.
Thanks for joining me today – hope your weekend is filled with lots of coffee!
-Christine Meyer
Scrapbook Adhesives by 3L®:
E-Z Runner® Grand
Crafty Foam Tape White
Keepsake Envelopes Mix

Save