It's fall and I'm sharing a quick seasonal hanging decor piece that can be done in under 30 minutes! Hello, Dana Tatar here. I've combined stamped burlap, mini embroidery hoops, ribbon, and glittered 3D Foam Leaves to Wear Your Adhesive on the Outside!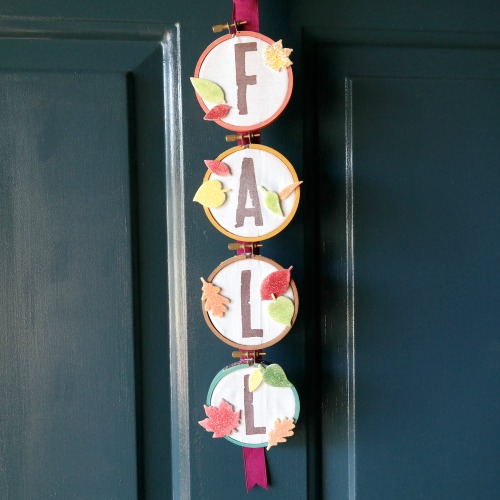 I had a lot of fun using this concept, the colorful glitter on the 3D Foam Leaves really catches the sunlight. The seasonal pop of colors that this quick project added to the front of my home makes me happy!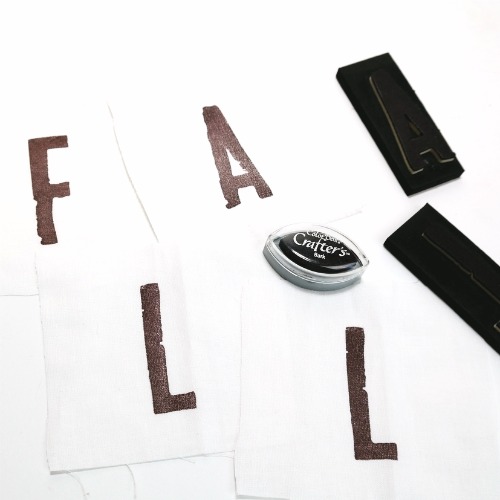 How to Make A Hanging Embroidery Hoop Fall Décor Piece
Step 1: Cut squares of muslin slightly larger than the embroidery hoops. Next, apply brown fabric ink to letter stamps and press onto the muslin squares. Then, set the ink with a heat tool or an iron.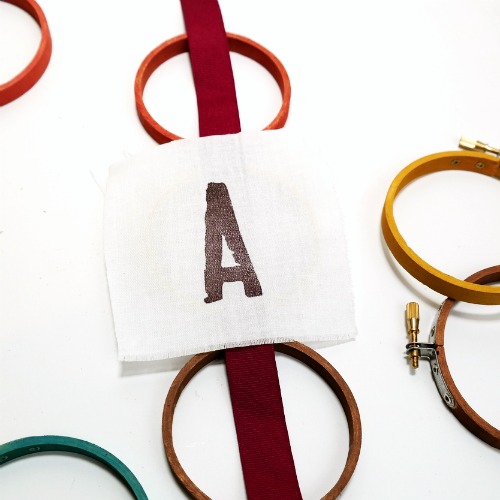 Step 2: Assemble the piece. First, lay the inner rings of the embroidery hoops on the work surface, leaving about an inch of space between each hoop. Next, center a piece of ribbon over the hoops. Then lay the stamped muslin squares over the hoops.
Fasten the outer rings of the embroidery hoops over the inner hoops. The outer rings secure both the stamped muslin and the ribbon together into one hanging décor piece. Use scissors to trim away any excess muslin from the hoops.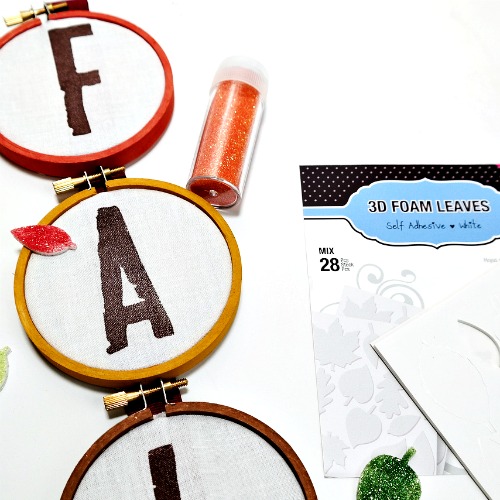 Step 3: Embellish the hoops with glittered 3D Foam Leaves. Each package of 3D Foam Leaves includes two sheets of 14 leaves in a variety of shapes and sizes. Mix and match colors of glitter and leaf shapes on each embroidery hoop.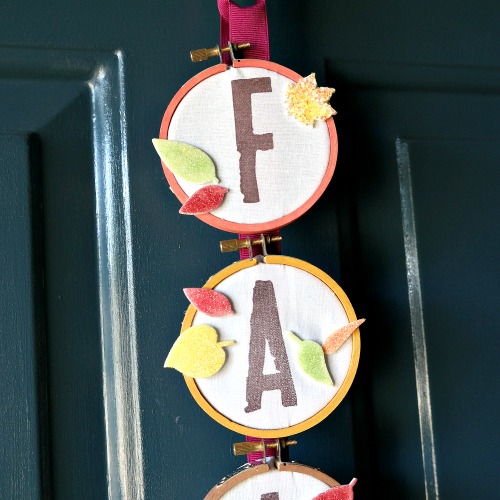 Fold and tuck the end of the ribbon into the back side of the top embroidery hoop to create a loop for hanging. Thread a second piece of ribbon through this loop and tie into a bow.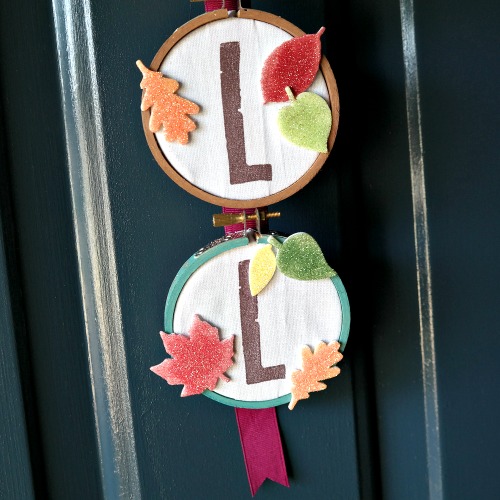 Use scissors to make a v-cut into the end the ribbon hanging from the last embroidery hoop.
How to Adapt This Design For Winter Holidays
If you already have your Fall décor finished, try modifying this project for the Winter months.
Change the color scheme to blue and white, or red and green, and stamp a festive Winter or Christmas greeting.
Alter the round embroidery hoops to look like ornaments.
Use this same procedure to link together three hoops to create a snowman.
Be sure to check out the full selection 3D Foam products. Scrapbook Adhesives by 3L® offers trees, stars, snowflakes, Christmas shapes, and a super fun 3D Foam Holiday Embellishment Kit that includes 5 sheets of colorful craft foil!
Thanks for stopping by today!
Dana Tatar
Scrapbook Adhesives by 3L Supplies:
3D Foam Leaves
Other Supplies:
Embroidery Hoops; Foam Alphabet Stamp Set: Making Memories; Bark Ink: ColorBox Crafter's Ink (Clearsnap); Muslin; Glitter; Ribbon