We hope you are enJOYing our week-long blog hop with Stampendous on Day 3! What are your favorite tips, techniques or projects? Keep reading to see what Teri Anderson and Shannon Morgan bring joyful inspiration to us today.
Melt Your Heart Card by Teri Anderson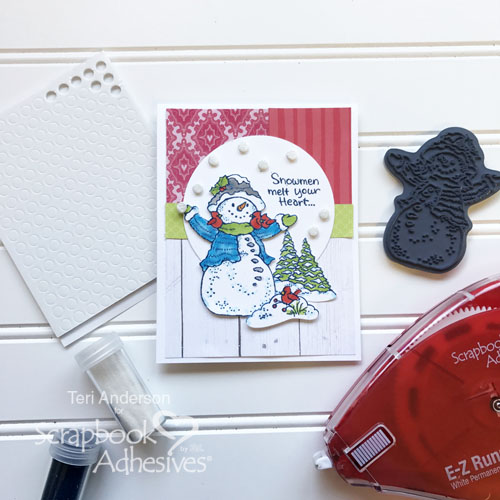 Hi, everyone! I'm excited to share with you a card perfect to send this winter to a special someone with the adorable CLD12 Snowman Cardinals Cling Stamps and Dies from Stampendous!
I wanted this card to have dimension so I embossed, colored and die-cut the snowman, cardinal and trees from cardstock. I adhered the snowman and cardinal to my card with 3D Foam Squares and Thin 3D Foam Squares. If you look closely, you'll see the cardinal pops a little higher off the card than the snowman. That's because I used the 3D Foam Squares to mount the bird to the card and the Thin 3D Foam Squares to adhere the snowman to it. Using these two adhesives together is the perfect way to add levels to your cards and scrapbook pages!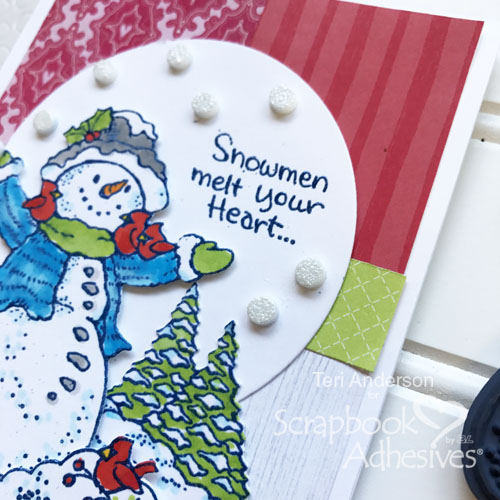 Speaking of the snowman, don't you just love his playful nature? I felt like he would be right at home with a few snowballs so I made some! It was easy with 3D Foam Circles. I simply placed several of them on a paper piercing tool and dipped one side of them in embossing powder. I heated up the embossing powder with a heat gun until it was completely melted and then I placed the circles right onto the card. So fun! Thanks for checking out my card!
Creative Time: 60 minutes
Skill Level: Intermediate
Materials Needed:
Scrapbook Adhesives by 3L®:
3D Foam Circles White Mix
3D Foam Squares White Mix
Thin 3D Foam Squares White Mix 
E-Z Runner Grand Refillable Dispenser
Stampendous!:
CLD12 Snowman Cardinals Cling Stamps and Dies
EK16 Submerge 5-Jar Kit Embossing Powders
Happy Holidays Owl Card by Shannon Morgan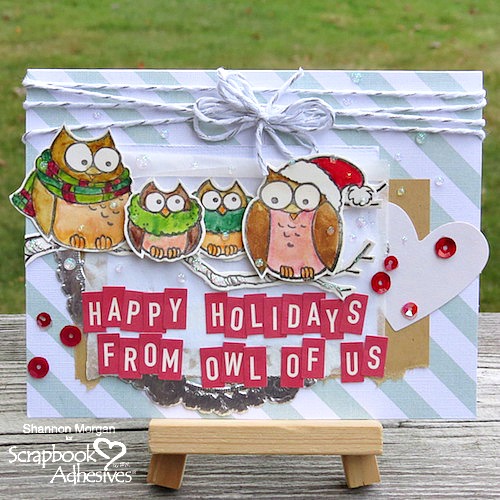 I love a good pun, and this cheery, festive set from Stampendous is perfect for a punny holiday greeting! I think that this card would put a smile on any recipient's face. Scrapbook Adhesives by 3L has some very versatile products that helps pull this card together, like 3D Foam Squares and Adhesive Dots (these come in nine sizes, but MINI was just what I needed!) Thanks for letting me share this card with you today, I hope I inspired you to get started on your Christmas and holiday cards.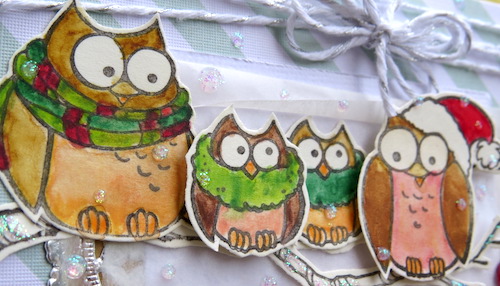 Creative Time: 30 minutes
Skill Level: Intermediate
Materials Needed:
Scrapbook Adhesives by 3L®:
E-Z Runner® Permanent Strips Refillable Dispenser
3D Foam Squares, White Small Size
Adhesive Dots Mini
Stampendous!:
Owl Be Home Cling Stamps and Dies Set
If you missed out on any other posts, visit:
For Day 1, CLICK: Holiday Card Creations with Stampendous – Day 1.
Day 2, CLICK: Holiday Cheer with Stampendous – Day 2.
For Day 4, CLICK: Card Making Merriment with Stampendous – Day 4.
Day 5, CLICK: Holiday Fun with Stampendous – Day 5.
Hop over to our friends at Stampendous by clicking:
2018 Blog Hop with Stampendous – Day 3.
Blog Hop Prize Details

To enter to win click through the Rafflecopter App. Winners will be randomly picked. Entries from the U.S. and its territories are welcome.
If you cannot see the comment section (at the bottom of this post), please CLICK: Joyful Inspiration from Stampendous – Day 3 and scroll down to the bottom of the post.
Connect and Stick with 3L!
Visit our Website and Bookmark our Blog!
Sign up for our Newsletter so you never miss a contest or giveaway!