Hi, everyone! Looking for a quick gift to make for a coffee lover? I'm going to show you how to put together a coffee gift that is sure to make her say, "Thanks a latte!"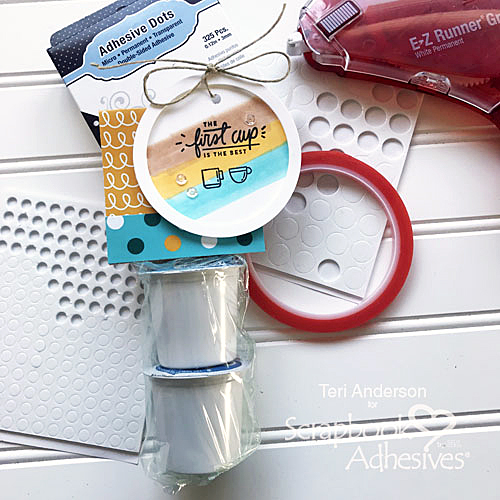 Create a Coffee Lover Gift Tag
To make a gift tag, first cut a large circle from cardstock. Cut a large circle frame from cardstock as well. If you don't have a circle frame die, line up two circles on cardstock and run the dies through a die-cutting machine to create your own circle frame.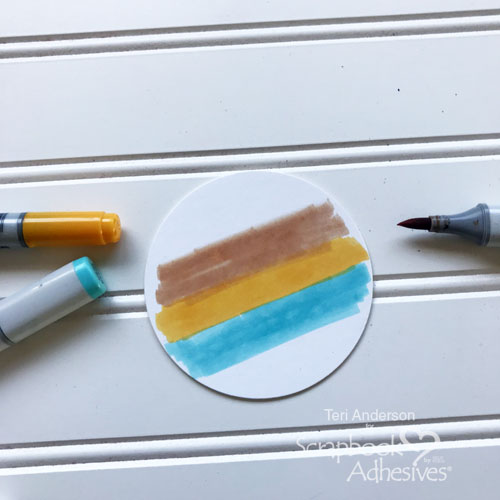 Scribble some stripes onto the cardstock circle with markers. Don't worry if your lines are perfect! Wobbly lines are just fine for this project.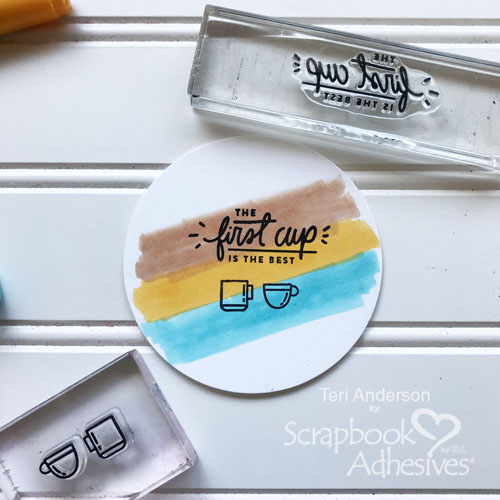 Stamp sentiment and a couple of coffee cups with black ink onto the circle.
Set the circle frame onto the circle and poke a small hole through the top of the circle. Now set the large circle aside.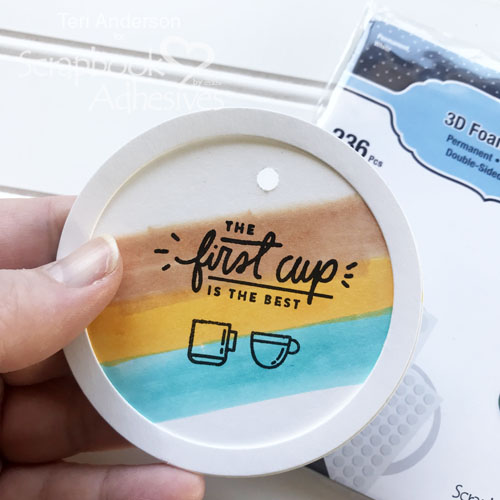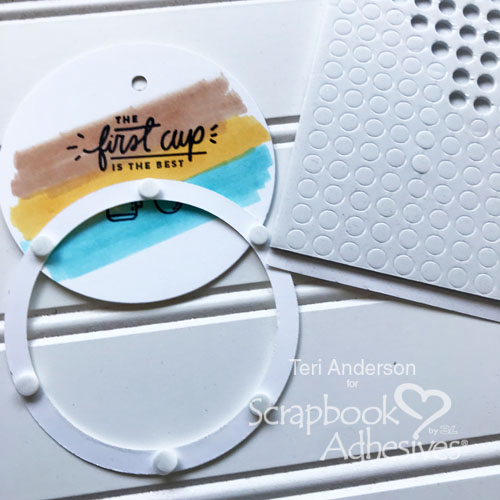 Place several small 3D Foam Circles on the backside of the circle frame. Adhere it to the circle. Set the tag aside.
Creating the Gift
Let's work on the gift with two coffee pods. Place them a plastic sandwich bag. Adhere a line of Extreme Double-Sided Tape along one of the bag's outside edges. Leaving the bag open, roll the bag so the coffee pods are nice and tight. Close the top of the bag.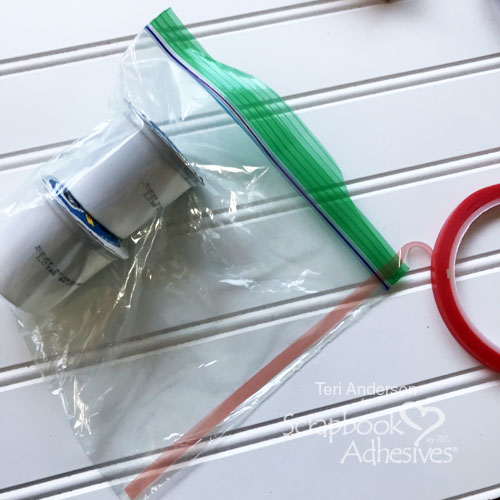 Cut a 3″ x 6″ piece of patterned paper. Fold it in half. Place a strip of patterned paper across the front of it.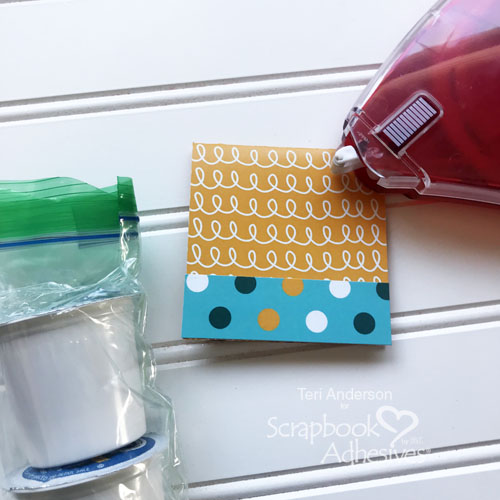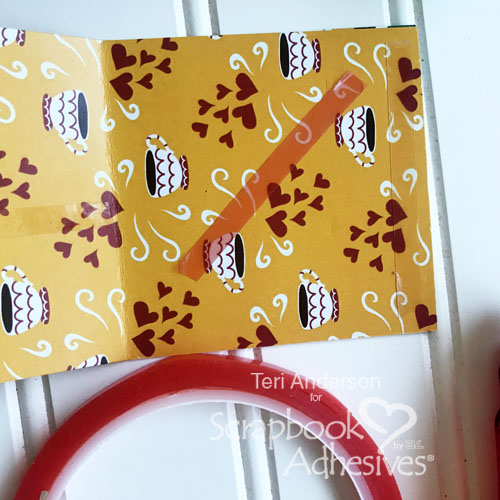 Place several strips of Extreme Double-Sided Tape on the backside of your 3 x 6″ paper panel. I recommend putting some at an angle.
Place the top of the bag on the tape. Fold the paper panel over the bag.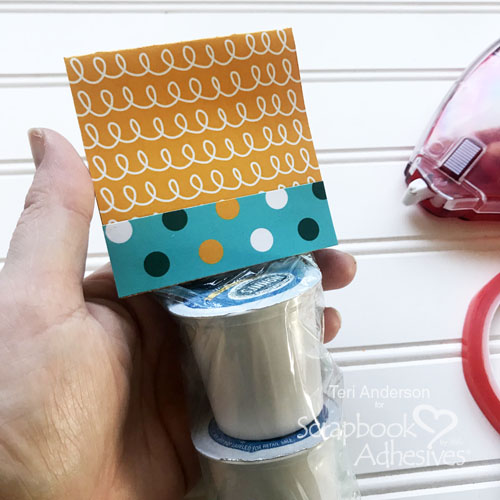 Finishing the Gift
Finish the gift by adding some twine or jute to the gift tag. Tie the tag onto the package of coffee pods or adhere it with 3D Foam Circles or Crafty Foam Tape. If your jute isn't even, use Adhesive Dots to anchor the jute in place.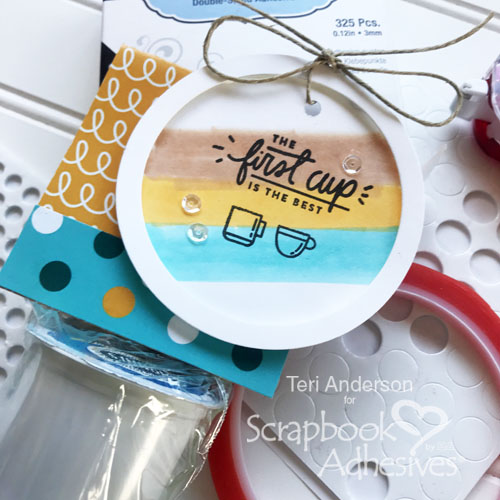 Want to add a bit of glitz to your gift? Adhere a couple of sequins to the tag with Adhesive Dots. I find the Micro Adhesive Dots are the perfect size for placing sequins on my paper craft projects.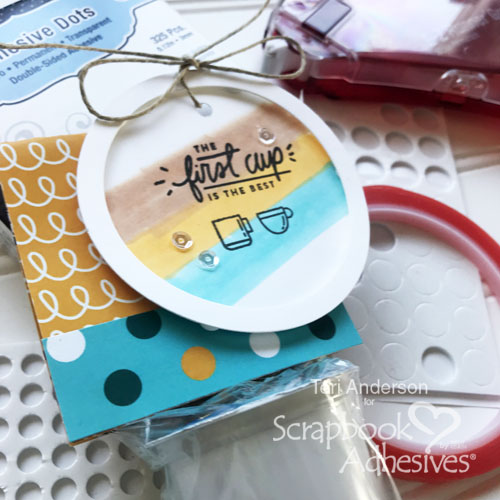 Creative Time: 1 hour
Skill Level: Beginner
Materials Needed
Scrapbook Adhesives by 3L®
E-Z Runner® Grand Refillable Dispenser
3D Foam Circles
Adhesive Dots Micro
HomeHobby by 3L®
Extreme Double-Sided Tape 1/4in
Other
White cardstock from Neenah Paper; Caffeine Fix stamp set from Everyday Explorers Co.; Coffee and Friends paper pad from Scrapping for Less; Sand, Golden Yellow and Nile Blue markers by Copic; Circle dies from Spellbinders; Jute by Darice; Sequins by Neat and Tangled; Black ink pad
Pin It!